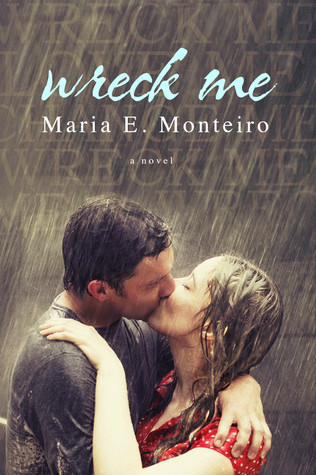 Wreck Me

by Maria E. Monteiro
Published by Rebel Road Publishing on 17 June 2014
Genres: Contemporary, New Adult, Romance
Pages: 219
Format: eBook
Goodreads


All Piper Walker wants is to feel normal again, and for the pain of losing the one person she truly loved to go away. But no matter what she does she feels like she keeps hitting a wall of hurt.

Chase Whitman has finally moved back to town after running away from his troubled home life. He's trying to fill the emptiness in his heart with all the wrong women, making sure he doesn't fall in love with any of them.

Now in her sophomore year of college, Piper is trying all she can to right all the wrongs she has done the past year. Which includes almost getting thrown out of school, becoming distant from her best friend, and moving way too quickly with her boyfriend.

After a night of heavy drinking Piper wakes up to find Chase in bed with her. She panics and runs off hoping never to see him again. Little does she know Chase will invade her life in every way possible and become the person she needs the most.

Will they be able to fill the void in each other? Or will their past wreck everything?
---
Where to begin?  Well, firstly I want to say that even though this book (I feel) could have been a bit better or at least tweaked in a lot of areas, I do have to say that it was hard putting it down.  That to me says that this writer has a lot of potential.  The way the writing flowed from chapter to chapter left you wanting more at the end of each.  So in that respect I found it very good strategy to keep the reader's interest.  Well done!
We have a bunch of college kids going through some pretty normal "college years" antics.  The two main characters, however, are dealing with some severe emotions to go along with.
Piper Walker is a phenomenal character!  I have to say for a young college student, she's just amazing!  Albeit a tad bit stupid when it comes to trusting and believing in certain people, but we'll let that slide.  Everyone can be stupid at times when they're desperate. She went through a rough time and during that got a little lost and trusted the wrong people, but she's strong and smart and witty!  I loved her.  I thought she was pretty cool… and man, can she put someone in their place damned quick when she wants to!  😉
… Don't fuck with the trailer park girl.  I know what to do with the body.
Chase Whitman is adorable.  He's got some issues that he's dealing with as well, but he's a really great guy!  A couple of times I would have liked to have smacked him, but he more than made up for any of that nonsense with his very sincere charm.  If he can get past his issues he's a definite keeper.
There are a couple of really great secondary characters too like Lola and Kiki.
I guess what I didn't care for or what turned me off a bit was that I felt that the entire book seemed a little rushed to me.  Especially the last 3 or 4 chapters.  Not that I wanted it to drag out unnecessarily, but it stormed right on through so quickly that it was over before I knew it.  There were some really great scenes but some other scenes that could have been better had they not been rushed or maybe they weren't necessary to begin with.
I don't know.  This one is kind of tough to judge.  I mean I read it very quickly and had a hard time putting the book down so that I could get on with the next chapter, but after the book was over it was like… "Seriously?  Where is the rest of it?"  A whole lot of "what's?" and "where's?" left over for me.
Having said this though, I still think it's a good story and people should read it. There are a lot of amazing things about the book as well.  Like the relationships among the group of friends is heart warming to read and the bonds that form between them seem solid, (Lola and Piper come to mind when I say this).  It's cozy and I liked that very much.
 

So yeah… read it everyone!  It's worth a few left over questions!  



Related Posts