BEWARE, please! This book contains explicit sexual content and may or may not contain Erotica &/or BDSM content as well. As such, it is not suitable or appropriate for readers under the age of 17 or readers who would be offended by this subject matter. My review may also contain conversation of the same. This warning has been extended to include some NEW ADULT as well.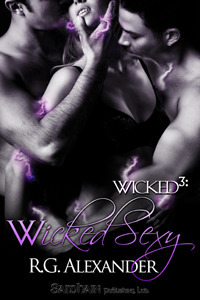 Wicked Sexy

by R. G. Alexander
Series: Wicked 3 #1
Published by Samhain Publishing on January 26th 2010
Genres: Adult, Fantasy & Magic, Paranormal, Romance
Pages: 116
Format: eBook
Goodreads


Something magic this way comes… Wicked ³, Book 1 Callie has always known the Abbotts were different. Witches, though they call themselves "Magians". They are her second family. Harrison Abbott has been her best friend since they were children. Tucker Abbott, her life-long crush. And their brother, Tyghe? A magical pain in her backside. When the Abbotts need her human perspective to solve a mystery, she doesn't hesitate. Especially since it means getting everything she ever wanted. A chance to be one of them, to have magic, even if it's only temporary. Someone is attacking young women at Triune, a ritual that helps Magians find their perfect threesome—the match that will complete their magic and their hearts. Callie expected to be dazzled by her first glimpse into the Magian world, but the bone-melting desire between her and the Abbott brothers isn't part of the plan. Nor is the decades-old secret that makes her the target of a killer…
---
Wicked Sexy is the fist book in the Wicked 3 series by R. G. Alexander.  This is the about the 5th or 6th time I've read this book. It's my go to book when I need a short little quick fix between other reads. Right now I'm waiting for a book and I don't want to get into anything too long so I've been reading a couple of novellas.
I don't understand why I love this book so much and yet the rating is less than 4 on Goodreads.  Maybe because it was such a short book?  I don't know.  All I know is that it's one of my all time favourites and I've been reading and re-reading it since it first came out back in 2010. It's got everything! Sexy hot males, strong kick-ass females, magic and mayhem, humour galore, hot sex, and all the steamy goodness that a growing girl needs all wrapped up in one little package.
I love this particular book, but the other 2 books in the series are good too.  This one is my favourite though.  I love everything about it!
The author rocked at making you fall in love with these characters in such a short time. Usually it takes a little while to get into your character and you have a full book to do it.  I was in love in the first chapter so that proves that the author knows exactly what they're doing and knows how to pack an entire story into a little book without making you feel like you were missing anything or were rushed in any way.  I can't say enough.  I loved it!


Related Posts