BEWARE, please! This book contains explicit sexual content and may or may not contain Erotica &/or BDSM content as well. As such, it is not suitable or appropriate for readers under the age of 17 or readers who would be offended by this subject matter. My review may also contain conversation of the same. This warning has been extended to include some NEW ADULT as well.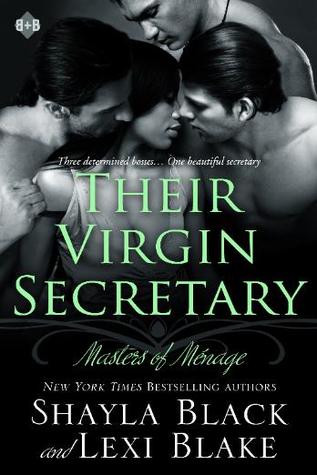 Their Virgin Secretary

by Lexi Blake, Shayla Black
Series: Masters of Menage #6
Published by Black Oak Genres: Adult, Contemporary, Romance
Format: Paperback
Goodreads


Three determined bosses…

Tate Baxter, Eric Cohen, and Kellan Kent are partners for one of the most respected law practices in Chicago. But these three masters of the courtroom also share a partnership in the bedroom, fulfilling the darkest needs of their female submissives night after night. Everything was fine—until they hired Annabelle Wright as their administrative assistant.

One beautiful secretary…

Belle felt sure she'd hit the jackpot with her job, but in the last year, the three gorgeous attorneys have become far more than her bosses. They're her friends, her protectors, and in Belle's dreams, they're her lovers, too. But she's given her heart to them all, so how can she choose just one?

An unforgettable night…

When her bosses escort her to a wedding, drinks and dancing turn into foreplay and fantasy. Between heated kisses, Belle admits her innocence. Surprise becomes contention and tempers flare. Heartbroken and unwilling to drive them apart, Belle leaves the firm and flees to New Orleans.

That leads to danger.

Resolved to restore her late grandmother's home, she hopes she can move on without the men. Then Kellan, Tate, and Eric show up at her doorstep, seeking another chance. But something sinister is at work in the Crescent City and its sights are set on her. Before the trio can claim Annabelle for good, they just might have to save her life.
---
Well, the ultimate duo in writing has to be Shayla Black and Lexi Blake!  These two are phenomenal on their own so when you put the two together, well you pretty much have a fantastic reading experience.   This book is number 6 in the series and it did not disappoint.  I have read all 6 books but this is the first one that I'm reviewing.  I just recently starting reviewing my erotic and adult romance books in addition to my favourite Young Adult books so I had never reviewed any of the previous ones in the series.  It certainly wasn't because I didn't enjoy them.  Far from it.  I love this series.
In comparison to the other books in this series this one took on something a little different. GHOSTS!  Not just any ghosts, but New Orleans Ghosts. Who doesn't love anything and everything New Orleans?
So we start with a pretty great character.  Belle works for three hot lawyers whom she has a major crush on.  She wants to be with them, all of them, but they seem to give her the 'ol "sister like" brush off.  She can't take it anymore and decides that she has to move on.  She decides to move to New Orleans after a terrible night with her three bosses.  Mistakes and misunderstandings draws a very solid line between Belle and her three handsome bosses.
Tate, Eric & Kellan will do everything in their power to rectify any misunderstandings and bring Belle back to Chicago where she belongs. With them.  Their journey proves a little harder than they originally thought though.
This is a fun book.  Not just all the sexy romance and hot scenes… and trust me those are awesome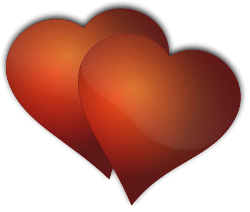 … but the character development is really great.  Black and Blake took the time to introduce us to their characters one on one and was able to give us history for each and not bore us at the same time with too much back story.  Just the right amount and it was all very interesting.  They made me fall in love with each of them.
 You named the dog, "Sir"?  
The pacing and timing was perfect and the dialogue was friggin' hilarious!  Seriously, I literally laughed outright at times.  I love that in a book!
Book 7 (Their Virgin Mistress) is coming up next and I can't wait!     Bring it!






Related Posts