BEWARE, please! This book contains explicit sexual content and may or may not contain Erotica &/or BDSM content as well. As such, it is not suitable or appropriate for readers under the age of 17 or readers who would be offended by this subject matter. My review may also contain conversation of the same. This warning has been extended to include some NEW ADULT as well.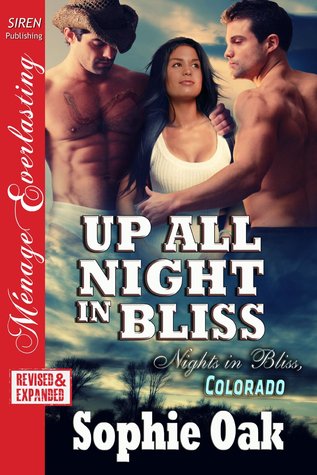 Up All Night in Bliss

by Sophie Oak
Series: Nights In Bliss Colorado #6.5
Published by Siren Publishing on 9th August 2013
Genres: Adult, Contemporary, Romance
Format: eBook
Goodreads



Having twin newborns is a dream come true for Nate Wright, Callie Sheppard, and Zane Hollister. Having two babies who don't sleep at night is a nightmare for their love life. They all love Charlie and Zander, but they're missing something. Callie feels unsexy and more like a mom than a wife.

Nate and Zane love their wife, but they're not sure how to reach her. Her marriage out of control, Callie worries she might lose them. But her husbands have a plan to change all of that. It involves spending some time in the Talbot guesthouse.

Deep in the night in Bliss, this threesome will get their groove back.

Note: This for-sale version has been revised and expanded and is at 14,630 words. The original short version at 10,072 words is available for free only inside the BookStrand App. A Siren Erotic RomanceSophie Oak is a Siren-exclusive author. [Siren Ménage Everlasting: Erotic Ménage a Trois Romance, M/F/M, HEA]
---
Up All Night In Bliss is a novella and book #6.5 of the Nights In Bliss, Colorado series by Sophie Oak.
One of our favourite characters from previous books is feeling a little down on herself since having twins.  She doesn't feel sexy and wanted and is holding herself back.  Her husbands are there to tell her that she's their entire world and they won't let her hold herself back any longer.
Excellent little novella!  It's short because it's just a little snack to tide you over and bring you up to date on a couple of characters between books.  It was perfect!  I loved every second of it.


Just a short little novella about a favourite trio and the book practically catches on fire just in a few words!



Related Posts