BEWARE, please! This book contains explicit sexual content and may or may not contain Erotica &/or BDSM content as well. As such, it is not suitable or appropriate for readers under the age of 17 or readers who would be offended by this subject matter. My review may also contain conversation of the same. This warning has been extended to include some NEW ADULT as well.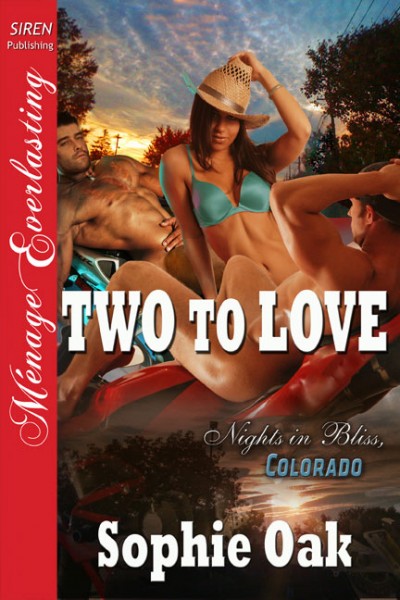 Two to Love

by Sophie Oak
Series: Nights In Bliss Colorado #2
Published by Bookstrand-Siren Publishing, Incorporated on 2011-01
Genres: Adult, Romance
Pages: 232
Format: eBook
Goodreads


Callie Sheppard went wild once in her life, sharing a perfect weekend with two men she could never forget but thought she would never see again.

Nathan Wright and Zane Hollister were two DEA agents who needed a decadent weekend before going on a long, undercover assignment to take down an outlaw biker gang.

Six years later, Callie has to break in a new Sheriff after Rye Harper walks out on the job. But her heart skips a beat when Nate walks through the door in his new uniform. Nate and Zane have come to Bliss, Colorado, to heal. Their cover is blown, and while the Barbarians are almost put out of business, Zane pays a horrible price.

The boys are determined to win back Callie's broken heart. But when the Barbarians return with revenge in mind, they'll need to save her before they can claim her.

** A Siren Erotic Romance  [Siren Menage Everlasting: Erotic Cowboy Menage a Trois Romance, M/F/M]
---
Two To Love is book number 2 in the Nights In Bliss, Colorado series by Sophie Oak.
This series is fantastic!  I'm a little behind (or maybe ahead of) it though.  I should have started with the Nights In Bliss series and I didn't.  I started with Texas Sirens series first.  Although the two can be read separately from each other I would have preferred to read this one first before reading the other.  There are a few overlapping characters.
Also, when I started this series I realized that I had already read book one, Three to Ride.  At the time I hadn't been reviewing this genre of books on my site so unfortunately, the review is not on here anywhere.  I do know I loved the book and bought the entire series because of it and then got side tracked with other books (Lexi Blake's no doubt!) and never got back to this series until just recently. Then when I did get back to the series, I started with Texas Sirens by mistake. I seriously need someone to organize my reading for me and tell me what to read next.
So let's get started with this one.
The Story
I loved it!  We have two gorgeous Doms who just couldn't stop their lives six years ago to stay with a one weekend fling who hit both of their hearts a little harder than they thought she would. So they left a note and walked away.  The girl they walked away from couldn't believe that she actually was brave enough to spend a weekend with not one, but two gorgeous Doms whom she had never met before and have lots of sex.  She allowed her best friend Stef (a Dom from book one) to set it all up.  Then the weekend was over and Callie awoke to a note and was a little heart broken but had to move on.  Move ahead six years and all three find themselves in the same town and not quite the same.
It's a wonderful story of healing and acceptance.
The Characters
Sophie Oak NEVER goes wrong with her character development. Not only do you fall in love with them all instantly but your love and respect for them grows with each chapter. Callie is a fantastic heroine! She's spunky, witty, sarcastic and super smart and she can totally kick ass when needed.  The boys… well, Nate and Zane are drool worthy. I wanted to kick Nate's ass a few times, but still drool worthy. I loved the three of them together.
Sophie Oak also brings back characters from previous books and I very much love that.  We touch base with them and I love that about a series.  She also mentions characters from the other Texas Sirens series and I love that too.  It's a big family with a LOT of alpha Doms and spunky submissives in it.  It makes for a super fun read.
One and only gripe
I have an unanswered question and it's bugging me. I was a little confused about the Barbarians.  We found out what all happened at the end of the book and I get all that, but I still don't see how View Spoiler »the rest of the biker gang will not continue to come after Zane and Nate.  I'm not sure the actual bike members knew why they were after them in the first place.  They were following orders and who is going to tell them to stop hunting for them now that the reason is gone and people are dead? « Hide Spoiler
It's a minor gripe because I can pretty much surmise myself what happens next, but I like it tied up for me.
In A Nutshell
Another fantastic instalment from this series!  Loved it!  Loved it!  Loved it! Sophie Oak totally rocks this genre!  I adore her!


Related Posts