BEWARE, please! This book contains explicit sexual content and may or may not contain Erotica &/or BDSM content as well. As such, it is not suitable or appropriate for readers under the age of 17 or readers who would be offended by this subject matter. My review may also contain conversation of the same. This warning has been extended to include some NEW ADULT as well.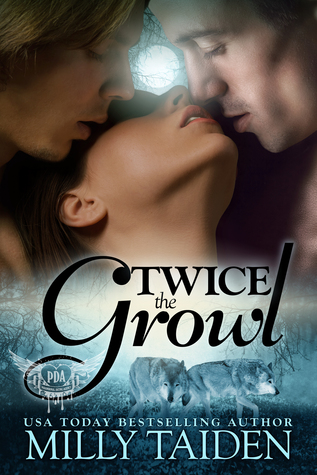 Twice The Growl by Milly Taiden
Series: Paranormal Dating Agency #1
Published by Latin Goddess Press on August 29,2014
Genres: Adult, Paranormal
Pages: 138
Format: eBook
Goodreads

Talia Barca needs a date. Badly. She uses the services of the Paranormal Dating Agency hoping for a decent guy to take to a family wedding. A wedding her ex-husband has wormed his way into as a guest.

Connor and Theron want Tally to complete their Alpha triad. She's sexy, curvy and funny. But she's human. And they're not sure she'll go for a relationship with two men at the same time.

As if deciding to give two men a shot wasn't difficult enough, Tally will also need to deal with a threat from the pack. She'll either prove she's strong enough to be an Alpha mate or find herself at the mercy of a vicious opponent.

Reader Warning: This book contains lots of scorching sex (including a threesome so hot it will make your ereader sizzle), adult language (hanky panky with no dirty talk is no fun), and violence. If this is not the kind of stuff you like to read, skip this book. However, if you like dirty, raunchy sex with some sarcasm and two hot men on one curvy girl, then this is the book for you.
---
Twice the Growl is the first book in the  Paranormal Dating Agency series by Milly Taiden.
Okay so we have a girl (Talia/Tally) who's in dire need of a date for her cousin's upcoming wedding to prove to her ex-husband and family that she's just fine and not crumbling from the loss of her ex-dickhead.  Then you have two wolf shifters who need the third for their triad in their pack. They don't want to settle for someone.  They want someone who makes them both happy and someone they can love and someone who can make a strong third in their triad. In comes shifters 1 and 2 Connor and Theron.  Both Talia and Connor & Theron seek the help of one woman who runs the dating agency.  This woman happens to be both Talia's next door neighbor and Theron's aunt.
 

Ummmmmm

   
That's not necessarily a bad "um", just… Um.  I'm not sure what to say here.  It was fairly good to a certain extent and then not so good in other areas.  I loved the IDEA of the book and the whole Paranormal Dating Agency thing.  That's just fun all over the place.  Loved that part…. and the person who is running the PDA.  She's a firecracker character that one.
The part that got me was the whole Instant Love.   I'm not completely opposed to "insta-love" issues with books.  There are some places where it just works. Some of those places is with (certain) stories about shifters.  A lot of shifter stories have the male shifter knowing who his mate is the minute he *smells* his/her scent.  I would refer to it as insta-attraction rather than insta-love, but I can see the whole love thing in these cases because they know who their mate is for life.  The shifters in this book did not have that characteristic where they instantly know who their mate is the minute they smell her, so the insta-love thing didn't quite work for me here.
The book started out pretty good and then all of a sudden the attraction and sex was just there in your face with no build up.  Insta-Sex more than insta-love. I realize that this is a novella and everything has to happen in a short period of time so I can sort of forgive it, but still.  It just all happened so fast and there was hardly time to grasp what was happening and then it was over.
Again, I realize it's a novella, but just now when I started writing the review I had to go back to the book to get the names of the characters.  I remember reading about them and their story and how it went but couldn't remember their names.  There is something wrong with that.  I just finished it a couple of days ago.   I remember the characters themselves, just not the names.
There is a lot of good to the story too though.
I love the idea of the triad thing.  I can't say as I ever seen this theme with any of the other shifter stories I've read and I've read a lot of them.
As I already mentioned above, I love the dating agency idea.  That woman is just going to cause all sorts of trouble.  That will be a lot of fun to read.
I also loved the snarky/sassy women characters.  They're badass!
Of course the hot, sexy and steamy scenes were just terrible to read.  *wink wink*  I can handle more of that terribleness any day!
There are more books to come and I'm going to at least read the next one.  Hopefully they won't all be novellas so there will be more time to stretch the story out a bit, or if it is another novella that it'll be paced out more.
Still a pretty good read all and all.


Related Posts