"Some books are to be tasted, others to be swallowed, and some few to be chewed and digested."

~ Francis Bacon
~*~ Howdie! ~*~
Welcome to my little corner of cyberspace! My name is Carrie and I love to read. I have been collecting books and teddy bears since I was a child. I'm not entirely sure that I've ever grown up to be honest.
I just adore and thrive on how books let you escape into other worlds and realms as well as meet some fantastic friends and foes along the way. I wanted a place to keep a list of my books that I've read and a review of my favourites and maybe not so favourite ones.  I'm certainly not a professional "Book Reviewer" by any means.  I used to stalk a ton of book blogger sites to get reviews and opinions on books and thought to myself "Hey, why the hell can't I do this too? I have an opinion on stuff… and I read."
So I set out to build myself a book blogging site.  I'm fairly new to Word Press, but I've been blogging about books and other things for a long time on other sites. I've learned a few etiquette tips along the way which helps a lot.  I just simply like to put my thoughts to paper, if you will, and if other people enjoy what I'm putting out there then that's great too.
---
Other fun facts about me that you may or may not find interesting.
I`m married to a wonderful man.  Aside from being the love of my life, he also builds me bookcases and loves tolerates my teddy bears… and books for that matter!  I just have to keep him around and I wouldn't trade him for the world.  

I have one dog that I saved from our local animal shelter.   "Max", who is a cross between a Bernese Mountain Dog and a Border Collie.  So basically he looks like a Bernese Mountain Dog trying to fit into a Border Collie's body and trying not to explode in the process.  

I love tattoos and have several of my very own.  I'm a MEGA fan of ART, and I find tattoos, especially these days, a huge expression of art.   I dabble in drawing and painting myself, but I'm certainly no Picasso.  I also dabble in writing, which isn't a surprise for a reader and book blogger.  Nothing published yet. Just for me so far. Maybe some day.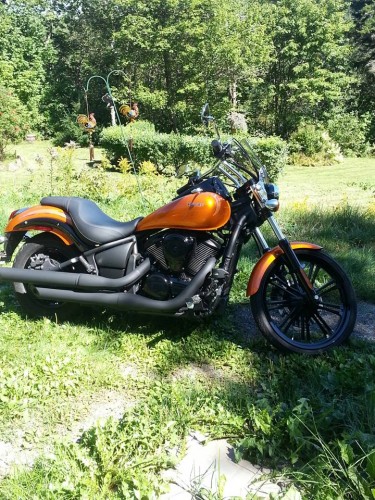 I also ride a motorcycle. This is my bike (and my front yard).  My husband's is a dark purple.  It's so gorgeous. This would seem insignificant to most if it were not for the fact that I just got my license a couple of years ago and I'm in my late 30's if you ask me… or early 40's if you require proof.
---
Time for showing off my fur babies… & late fur babies who haven't been forgotten.
---
This is Dots.  She's still very much alive and being a little terror. She's so adorable but hyper as hell.   She gets along so well with Max.  All of these pictures make her look so big but she's actually about half the size of Max.  She's just little and so cute.
Update:  We lost Dots on September 8, 2016.  She lost her battle and we will miss her dearly.
---
This is Max!  He's such a sweet guy. (that's my husband, Danny, on the couch beside him)   He's just so kind and playful and quiet.  Him and Dots are the best of friends and get along so well.  He can't stand to be away from her for more than a few minutes.  Each night when we come home from work he comes in with me and grabs his ball and waits by the door for Daddy to come in with Dots.  Every night! It's so adorable. 
---
This is Weiser (Rottie) and Bud (Shep/Huskey). These two were our very first dogs as a couple. Here Bud is full grown, but Weiser is actually only a few months old and she ended up being taller than Bud. She was a huge Rottie. This picture is my all-time favourite picture so I ended up getting it tattooed on me… this is not a very good pic of the tattoo, but I'll try and replace it later…
---
The awesomely talented Jamie MacKay is who did this tattoo and he's freakin' amazing at what he does.   My local tattoo guy (Heath Morrell) told me he wasn't quite ready to do realism yet and told me to go to Jamie and I'm so glad I did. He did the picture complete justice and actually better.  He's not just a tattoo artist.  He does charcoal drawings among other mediums and he's absolutely brilliant!  Huge fan!
---
This is Brew (Dots in foreground).  He's no longer with us, but he's the only one not posted here and I can't leave him out.  He was an amazingly beautiful Golden.  His tail was so long that it dragged on the floor behind him.   We called him the Grinch because he had fur sticking up between all of his toes and it reminded me of the Grinch's fingers.  :o)  He used to trap spiders between his two front paws and then lift one paw sideways at a time to peek in to see if he was still there… and then freak out when the spider crawled up between his toes.  He was so funny!  He played with spiders but if he saw a bug different than a spider he would be scared and crawl onto your lap to get away from them.  Honestly, it was hilarious…. and no my house isn't crawling with bugs or anything.  LOL
---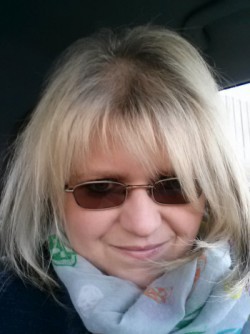 So… Please grab a coffee (or whatever strikes your fancy) and a comfy seat and come join me. If you want to leave comments or just want to say hello, feel free and if you're the shy silent type, that's okay too.
"This paperback is very interesting, but I find it will never replace a hardcover book – it makes a very poor doorstop."

~ Alfred Hitchcock (1899 – 1980)