BEWARE, please! This book contains explicit sexual content and may or may not contain Erotica &/or BDSM content as well. As such, it is not suitable or appropriate for readers under the age of 17 or readers who would be offended by this subject matter. My review may also contain conversation of the same. This warning has been extended to include some NEW ADULT as well.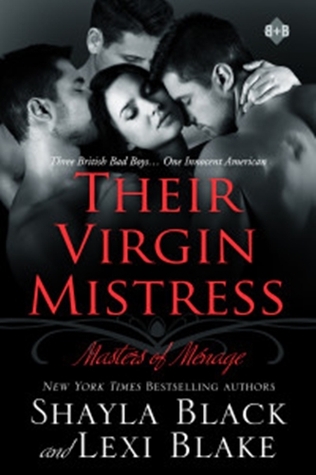 Their Virgin Mistress

by Lexi Blake, Shayla Black
Series: Masters of Menage #7
on April 14, 2015
Genres: Adult, Contemporary, Romance
Pages: 410
Format: Paperback
Goodreads


One wild night leads to heartache…

Tori Glen loves her new job as an image consultant for Thurston-Hughes Inc. The trouble is, she's also in love with the three brothers who own it, Oliver, Rory, and Callum. They're handsome, successful, aristocratic, and way out of this small-town Texas girl's league. So she remains a loyal professional—until the night she finds a heartbroken Oliver desperate for someone to love. Tori knows she should resist…but it's so tempting to give in.

And a desperate plan…

Callum and Rory have denied their desire for Tori, hoping she'll heal their older brother, who was so brutalized by his late wife's betrayal. But when Oliver cruelly turns Tori away in the harsh light of day, she tenders her resignation. Rory and Callum realize that to save their brother, they must embrace the unconventional sort of family they've always wanted—with Tori at its center. And it all starts with seducing her…

That could lead to happily ever after—or murder.

Isolated with the brothers at an elegant English country manor, they begin awakening Tori to the most sensual of pleasure. But consumed with regret, Oliver won't be denied the chance to embrace the only woman worth the risk of loving again. What begins as a rivalry veers toward the future they've only dared to dream of. But a stranger is watching and waiting for a chance at revenge. Can the brothers come together to embrace the woman they love and defeat a killer?
---
Their Virgin Mistress is book #7 in the Masters of Menage series that is a collaboration by Shayla Black and Lexi Blake. 
What a team Shayla and Lexi are.  This series is quite fabulous!  I've been a huge fan from the beginning.
The Characters
Tori Glen (Melinda Torrance Glen aka Mindy) is a pretty great character.  Virgin yes… but not so innocent and shy like most virgins.  She's from Texas so she has a sexy Southern drawl.  Her sister is none other than  Piper Glen who is the Queen of Bezakistan.  In Book #3, Their Virgin Concubine you can read Piper's story, which is recommended before reading this one because you will learn the traditions of  Bezakistan.  They are worlds apart from the traditional marriages of other countries.  A little bit neanderthalish and a whole lot of hot & sexy.
Callum, Rory and Oliver Thurston-Hughes.  Three brothers from England who love each other and fight like only brothers will.  They run Thurston-Hughes Inc. and all three of them have fallen for their Image Consultant, Tori.  These boys are far from innocent.  Callum is an ex-soccer/football player, Rory is a player and Oliver has a demon he's fighting… he was mentioned in an earlier book as well… see you have read them all from the beginning!  All three of these guys are pretty amazing in my opinion.  Sexy, protective, and just enough vulnerability that makes you fall for them.
Plus we get to visit with some of the older characters from Bezakistan.  Not all books are set there.  Most of them are in the US.
The Story
It was pretty good.  There were some amazing scenes that curled your toes in a very good way.  There were some other scenes that made you want to reach in and smack someone… mainly Tori… for being indecisive.  Then there were other scenes that had you on the edge of your seat.
Mostly I really enjoyed it.  There was one thing that had me wondering about, but it's a spoiler.  I can't get it out of my head why View Spoiler » when Tori was attacked in her apartment (flat in England) the attacker actually said (aside from threatening rape) 'I'm glad I took this job' or something to that effect. It was never brought up again.  I was waiting for her to have a moment of clarity after something niggling at her conscience and say "Oh my God, I just remembered something!" and then the three brothers or her brothers-in-law would take action and we'd get to see it, but alas that never did happen. Not even at the end when all the shit went down was it mentioned.  « Hide Spoiler Very minor though.  All in all the book was great! Love this series!
The Authors
If you've read any of my reviews of Lexi Blake's books you already know that I'm a mega fan of Ms. Blake.  I find her absolutely brilliant at her craft. I love her humour.
Shayla Black is certainly right up there with brilliance although to be honest I have not read a lot of her books except these collaborations.  I own a few more of her books but have not read them all.  The ones I did read are amazing. Unfortunately I don't have any reviews of her books on this site because I just recently starting reviewing something other than YA on my blog.  That doesn't mean I didn't read them, I just never posted reviews about them.  I know she is a force though.
Together, these two are on FIRE!!!!  Their books will make you hot and sweaty and long for more.
They will also make you laugh. These two write with a bit of sarcastic humour that will have you laughing out loud at times. The dialogue can be quite hilarious but not so much that it takes away from the story. Just enough to make you giggle and smile. It's perfect.
Bear Results
I loved it! I love this series. I love these authors. Buy them all and read them all! They are so much fun!


Related Posts