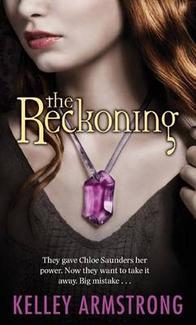 The Reckoning by Kelley Armstrong
Series: Darkest Powers #3
Published by Orbit on 2010
Genres: Fantasy & Magic, Paranormal, Young Adult
Pages: 391
Format: Paperback
Goodreads


The nail-biting climax to Kelley Armstrong's bestselling Darkest Powers trilogyChloe Saunders is fifteen and would love to be normal. Unfortunately, Chloe happens to be a genetically engineered necromancer who can raise the dead without even trying. She and her equally gifted (or should that be 'cursed'?) friends are now running for their lives from the evil corporation that created them. As if that's not enough, Chloe is struggling with her feelings for Simon, a sweet-tempered sorcerer, and his brother Derek, a not so sweet-tempered werewolf. And she has a horrible feeling she's leaning towards the werewolf…Definitely not normal.


This was a fantastic series.  I loved it so much!  I'm sad that this was the final installment in the trilogy but I hope that Kelley includes these characters in future books.  It was such a different storyline.  That's what made it so interesting and I just adore Derek!   He's my favourite.   Chloe is one hell of a character too.   I can understand why the trilogy ended where it did, but at the same time this story is not over as far as I'm concerned.




Related Posts