BEWARE, please! This book contains explicit sexual content and may or may not contain Erotica &/or BDSM content as well. As such, it is not suitable or appropriate for readers under the age of 17 or readers who would be offended by this subject matter. My review may also contain conversation of the same. This warning has been extended to include some NEW ADULT as well.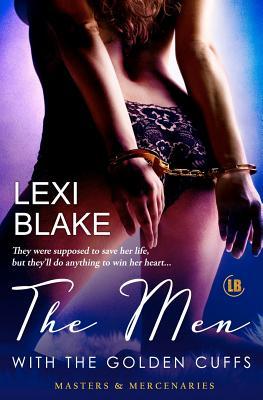 The Men With The Golden Cuffs by Lexi Blake
Series: Masters and Mercenaries #2
on May 1, 2012
Genres: Adult, Contemporary, Romance
Pages: 426
Format: Paperback
Goodreads


A woman in danger…

Serena Brooks is a bestselling author of erotic fiction. She knows how to write a happy ending but hasn't managed to find one of her own. Divorced and alone, she has no one to turn to when a stalker begins to threaten her life. The cops don't believe her. Her ex-husband thinks she's making the whole story up. She has no one left to turn to except a pair of hired bodyguards. They promise to guard her body, but no one can protect her heart.

Two men in search of love…

Adam Miles and Jacob Dean are halves of a whole. They've spent their entire adult lives searching for the one woman who can handle them both. Adam is the playful, indulgent lover, while Jacob is the possessive, loving Dom. When Serena comes into their lives, Adam is certain that she's the one. But Jacob's past comes back to haunt them all. He is suspicious of Serena's story, and his concerns are driving a wedge between him and Adam. But when the stalker strikes, they will have to come together or lose each other forever…
---
The Men With The Golden Cuffs is the 2nd book in the Masters and Mercenaries series by Lexi Blake.
Jake Dean and Adam Miles work for McKay-Taggart and they have another mission.  This time the lovely and talented Serena Brooks.  Serena is a writer who is being stalked and she needs protection. She's a lonely divorcee who has two friends, a dog and her career.  That's it.  The police don't believe her story about being stalked.  They believe it to be a publicity stunt.  So her editor hires McKay-Taggart to protect her.  Her ex-husband aka douche-bag of the century doesn't believe her story either. She's not sure anyone but her two closest friends believes her.  Will the doubt follow from McKay-Taggart as well?
Jake and Adam have a very special bond as friends. They're more like twin brothers with telepathy.  Oh yeah, and they also share women in their bedroom. They are both Dom's trained by Ian Taggart but Adam never got his master's status because he just can't stand too much authority, nor too much of Ian yelling at him.  Jake on the other hand has his full master's status at Sanctum which is the BDSM club they frequent and it's owned by Ian Taggart. They would very much like to find their third, but don't hold out too much hope in finding the right girl that can handle them as a packaged deal. The past has not treated them well in this department.
This is another re-read for me.  As I mentioned in my review of book 1 in this series, The Dom Who Loved Me, this is the third time through this series for me, but my first time reviewing the earlier books. My previous blog did not contain any reviews on anything stronger than Young Adult novels.  That does not mean that I didn't read them though.
Even better the second and third time 'round!
Jake, Adam and Serena's story is so good! I couldn't put the book down even with it being my third time reading it.  It's just as good now as the first time I read it. Maybe even better.  Adam and Jake are amazing characters. They're more than friends.  They're brothers and soul mates. They have such a unique bond that they just know what the other is thinking and can carry on conversations without speaking a word. It's quite a talent. It's also why they get all of the ops that involve pretending to be gay. They can pull it off so well. Adam is a manly man, but can pull out his feminine side on a dime.  Not Jake.  He's all manly man. Oh I may have forgotten to mention, they're hot! Extremely HOT!
Serena is a fantastic little character and fits amazingly well with this gang. She is very inquisitive though. She needs her research for her books. That means she has to ask a lot of questions. Which is great because she tends to annoy the hell out of Ian, which is everyone's goal.
I keep mentioning Ian in both this book and book 1's review.  Well, that's because even though each book is about a different team member and Ian's story is coming up soon, Ian is still the epi-centre of the books.  It's his team members, it's his BDSM club and it's his family.  He will stop at nothing to keep his team, his family safe.  So this is not Ian's book, but Ian is in all of them and he is and always will be my favourite character out of all of these books. Therefore, I cannot help but mention him in each review. He plays a paramount part in all of the books.
Gushing on the author!
Every time I think about what I'm going to say about these books I feel like I'm gushing on the author like some kind of cyber stalking psycho.  I am just that much in love with her writing. Her characters are so amazing that they are real to me. I talk about them like they're real people.  Days, even months after reading these books I'll find myself remembering something that Ian said and laugh my ass off out of nowhere. Seriously. This is one of those series that takes you right out of reality and plunks you down smack dab in the middle of the story.  It's phenomenal! I love when books do that because that is my main reason for reading is to escape reality.
… and this escape, this series as a whole, is a ride you will never forget.  It's hot and steamy and sexy.  It's hilarious interacting with all of the characters and the team members.  The dialogue is brilliant.  It's suspenseful and exhilarating. It's soft and tender when it needs to be. The family dynamic is heart-warming. The characters are so amazing that it's very hard not to relate to them, which is why you can fall in love with them so easily and deeply.  The humour.  Oh my gosh, the humour.  Lexi Blake must have an amazing sense of humour herself because she writes these guys with such a vocabulary that you are literally laughing out loud.
Quite simply put, I cannot get enough of Lexi Blake weaving tales about this particular group of characters that she has created. It is one of my favourite series of all time.




Related Posts