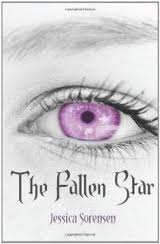 by Jessica Sorensen
Genres: Fantasy & Magic, Paranormal, Young Adult
Format: Paperback


(description from Goodreads):  The Fallen Star:  For eighteen year-old Gemma, life has never been normal. Up until recently, she has been incapable of feeling emotion. And when she's around Alex, the gorgeous new guy at school, she can feel electricity that makes her skin buzz. Not to mention the monsters that haunt her nightmares have crossed over into real-life. But with Alex seeming to hate her and secrets popping up everywhere, Gemma's life is turning into a chaotic mess. Things that shouldn't be real suddenly seem to exist. And as her world falls apart, figuring out the secrets of her past becomes a matter of life and death.
The Underworld:

  The sequel to The Fallen Star:  Gemma thought her mind was gone, but she was wrong. And now she is left trying to figure out the truth to what Stephan is planning to do with her and the star, before it's too late.

But finding out the truth is hard, especially since Gemma doesn't know who she can trust. There may be only one person who Gemma can turn to for answers, but that means having to go to the one place no one wants to go—The Underworld.
The Vision:

  Gemma thought she was trapped—that Stephan had finally won. But then time resets and she's given another chance.

The clock is ticking as Gemma tries to figure out how to change the vision that ends the world in ice. If she can, then maybe she can save the world from Stephan and give her and Alex a chance at a real future. But changing visions can be dangerous, and sometimes one small mistake can lead to disastrous results.
---




I was hooked on this series from the very first paragraph of the first book. It took me a few chapters to finally delve into the meat and potatoes of the story but from the very first paragraph I knew I had to find out everything about this girl with the violet eyes. Her story intrigued me and called out to me with each word.
Well… pleasantly… the story went wayyy beyond the violet-eyed beauty. We learned of other AMAZING characters as well.
The green-eyed, gorgeous, dark-haired, scrumptious, masculine hero… and my personal favourite… Alex! He's got quite a story himself that is dying to be told.
His spunky bright-eyed witchy sister, Aislin and the somewhat laid back blonde-with-blue-tips hunky vampire, Laylen.
I even have a small soft spot for Nicholas. It may be small, but it's still there. wink wink
These four and their adventures together make up one of the best series that I've not only read this year, but read! Period! The friendship and loyalty that exude out of these people is so enjoyable to read. The refreshing idea of the story itself as well has just made this series one of my favourites of all-time… and considering how many series I've read and loved, this speaks volumes.
I'm both "very glad" and "very sad" to learn that there is only one more book to finish off this series. This was originally planned as a trilogy but the author has since decided that there needed to be one more book to finish the story and to my personal delight Alex will be sharing the POV for book 4. As I mentioned he's got a story that needs to be told so this was fantastic news for me. I'm only sad that it will end there. I will miss these characters very much.
Bravo Jessica Sorensen! I ADORED IT!!!




Related Posts