BEWARE, please! This book contains explicit sexual content and may or may not contain Erotica &/or BDSM content as well. As such, it is not suitable or appropriate for readers under the age of 17 or readers who would be offended by this subject matter. My review may also contain conversation of the same. This warning has been extended to include some NEW ADULT as well.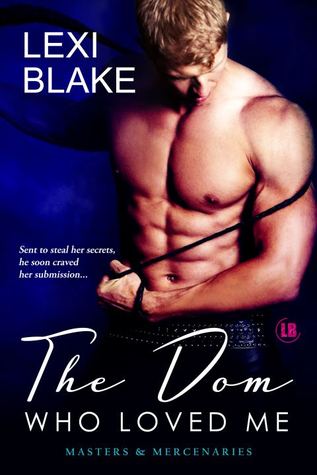 The Dom Who Loved Me by Lexi Blake
Series: Masters and Mercenaries #1
on September 27, 2011
Genres: Adult, Contemporary, Romance
Pages: 372
Format: Paperback
Goodreads


A routine mission…

Sean Taggart is hunting a deadly terrorist, and his only lead is the lovely Grace Hawthorne. She's the executive assistant for an employment agency Sean suspects is a front for illegal activities. To get the truth, he is going to have to get very close to Grace, a task he is all too eager to undertake when he discovers her deliciously submissive nature.

…turns into a dangerous seduction.

Soon, Grace Hawthorne is living a double life. By day, she is the widowed mother of two college-aged sons. By night, she submits to Sean's every dark desire. She's living out her wildest fantasies of pleasure—intimate acts of trust she's only read about. As passion engulfs her, a murderer strikes, and Grace learns that Sean has a deeply hidden agenda. Will Sean choose his mission and break her heart or be the Master of her dreams?
---
I've said it before and I'll say it again and I'll keep saying it with every book that flow around these characters… Lexi Blake is an F*ing genius!  It may sound like gushing and if I'm guilty of that, well then I guess I'm guilty.  So be it!  Whatever!  She's a genius!  I love her books!
The Dom Who Loved Me is the first book in the Masters and Mercenaries series by Lexi Blake… and this is my 3rd time reading it but my first time reviewing it.  Only because I wasn't doing a lot of reviews on erotic/BDSM books way back when. Now I am and this one deserves a review.  I'm re-reading the entire series so I'll be doing reviews on the ones that I hadn't before.
Sean Taggart works with his brother Ian Taggart at McKay-Taggart. The team is made up of all ex-military of some sort or other… (you say men, I say…) Sex Gods. The CIA is seeking the help of McKay-Taggart to track a terrorist.  Their only way in is through the employment agency that is run by the suspected terrorist and his lovely assistant Grace Hawthorne.  They can't know for  sure whether Ms. Hawthorne is in on it or not so they need to start with her.  Get on her good side and work their way in that way.  After seeing video footage of Grace, Sean is more than willing to take on the mission.
Grace Hawthorne is a widower with two kids in college and her career as the best damned assistant that she can be.  Then she meets Sean.  He shows her a whole other side of herself that she has always wanted to explore. She loves it and wants more. But does Sean?
We meet the entire team of McKay-Taggart in this first book. I have to  remember here that I'm only reviewing the first book and not the entire series to date, but it's hard because this is the third time through this series for me so it's a little hard to step back and just review book 1.  I will do my best though.
Sean's character is phenomenal.  They all are, but Sean & Grace's story is the first.  My feel is that Sean Taggart always felt like he was "Ian's little brother" rather than his own individual.  He loves his brother but he also has something to prove to himself if not Ian. Sean secretly would rather get out of this mercenary business and become a chef. That's his dream job. His passion.  Oh yeah, and he's a Dom.  A very good one. He was trained by the best.  Ian Taggart himself.  I instantly loved Sean Taggart.  Lexi Blake did a fabulous job of making his character so lovable and someone you can totally relate to even though he seems so untouchable in a world so outside of our own.  Grace is a great character too.  She's so caring and nice and loyal, even when you're not sure if she's on the right side or not. She could so easily fit in with the rest of the gang.  She's very smart and brave.
I can't tell you how great it is reading this book.  Did I mention that it's my third time through?  There is a reason for that.  It's fantastic!  In addition to Sean and Grace, as I mentioned earlier, we got to meet the entire team.  Adam, Jake, Eve, Liam, Ian and Alex.  It's not just a team.  It's a family.  They work together, they protect each other, they razz each other, they "play" together and they fight. Just like a real family. (Well, maybe not the play part.)  At the end of the day they all have each other's backs. It's a fabulous group of people that you can't help but fall in love with.
Lexi Blake, I may have already mentioned, is a genius.  She writes to keep your attention.  She appears to throw her heart and soul into her writing. It really shows in her work.  She's thorough and brilliant.  Her dialogue is so spot on. You can completely tell that she's done her research.  You would think having said all of this that it would be my favourite part of the entire writing but it's not.
My favourite part and the reason why I keep picking these books back up over and over again is the humour.  I know you may say, "But I thought this was a romance, BDSM, military whatever book?"  Yes, it is!  It's one of the most romantic sexy steamy hot excitingly dangerous series that I've read to date.  However, it's also one of the only series that actually makes me stop and laugh right out loud uncontrollably.  The characters are so unbelievably funny.  Especially Ian!  It's also what made me fall in love with each and every one of them. They all have their demons and yet they all have each other and their sense of humour. It's amazing. It's a FEEL GOOD series.  It has everything my soul needs.
Brilliant writing.  Brilliant series. Breathtaking romance. Amazing heart throb characters.  Super hot and steamy sex scenes. What more can a girl ask for in a book?
Related Posts