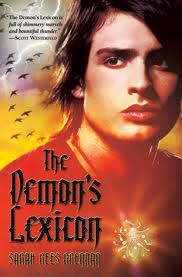 The Demon's Lexicon

by Sarah Rees Brennan
Series: The Demon's Lexicon #1
Published by Margaret K. McElderry Books on 2010-04-27
Genres: Fantasy & Magic, Paranormal, Young Adult
Pages: 352
Format: Paperback
Goodreads


Nick's family has been on the run from magicians his whole life. His father is dead, and his insane mother hates him—she starts screaming if he touches her. After Nick's protective older brother is marked with a demon sign that means death, danger is unavoidable. The only way to erase the sign is to kill a magician.As Nick and his brother play a deadly cat and mouse game with the magicians, Nick begins to suspect that everything his brother has told him about their past is a pack of lies. Not knowing whom to trust or where to turn, he walks into a trap—and a startling revelation that changes everything he's ever believed.




Something really different and fresh.  Demon's and Magician's at work here.  I truly enjoyed it.  Well written and good storyline.



Related Posts