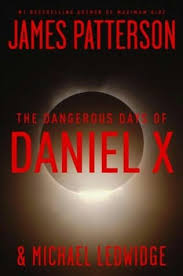 The Dangerous Days of Daniel X

by James Patterson
Series: Daniel X #1
Published by Random House on 2009-01-23
Genres: Science Fiction, Young Adult
Pages: 290
Format: Hardcover
Goodreads


Daniel X works alone. Having watched from the shadows as the brutal murder of his own parents unfolded before him, he has been forced to make his own way in a dark and unforgiving world with a heavy task handed to him. Daniel's father was an alien hunter, working his way through a fearsome 'wanted' list of aliens intent on seeking control and wreaking devastation. But as he planned his next target, his own time was running out. Following his parents' sudden deaths, Daniel faces an uncertain future: he knows little about his family or where he came from but a few things are clear, he has inherited the list from his father and with it, a unique ability to create anything that he needs including some very devoted friends to help him along the way. His life has become dedicated to the mission. Every day has been transformed into a terrifying hunt, watching each step he takes for danger awaits around every corner and lurks within the shadows. His ultimate aim is to exact revenge against number one on his list: his parents' murderer. But first he must target the others: each more sinister and gruesome than the last.
---




I enjoyed this book.  It was pretty good.  Something very different for James Patterson and really inventive.  I'm not sure that it's for everyone though.  I've picked up the sequel and can't seem to get through it as quickly as this one.  Not bad, but not amazing.



Related Posts