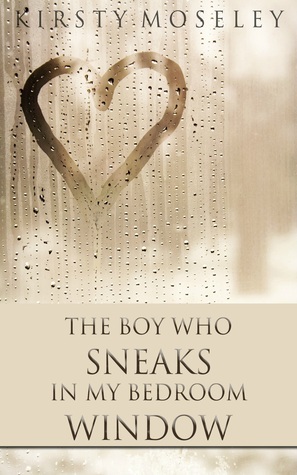 The Boy Who Sneaks in My Bedroom Window

by Kirsty Moseley
Published by the author on 2012
Genres: Contemporary, Romance, Young Adult
Pages: 253
Format: eBook
Goodreads


Amber Walker and her older brother, Jake, have an abusive father. One night her brother's best friend, Liam, sees her crying and climbs through her bedroom window to comfort her. That one action sparks a love/hate relationship that spans over the next eight years. Liam is now a confident, flirty player who has never had a girlfriend before. Amber is still emotionally scarred from the abuse she suffered at the hands of her father. Together they make an unlikely pair. Their relationship has always been a rocky one, but what happens when Amber starts to view her brother's best friend a little differently? And how will her brother, who has always been a little overprotective, react when he finds out that the pair are growing closer? Find out in The Boy Who Sneaks In My Bedroom Window.




So much to think about with this one.  I'll be back later to finish this….
Okay… Wow… I checked out other's reviews on this just to get a feel for what everyone else is saying. It has no bearing on what my thoughts are of course, but it's just interesting to see both sides. I'm completely glad that not everyone likes the same books. It's so interesting reading why other's didn't like something you loved…. and some people have a real way with words when they're passionately loving or passionately hating something. Gosh people are funny! LOL
What I'm seeing is either people loved it or … for lack of a better word… hated it. I really dislike using the word hate when it comes to people's work. The story may not appeal to people but "hate" is such a strong word and it's rude. So yeah, it was from one extreme to the other and there were very few happy mediums.
I myself am having a very difficult time trying to get my thoughts out for this book because there were a few things that were so bothersome to me but yet I seemed to have overlooked them because I seriously could not stop reading the book. I devoured it. The pages couldn't turn fast enough for me. So THAT is what made me overlook some of the things that were annoying.
And annoying is sort of a strong term too. It wasn't real annoying as such, just a little perturbing in spots. Like "editing" and "spelling" etc. The flow of the book was fantastic because I just couldn't stop turning the pages but yet had the spelling and grammar errors not been there, it would have flowed a bit better. I know some people publish their own books these days and those that do lack the proper editing sometimes but because they're self-published I can certainly overlook the little things like spelling and grammatical stuff. I'm all for people doing what they can with what they have. I have no idea if this book was self-published or not so I'm not worrying about it anymore. Moving on….
View Spoiler »
Then there's the whole "don't touch me" thing but yet she's having sex and getting pregnant at the age of 16, which is less than 4 years (barely 3 years) since she was almost raped by her father. Not to mention sexually assaulted by him all her life. Sexually abused children do not get over it that fast!  Then again… when it comes to whom she had sex with you can sort of look over that part too. I mean the only person who comforted her, aside from what her brother Jake could do for her, was Liam. Ever since she was 8 and he was 10 he's been there for her, sleeping with her every night. Of course she'd be comfortable with him and I can see where he'd be the only one she would ever allow to touch her. She only trusts three people… Jake, her mother and Liam. « Hide Spoiler
Liam:  She caught his interest at the tiny little age 4 and he was 6……. and he never lost interest. That's sort of hokey, but yet so loveable, isn't it?? Awwww!  I mean what 6 year old takes a liken to a girl? Girls are bad and have cooties at that age right?  Yet it gives you the warm fuzzies too.
He became best friends with her brother Jake, but yet at the same time never lost interest in Amber.   View Spoiler »He was threatened by Jake not to go anywhere near her and he didn't… except to be there for her every night to sleep with her.   So technically he broke his promise to Jake to not go near her, but the loophole was that his being there for Amber wasn't on a sexual level, just comfort from the abuse that she endured on a daily basis.   How many 10 year olds haven't slept in their own bed for years because they sneak out every night and sneak back in every morning?  Very few I would dare say… however, how sweet is that??? « Hide Spoiler
View Spoiler »
He had all these feelings for her but couldn't show them because he wasn't allowed to be with her.   He did things to annoy her so that she wouldn't want to be near him but yet regardless of how much he pissed her off, he was there at night and she never turned him away.   Things could have totally backfired on him.   Especially considering some of the things he did to get his mind off her was having sex with other girls.  Yuck, but yet in his defense he didn't think he'd ever be able to be with her. « Hide Spoiler
Then, finally, he couldn't deny his feelings for her anymore View Spoiler »and luckily for him he didn't have to wait any time at all for her to be on board with it.  They seemed to talk about it and …. bang!   Relationship!   For him… he'd been denying his feelings for so long and for her, she had to come to grips with the fact that she was falling in love with him all this time, not just because he was comforting her at night.   She liked him too.   It seemed a little short but then again, it had been coming for a long time. « Hide Spoiler
The whole "slutty teenagers" thing.  Yes, there are some out there… but the whole school??  A $4200 bet?  I don't buy it.  Fun and interesting but not realistic.  Then again… this is FICTION people!!!  Of course it isn't real.  It does make for fun reading though!  LOL   I just loved the come backs that Amber had for Jessica!   It was awesome!   My favourite View Spoiler »was the whole "standing on the corner being a lady of the night" rant and Amber's final come back… "Yeah, I was meeting your mother there!" LOL   Priceless! « Hide Spoiler
The mother!   Margaret!  Yeah, okay View Spoiler »she was abused too so we'll cut her some slack but…. once he's gone she gets a job where she leaves her kids for weeks at a time???   Helloooooo… you don't leave your kids for that long.   Especially when your abusive ex-husband could be lurking anywhere and show up at any time.   Why the hell wasn't charges laid against this asshole years ago??????   I mean c'mon!   At least there would have been something on report even if they couldn't make anything stick….. then to let him go a 2nd time with no charges?   Seriously!  Yeah, some sort of justice finally happened to him, but…. words escape me here. « Hide Spoiler
Anyway, I could go on with more I'm sure, but the bottom line is this.   As you can see above, everything that I've written that bugs me is also countered with something else that I liked or a reason why the bugging thing can be accepted or overlooked.   There are a ton of things that can be picked apart but regardless I really LOVED this book!!!!   I couldn't put it down and the whole concept of such a young puppy love enduring the test of time and affects of an abusive childhood and an over-protective brother threatening death on him. It's truly sweet and adorable.   Sure, maybe not fully believable, but sometimes when I read a fiction I like the impossible.    That's what enables me to escape into a book and get out of real life for awhile.    If it's too realistic then I may as well have picked up a true crime book, or read the newspaper!
I like the idea of having a strong love like that from childhood and the idea that it could last from ages 6 and 4 to ages 96 and 94.   It's endearing!   Therefore, I consider the idea and concept and feel the book gave me AMAZING!   I wish there were a ton more Liam's in the world.   He's just simply an awesome character.   Maybe Amber could have been a bit stronger according to some people, but seriously after what she endured why shouldn't she depend on someone like Liam.  View Spoiler »She also showed a lot of strength in my opinion when she stood up to her asshole of a father didn't she? « Hide Spoiler … and Jake?   He's a pretty cool older brother don't you think?   After everything that those two went through during childhood, I think they turned out pretty frickin' awesome and they have the best next door neighbour ever!!
Yeah, I loved this book!  I will read it again.




Related Posts