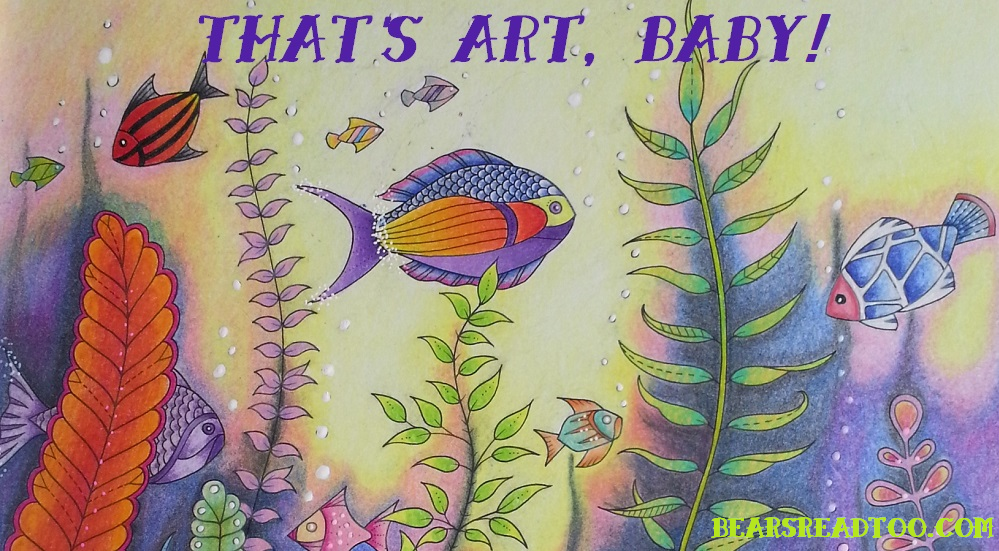 I created this feature to talk about my other escape from reality... the art world. Be forewarned, I will most definitely be babbling on about any and all kinds of arty and crafty stuff!
---
The picture below was a challenge from the Hanna Karlzon colouring group on Facebook.  I hadn't been colouring or making books or doing much of anything crafty in quite some time and I decided to join this little challenge for fun.  We were asked to colour a picture, but leave a "shape" only shaded in black and grey within the picture.  This was my take on it.
I'm currently working on another picture, but I'm also in the process of getting my room which was my previous "office" turned into a craft/art studio.  Very slow process!  It has been extremely hot here this summer and this room is upstairs so it's not unlike working inside of an oven,  so production has been halted and we're hoping to get back into it here in the next few weeks.  I have been promised that I'll be into it before Christmas, but we'll just see about that.  I don't want to get my hopes up but I'm really wishing and hoping for it to be true!
---
UPDATE: 
This post was started over a month ago – almost two, and apparently I forgot to finish it and post it.  I posted a book review since this one was started.
I have only worked on two colourings since this one and I have not finished either one of them.  I did manage to get a drawing done for my boss actually for his new company logo.  That took a bit of time, but I can't show it for privacy reasons.
I also have not finished my craft/art studio yet either.  It has been…. hectic… to say the least.  We had a terrible August and September (family-wise) and I used October to DE-stress.  I'm not sure how successful I was at that, but at least I'm "up" enough to think about blogging.  My family is whittling down again and there is just me and my two sisters left.  Another brother (and the last brother) passed away on August 31st and I almost lost my dog during the simplest of operations in August as well.  September was full of funerals, and October just flew by.
Here we are starting November and I am still BUSY!  I have a very long list of things to get done and I'm not sure how much time I will be able to spend crafting or doing any arty stuff at all.  I'm still trying to get into my craft space before Christmas but I may have to settle for Spring instead.  The good news is that I AM WORKING AWAY AT IT… albeit slowly.  I'll take it!
So I don't really have much more to share except maybe this pic of my baby girl who thankfully survived a horrific operation and is doing wonderfully.  Bad as ever!!!
Meet Piper!
She went in to be spayed… and turned out she had a "Teratoma tumor" that had to be removed and it was very touch and go for a few hours because it was wound around her veins etc.,  It seemed like days and not hours, but lucky for me I have a wonderful Vet and he did his magic.
Happy belated, Halloween!  Happy reading and crafting and all things arty!  I'll be back soon with another book review.
Related Posts