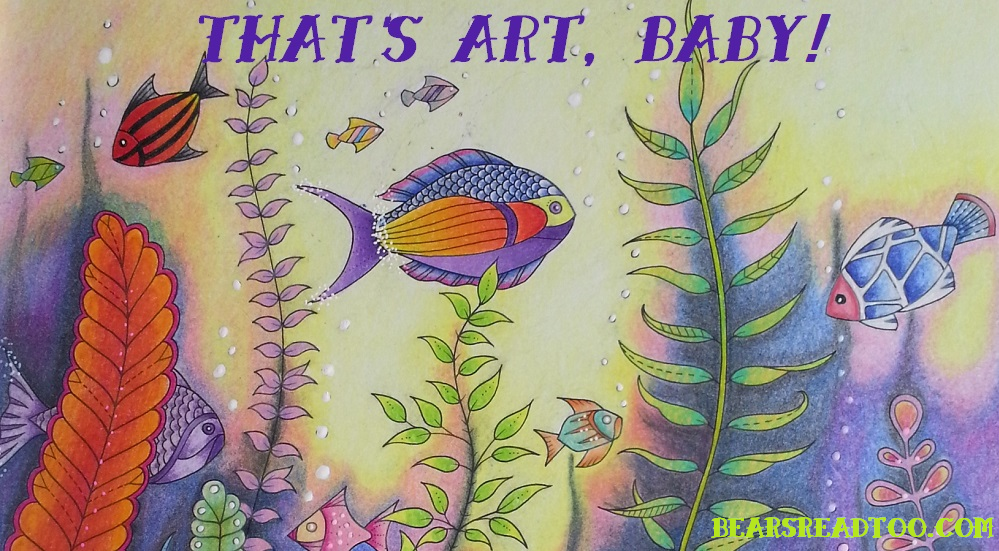 I created this feature to talk about my other escape from reality... the art world. Be forewarned, I will most definitely be babbling on about any and all kinds of arty and crafty stuff!
---
Good day to you all!
I really don't have a lot to add to a post today, but I did finish another journal and wanted to post some pics of it.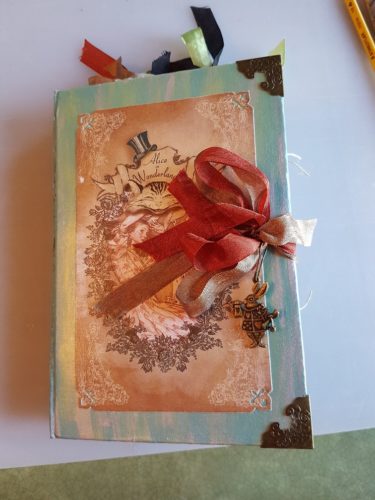 As you can see this is Alice In Wonderland themed.  (size: 5.5″ x 7.5″) The entire thing is Alice in Wonderland except for the tea stained papers that I made and a few odds and end scrap papers included on the inside, but they are all coloured to match or at least compliment the Alice In Wonderland theme.
This particular paper kit was created by Dreamzetc on Etsy, but I also used several ephemera packs for tags, post cards, tea bag envelopes etc.  I have listed these sellers as well.
Digital Refugium, HapaChicCreative, Kimberly Rose Graphics (no longer has an etsy shop that I can find.) and Mimika .
---
I was also able to snag some Alice In Wonderland charms and I put one here on the closure.  I usually make a whole string of charms and dangle them from the back but this time I figured less was more and hung a single charm.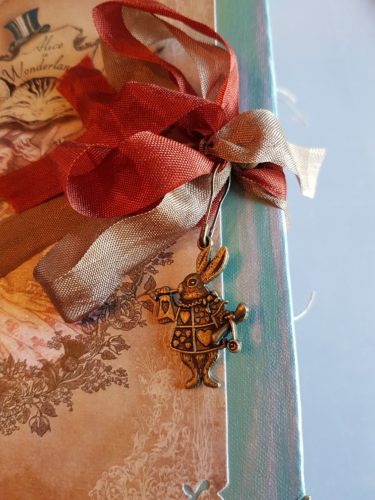 ---
I used Tim Holtz hitch posts for the closure this time.  You don't have to untie the ribbon each time you want to get into the book, you can just press a little on the cover to free up some tension and unhook the ribbon.  Do the same thing to rehook it and the tension is enough that it won't tear or pull too hard on the ribbon yet keep the book secure.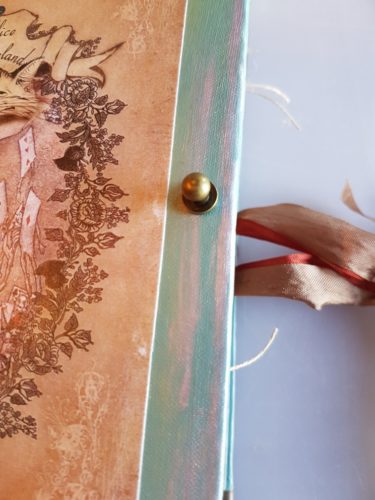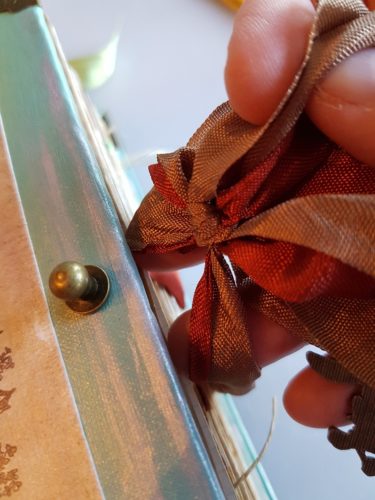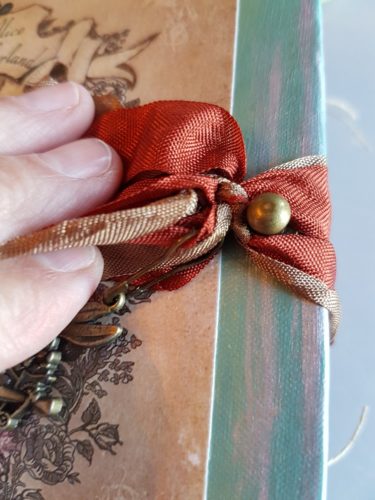 ---
The rest of these are just pictures of the back of the book as well as opened and closed pictures standing and laying down to show thickness. It is a chubby little fella. I originally made it for myself, but have since decided to sell it or keep it for a gift. That's partially why it's so thick.  I couldn't decide what ephemera I wanted inside and usually when that happens I end up having way more than necessary.
So, there are a ton of Alice In Wonderland themed post cards and tags inside as well as little tea bag envelopes that I have also folded tea stained paper and put inside of them. Except for 1 tea bag envelope which I did a little something different.  I actually took a scented tea bag (Chai Tea) and put it inside the envelope so it gives the entire journal a little cinnamon aroma to it. After it loses its scent you can always put scented paper in the envelope or a potpourri sachet in it or nothing. It's completely up to the owner. I have also done a little stamping inside with Alice In Wonderland stamps.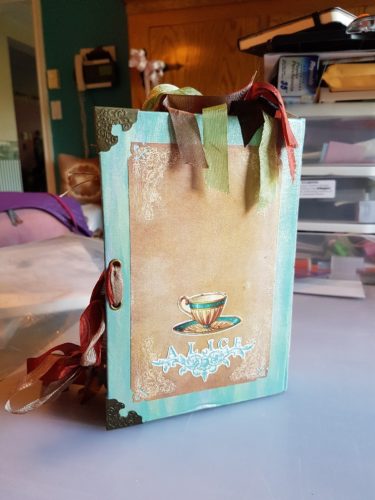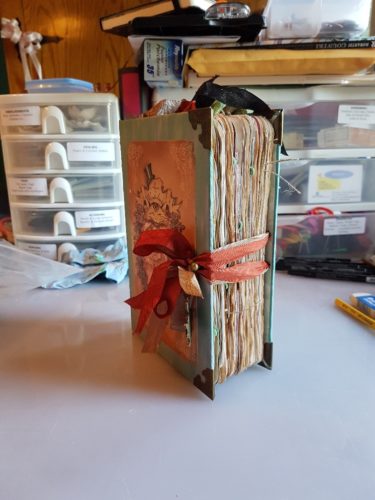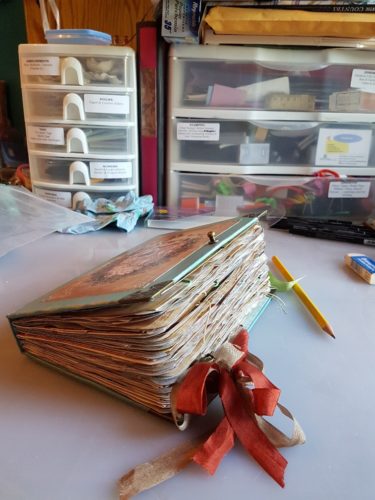 ---
Again, I truly wanted to keep this one for myself, but I must say I could easily say that about any of them. I love collecting journals and I write in them all.  I've been journaling my entire life.  Alas, I cannot continue to make these if I'm going to keep them all for myself.  What is the point in that?
So that's pretty much all I had to say today. I've been into making these journals and haven't concentrated on much of my other arty interests lately so it's just been reading and journal making for me.  I'll be back soon with another book review. I'm currently finishing up a Suzanne Wright book in the Phoenix series and getting ready to start another Lexi Blake book in the Lawless series. So excited for this one!
So I'll be back shortly!
Cheers!
Related Posts