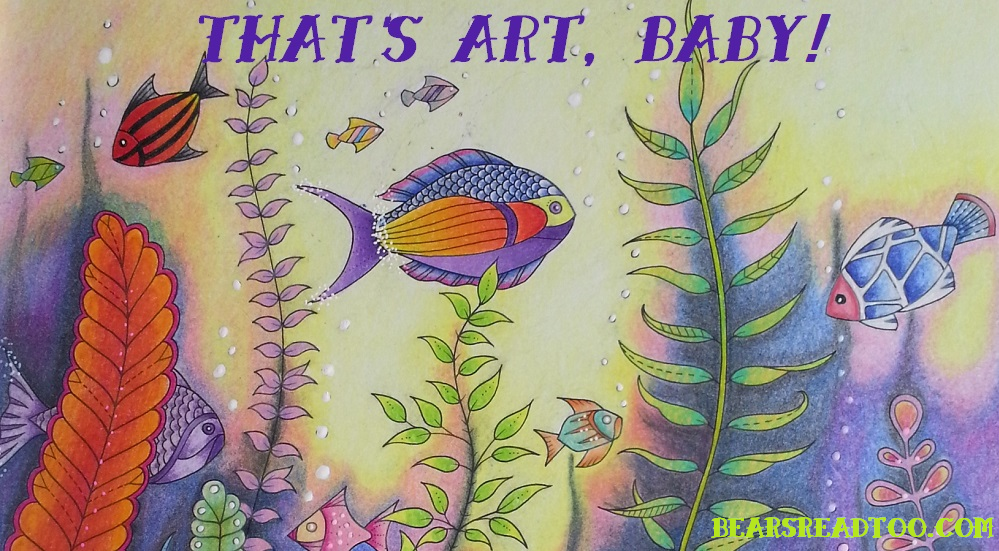 I created this feature to talk about my other escape from reality... the art world. Be forewarned, I will most definitely be babbling on about any and all kinds of arty and crafty stuff!
---
It's been awhile since posting an art post. What have I been up to? Well, a lot actually!
I finally finished a colouring page that I was working on.  It was a long one and I finally came back to it and finished it off.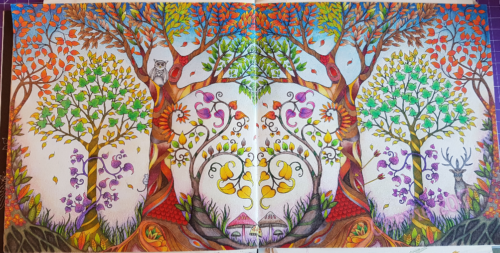 This double spread page from Johanna Basford's Enchanted Forest colouring book was mostly done with Prismacolor Premiers, but when I went back to finish it off I think I used my new Faber-Castell Polychromos. They were my birthday prezzie since there is no way I'd spend that much on myself. Well… not on coloured pencils anyway. *wink wink*
Not that I usually review any coloured pencils or other art products, but I have to say…. I found I still like my Prisma's versus the polychromos. There is a lot of debate on the quality of these two in addition to many others like Caran D'ache but even after trying my polychromos, which I adore don't get me wrong, I still like the softness of the Prisma's better. They blend easier… not necessarily better, just easier because they are much softer. Prisma's are wax based and Polychromos are oil based. The softness makes them blend better, but the downside is that they also break faster (… and OFTEN). Just my two cents worth. I still very much love both and feel extremely lucky to be able to have both. Thank goodness for birthdays!!!
Then I got into something completely different. It's more of a paper CRAFT rather than art, but I think it'll fit here regardless.
Homemade (Vintage or otherwise) Journals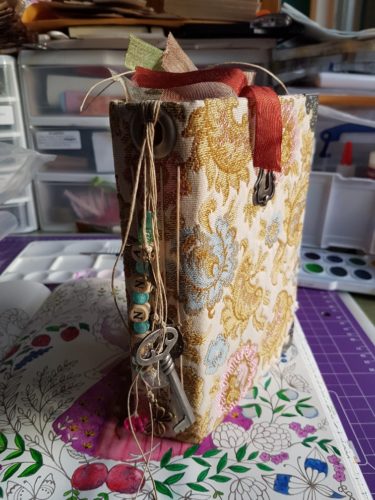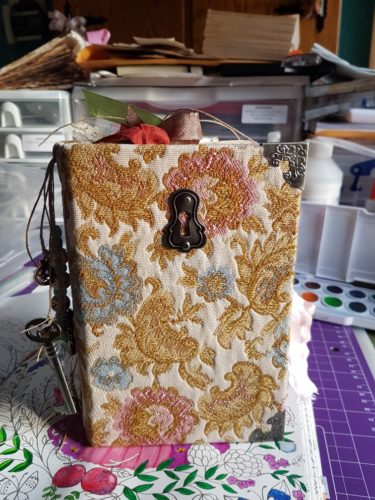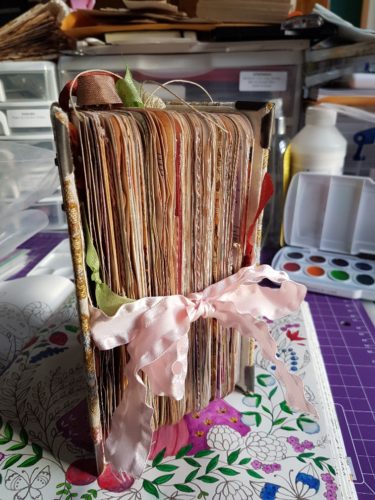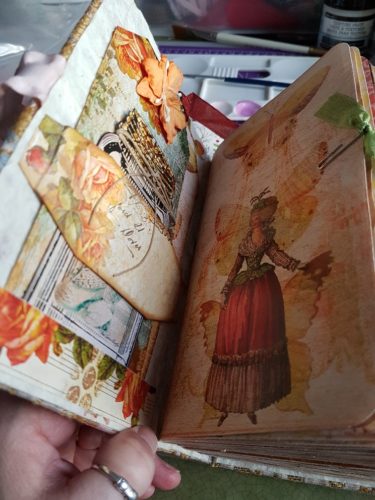 The above journal is the 3rd journal I made. It was for my sister. I kept the first journal that I made for several reasons, not the least of which that it was a prototype. Plus, I made it from some material that my Mom had given me before she passed away in 2015 so there was no way it was going anywhere. My sister fell in love with it right away and wanted one just like it. So I made her one very similar. This one is much thicker than the one I made myself and has much more ephemera and journaling cards inside than mine does. I still had some more of Mom's material left so I covered her book in the same. So even though I don't have pictures of mine to share in this post, it's very similar to the one above. This one being my third, of course it's better made than mine.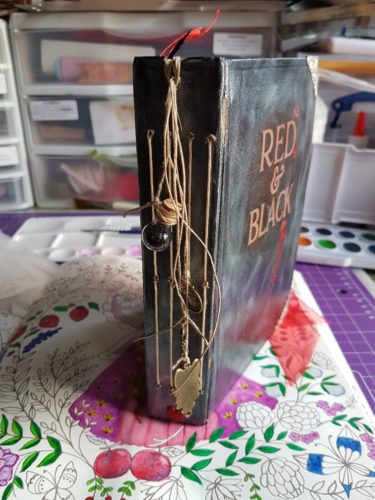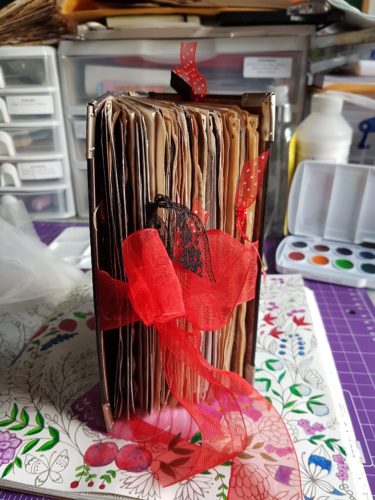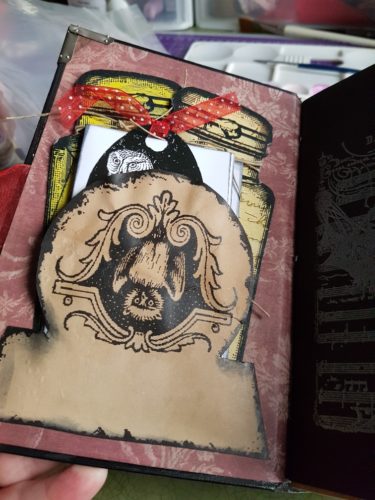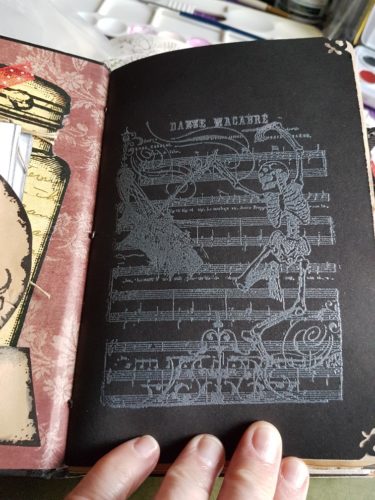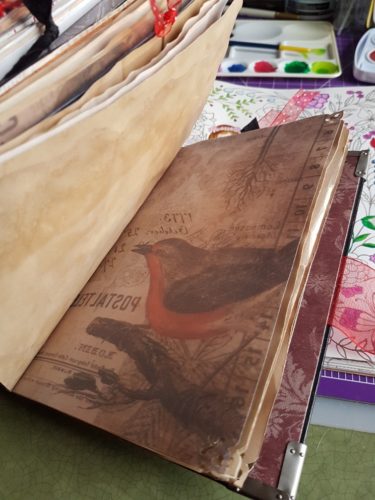 This one here was my second journal and so much fun to make! I made it with my dark side because my sister has a friend that is apparently eerily similar to me in a bunch of ways and she asked me to make her a spooky journal. I'm like I don't know this girl, but how spooky is she? Some like Halloween. Some like Goth. Maybe she just likes dark and eerie? So I decided to throw my own likes into it and hopefully it wasn't too dark for her. It's full of skulls and creepy spooky eerie shit that I love and the recipient immediately fell in love with it as well. I was told later that the girl had gone through the book and was in awe of how well I knew her to make a journal for her. I realized then that I wasn't alone in the world of the creepy. I guess she went home and had more time to go through the journal with her husband and her husband looked at her and said, "This is too creepy!" He was referring to me making a journal that suited her so well rather than the journal itself. He too likes creepy shit but he thought it was weird that I knew her so well. Really, I don't know her at all. I met her once!
So it is kind of a spooky outcome but a huge compliment nonetheless. I know from her reaction that she will treasure it and that makes me somewhat proud of myself I guess. Plus bonus… I got paid for it! Of course I gave my sister a deal but still… my very first sale!
Giving Credit Where Credit Is Due
The digital papers I used in mine and my sister's journal are from Delygirl1961 (youtube) and Delygirl Creations  and the other journal I used a couple of different digital artist's work… HapaChicCreative (Amy Jo Johnson) and TsunamiRose (Daisy Collins) both on Etsy.
What got me into homemade journals?
I just happened upon them on Youtube one day while searching for an art journal technique (another topic for another post). I was stunned by the beauty of these creations and me being an avid person who is constantly writing their thoughts down in their journals I HAD to have one! So I tried to get one from any one of a number of people who make and sell them on Etsy or their own shops and I hit a road block.
They are in so much high demand and they are sold almost immediately upon going up on the Etsy shop so unless you are sitting and watching the item to stand even a small chance at getting one you're screwed! So then the option was to order one. That too ran into a bit of a road block because there are waiting lists for one thing and also when you custom order they are even more expensive. These do not come cheap and rightly so. There is an extreme large amount of work that goes in to putting one of these together.
Running the risk of insulting the people who have to charge a certain amount of money to make any sort of profit at all, I simply could not afford to spend the money on a custom journal. It's worth every penny they ask, but I can't afford it. So I took it upon myself to watch a few Youtube tutorials and purchased a few digital journal kits and a few other odds and ends plus use my own personal stash of existing supplies and I had enough resources to start my own journal.
I have made a total of four journals including the Alice In Wonderland themed one I'm currently working on. I'm loving it so much that I have been spending all my spare time crafting journals. The best part is that some of my other artistic interests can be incorporated into the process.  There is nothing stopping me from doing watercolour works and inserting them as pages in the journals as well. Decorating the book covers is another art form. It's a total blast!
One more thing that I've learned to do, which is a huge part of the journals, is making tea or coffee dyed papers. There are quite a number of ways to do this, but so far I like to do it the old fashioned way by soaking the papers in tea and piling a few page at a time on a cookie sheet mixing a few paper doilies in among them and baking them on a low heat until dried.  They turn out lovely and have the pattern of the doilies on some. My other favourite is using a big round pizza pan that has the holes in the bottom. It creates a lovely polka dotted pattern on the pages.
Long post, but I had a lot to say! I hope you readers enjoyed it and I'll try not to take so long in writing another "That's Art, Baby!" post.
Related Posts