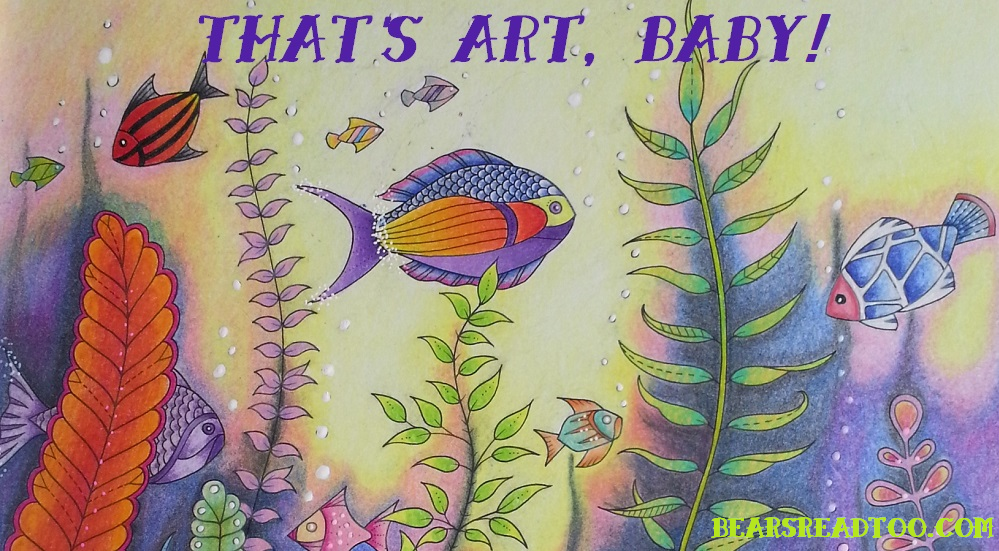 I created this feature to talk about my other escape from reality... the art world. Be forewarned, I will most definitely be babbling on about any and all kinds of arty and crafty stuff!
I know this Art feature was supposed to talk about any and all art and here is my second post in this feature and AGAIN I'm talking about Adult Colouring Books.  I guess it's because that's pretty much what I'm focusing most of my free time on these days.  I'm still reading and I'll have another review up soon, but for today let's talk colouring and what else I would like to get into. Also, I'm touching base with signing your work or using a watermark… or both.
---
So first off these are the finished pages since my last art related post.
These were a lot of fun and learning new techniques is always a challenge, but rewarding.
The butterfly (Johanna Basford) was done last fall and it was only my second or third time using the chalk pastels in the background.  I feel like I could be a lot more creative using these pastels.
---
The clock (Hanna Karlzon) is my first completed piece for 2017.  This was a huge challenge for me and I'm not entirely sure I succeeded but I did my best.  Practise seems to be key.  It's hard to believe that while colouring something GOLD… you actually use yellows and browns and believe it or not black and dark blue. Who knew?  I think it turned out pretty good.  It looks like a gold watch.  I just think it could look better, but then again, I'm my own worst critic.
---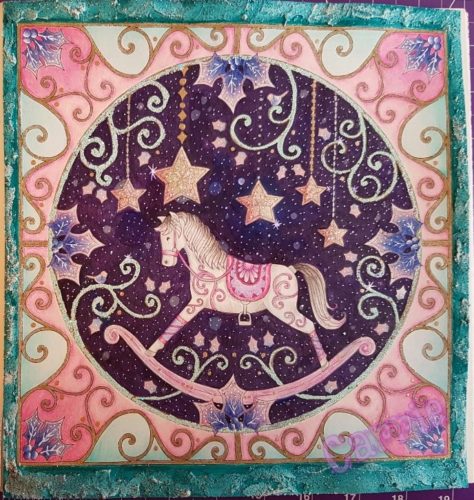 The rocking horse (Johanna Basford) I barely want to talk about.  What a freaking mess that was!  The end result seems okay, but this one was becoming a huge problem for me and colouring is supposed to be fun, dammit! This was NOT fun!  To me it just kept getting worse and worse. Finally it came together though.  I would like to redo it, but I'd have to buy another colouring book and I'm not doing that!
---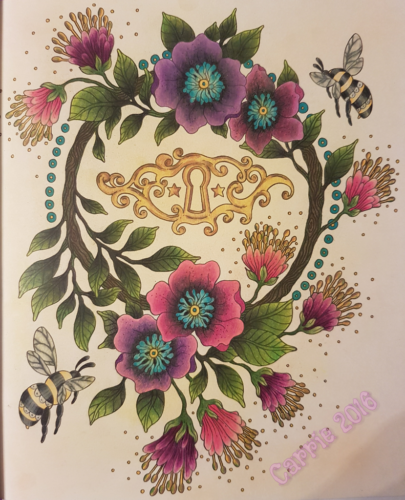 This keyhole (Hanna Karlzon) was actually a breeze and very fun to do. Especially the bumblebees!  I was trying out the blending issues with these flowers and I found it turned out great.
---
Signature or Watermark?
I'm a member of several "Colouring" Facebook pages. I love them because you not only get to post your pictures of your finished pages, but also you get to see other people's finished pieces or works in progress and get ideas and techniques etc.  We all share what we've learned and what our favourite products are among other helpful hints and tips.  They are fantastic places with a lot of great people.
Lately people have been suggesting that you SIGN your artwork or put a watermark on them. Apparently, (I found this hilarious) people are actually stealing your pictures and claiming them as their own work.
REALLY?
Seriously, it's not even our artwork.  The pictures were created by people such as Johanna Basford and Hanna Karlzon among many others and we just colour them! I know a lot of artists out their creating their OWN work that run into this problem, but now it has stumbled down into the colouring world too?  Honestly!
Which brings me back to the original question… I chose to Watermark mine instead of signing and here is why.
If I created my own artwork from scratch I probably wouldn't mind signing my name to it. I have created a lot of original art pieces. I have tole painted and painted using acrylics and oils and I have never signed any of them. I don't know why but I feel like I'm tooting my own horn and I never wanted to be "that guy".
I don't feel right in signing someone else's artwork that I just coloured in.  I see a lot of people signing their coloured pages and oddly enough I don't find anything wrong with that either. There are a lot of talented people out there colouring in these adult colouring books.  Amazingly creative things are being done out there with pages from these books. Some alter the original pieces to the point that they are not recognizable sometimes.  I completely get why the colourist would sign their work in these cases.  Absolutely!
So why do I feel like I can't sign mine?
I guess I just don't feel like mine is "signature-worthy".  Hence the watermark instead. At least with the w/m I can post my pics to the Facebook groups and follow the laws of toyland. Some of them really frown upon posting unsigned or un-watermarked pictures.  Who knows maybe later down the road when I really do a great job and feel like it's worth signing I just might.
---
New Projects!
Have I mentioned that I love colouring? I really do, but colouring isn't my only vice. When I first got into colouring I started searching Youtube and all kinds of different things to get ideas etc.  While doing that I stumbled upon ART Journaling or JUNK Journaling.  I also decided to take up Watcolouring.  Watercolour is not an easy medium, but neither was Oil Painting.  So I'm going to try and work on a journal page or something in watercolour for my next post.
Happy artistic endeavours people!
Related Posts