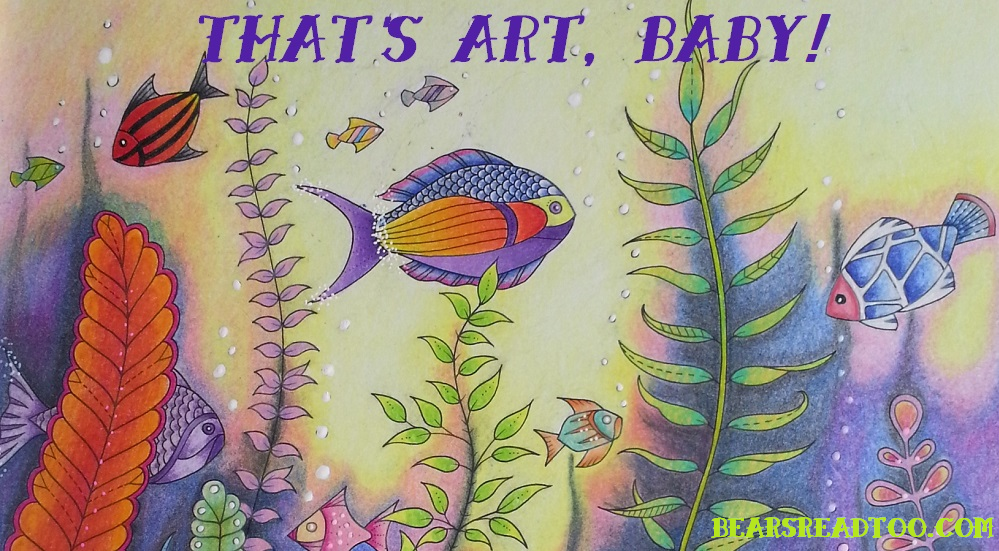 I created this feature to talk about my other escape from reality... the art world. Be forewarned, I will most definitely be babbling on about art of any kind from a child's finger paints to renowned fine artists and all the in-betweens that I consider art.
---
Guilty!  I admit it!  I have jumped on the "Adult Colouring" bandwagon!
We were looking for a colouring book one day.  A plain ole regular kids colouring book.  I told my husband that I wanted one.  He's like, "Really?" I'm like, "Yeah!  I think I do."  I just felt like colouring like I used to when I was a kid. I remember spending hours doing the paint by numbers or colouring in my colouring books. It was my favourite thing to do aside from reading a great book.
Believe it or not, it proved most difficult to find a kid's colouring book that wasn't Iron Man or Spider-Man or some Barbie thing.  So, like with everything else, I headed to Amazon!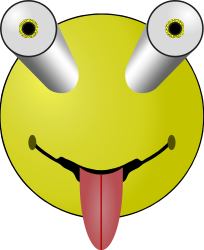 Wow!  Shocker.  There were like a million and one books to choose from.  I had no idea that Adult Colouring was so huge! Obviously I was living under a frickin' rock because since that visit to Amazon, I don't see anything but Adult Colouring supplies. I believe it started out being for Stress Relief and I guess still is, but the community has grown to this huge existence.
Once I got a couple of books sent to me I started seeing YouTube videos of tons of extremely talented colourists. Some are even extremely talented artists who also jumped on the colouring book train. Those are the ones I follow the most. They have such creative ways to colour with their art backgrounds.  Amazing stuff!
---
There is so much that I have learned!
 Coloured Pencils
I do not consider myself an "artist" by any means, but I do still play around quite a bit with drawing and painting and other fun mediums.  I have not played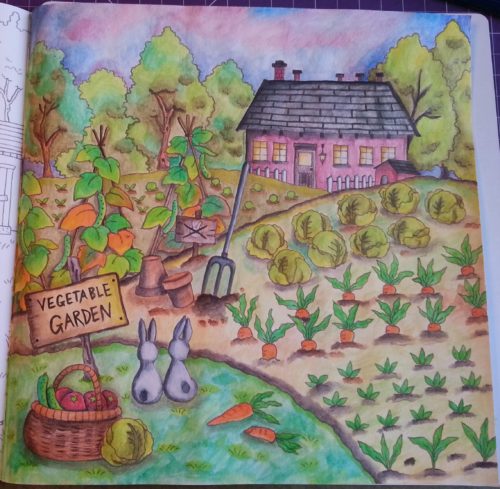 too much with coloured pencils… until now. Man let me tell you. There are a ton of different varieties of coloured pencils out there.  From the very low priced budget brands to the highest quality artist grade brands. Unfortunately I found out the difference and now I can't colour without my Prismacolors!!! (I also want to try out the Faber-Castell Polychromos… but that will take me a bit of saving to get those.)
I also tried  watercolour pencils and Inktense pencils, which is similar to watercolour where it is activated with water, except it's ink. This was done using the Inktense pencils.
Paper Quality
I have also learned that the paper quality in choosing your colouring book is HUGE!!!  Some techniques you cannot use on the thinner paper and as such your colourings will not turn out and you will be unhappy. Heavy thicker paper is much better for holding different mediums as well as little to no "bleed through" when using markers or gel pens.
The "TOOTH" of the paper is also a factor but that pretty much is personal preference as well.  I personally prefer a bit of tooth because, among other things, it holds the coloured pencils much better than a smooth paper.
Again, live and learn. After purchasing several colouring books and then comparing them to my newer books I have rendered several of my earlier purchases useless to me. Nice pictures, but shitty paper. I've spoiled myself and now I will not colour in them. I told my husband much to my own horror that I have become a Colouring Book Snob!
Blending
I'm not new to blending as I use it in all of my other mediums, but… remember that tooth I mentioned above?  Well, even though toothier paper picks up your coloured pencils better (in my opinion) it also leaves like a marbled type effect that may not bother some, but I hate it. I don't normally run into this when using paint but with pencil you can see a bit of white in there and I don't like it. This is where the blending techniques come in. There are several techniques out there but my favourites are the "colourless blender" and mineral spirits and/or odourless paint thinner.  The softer core pencils will blend together themselves quite nicely, but when that's not working I mostly use the two above techniques. It depends on what I'm working on, but I mostly use the blending pencil.
Backgrounds

A lot of the people out there colouring are putting in a lot of very unique and extremely creative backgrounds on their pictures. Some are a little more artistic by drawing in additional things and colouring them along with the original pictures and they are amazing. Some use "pastels", or what I used to refer to as Chalk Pastels.  (You do not want to use Oil Pastels here.  Just saying.)  I learned how to use my pastels, which I have had forever, in a very different way. Plus, I haven't used my pastels in… ever… and I finally found a use for them. Very exciting. Some also use acrylic paint. I have yet to try that in the colouring books yet.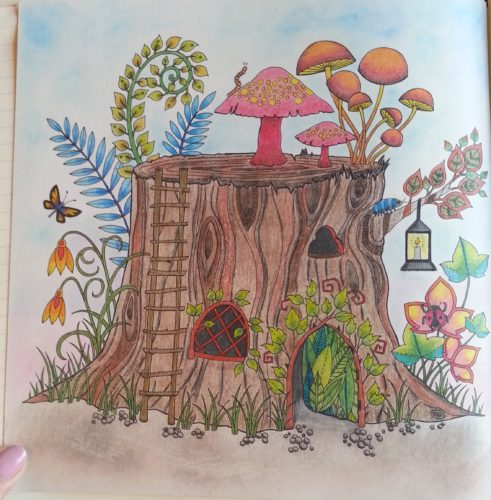 Some just carry on colouring in the background using the coloured pencils, or as I mentioned above, draw in extra things to create a more dynamic background.  In this picture I just carried on colouring in the sky and ground using the pencils. (Sorry about my thumb photo-bombing the pic!)
Gel Pens & Markers
Some people like to colour using Gel Pens or markers. There are so many varieties of both out there. To get into those really fine lines and spaces in some of these colouring books you have to have a really sharp point and I prefer the Triplus Fineliners by Staedtler. I also have what they call brush tip markers. They have a very flexible tip that looks and acts similar to a paint brush, hence the name. I love using these, but I have to say that you have to be really careful of bleed-through, especially with the alcohol based markers.
Brush Tips ~ Sorry about this pic… it turned out a little fuzzy.
Fineliners
I have gel pens, but I'm not such a huge fan of using them to colour, however, I do have a few Gellyroll pens and Uni-Ball Signo white gel pens as well as a couple of Paint Markers such as Uni-Posca white paint markers. These are superb for highlighting your finished piece with dots and small lines. I find I use them a lot in the colouring books.
These all have highlights using the Uni-ball Signo white gel pen and Uni-Posca white paint pen.
The bunny above has some Gellyroll pink gel pen as well.
My favourite is the coloured pencils. I love my markers, but I much prefer colouring using the coloured pencils and highlighting with uni-ball signo or uni-posca pens. I'm not comfortable using the markers (for colouring in the books) because I have to constantly be aware of how much pressure or how many times I go over one spot to ensure it doesn't bleed-through to the picture on the other side. Some people will look at the picture on the other side and are okay with sacrificing it, but I'm not. These books are way too expensive to be wasting any of them. (just my own preference… to each their own.)
---
I still work on my other art projects and haven't given any of my other mediums up, but I have to say sometimes it's just fun to sit down and colour a picture without having to go through the process of drawing it up first. These books provide that for me. They are already drawn for me.  All I have to do is grab my pencils and play! I totally get the whole Stress Relief thing. It's almost like diving into a great book. You sort of just go into your own little world and escape for awhile.
These are some of my other finished pages. (Another thumb photo-bomb!) All pics on this post are from Johanna Basford, Jasmine Beckett-Griffith, and Hanna Karlson colouring books.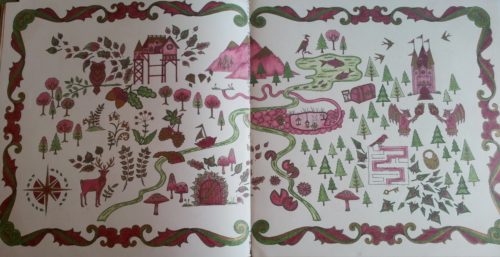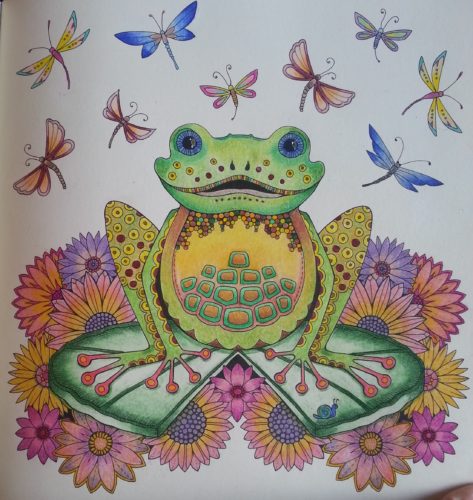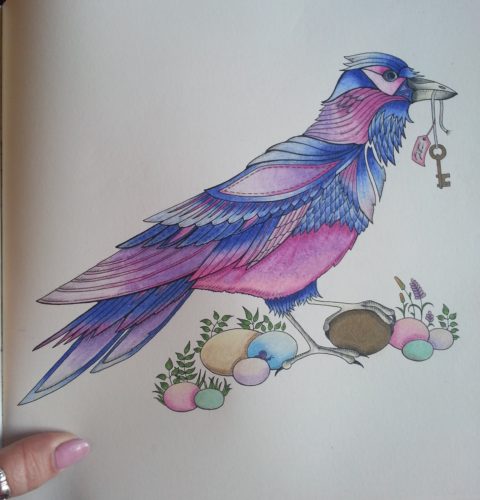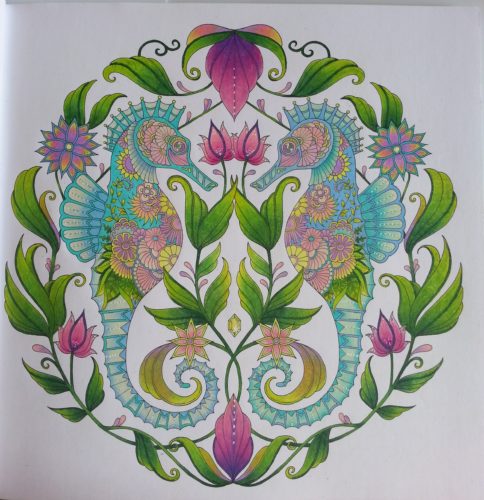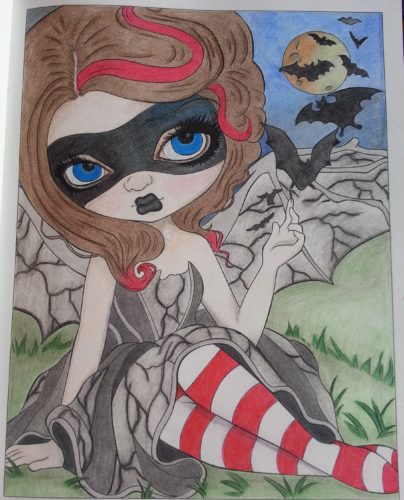 Related Posts