BEWARE, please! This book contains explicit sexual content and may or may not contain Erotica &/or BDSM content as well. As such, it is not suitable or appropriate for readers under the age of 17 or readers who would be offended by this subject matter. My review may also contain conversation of the same. This warning has been extended to include some NEW ADULT as well.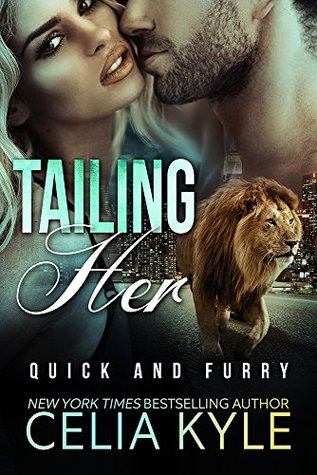 Tailing Her by Celia Kyle
Series: Quick & Furry #2
on March 7, 2015
Genres: Adult, Fantasy & Magic, Paranormal, Romance
Pages: 85
Format: eBook
Goodreads


Jennifer Palmer doesn't have time for a mate. Yes, she's a werelion whose beast is all about sexing up the hot beta, but she's in the middle of prosecuting a high profile criminal case. Her primary responsibility is to see the bad guy ends up behind bars. Scratching her mating itch and screaming Brett's name as she com—ahem. That isn't anywhere on her list of to-dos. What she doesn't realize is her werelion mate's primary responsibility is ensuring her safety from the bad guy and… making her scream his name.

**Stand alone, no cliffhangers.**

Quick & Furry: Love, Laughs, and a Bit of Rawr on the Go.

The QUICK & FURRY series:
Chasing Tail
Tailing Her
On Her Tail
Heads or Tails
---
Tailing Her is book #2 in the Quick & Furry series by Celia Kyle.
Another good short from Celia Kyle.  This one was rather exciting with all the shooting and protecting and other fun stuff! My only gripe about this one was there was something about a girl/werelioness that wasn't Brett's mate. She was there and only mentioned once and then never brought up again.  Okay, I get it that she means nothing to Brett and, therefore, nothing to Jennifer but it would have been kind of fun to have her cause a bit more of a riff between the two mates.
I connected with both of these characters. I really like Jennifer. I liked her in the first book as the best friend of the heroine in that one and in this book she shows her full character.  She's a feisty little thing. Great character… and Brett… well, he is just yummy.
All and all, great second book! Celia Kyle is really good at novellas. She touches on all the important things yet gives it to you in a smaller but jam-packed package. Her writing flows so nicely that you can't put it down. I'm a fan!


Related Posts