BEWARE, please! This book contains explicit sexual content and may or may not contain Erotica &/or BDSM content as well. As such, it is not suitable or appropriate for readers under the age of 17 or readers who would be offended by this subject matter. My review may also contain conversation of the same. This warning has been extended to include some NEW ADULT as well.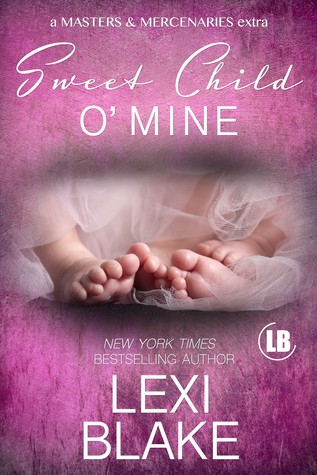 Sweet Child 'O Mine

by Lexi Blake
on 29 April 2015
Genres: Adult
Pages: 31
Format: eBook
Goodreads


There isn't really a synopsis for this because it's a Masters and Mercenaries EXTRA.

It's a novella that focuses around Ian & Charlotte Taggart and the birth of their first child(ren).

Ian is freaking out because he feels like he's losing control and Charlie is strong enough to pull him together.

It's a must read if you're caught up to date on the rest of the series so far.
---
So incredibly good!
This is a little novella treat from Lexi Blake for her fans of the Masters & Mercenaries series.
There is no printed book and I'm not entirely sure there ever will be.  Maybe some time down the road she will have this as a printed book or maybe be tagged onto the end of another book or something like that.  For now though, the only way you can read this is if you subscribe to her newsletters.
Seriously this girl amazes me to no end!  This is a 3 chapter, 1 epilogue, 31 page… snack and yet I feel like I have just read a full length novel.  She missed nothing.  She brought everyone together, had some suspense, a shit load of drama, a hot sexy steamy rendevous and loads of humour (as always) and I feel completely satiated!
I quite simply cannot get enough of the entire McKay-Taggart team and everyone around them.  It's absolutely my all-time favourite series.  I've said it before and I don't get tired of repeating myself….
Lexi Blake is a fucking genius!
Brilliant!!!


Related Posts