BEWARE, please! This book contains explicit sexual content and may or may not contain Erotica &/or BDSM content as well. As such, it is not suitable or appropriate for readers under the age of 17 or readers who would be offended by this subject matter. My review may also contain conversation of the same. This warning has been extended to include some NEW ADULT as well.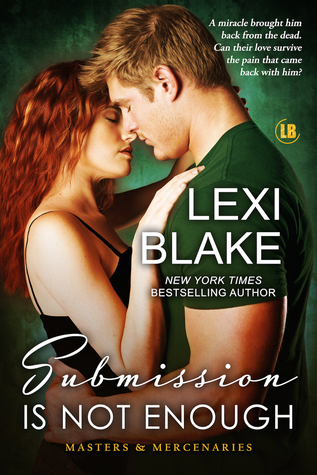 Submission is Not Enough by Lexi Blake
Series: Masters and Mercenaries #12
Published by DLZ Entertainment LLC on October 25th 2016
Genres: Romance, Adult, Contemporary
Pages: 417
Format: Paperback
Goodreads



A fallen hero reborn

Theo Taggart lost everything the night he died. His family, his beautiful Erin, and worst of all, he lost himself. A twisted doctor brought him back from the brink of death, but reprogrammed his identity to serve her will. Rescued by his brothers, he must fight to reclaim the man he was and the life, and love, that were stolen from him.

A love worth fighting for

Erin Argent thought she'd lost Theo forever. When he walked back into her life, it was nothing short of a miracle. Months of torture and conditioning at the hands of Dr. Hope McDonald have done damage to Theo that may never be mended. He has no memory of her or the life they shared. Breaking through to him, and helping him rediscover all he lost, will be the toughest mission she's ever faced. Luckily for Theo, Erin loves a good fight.

Their reunion under siege

Unfortunately, Hope is far from done with Theo Taggart. Obsessed with her prize experiment, she will do anything to get him back. If the only way to finally break him of his past life is to kill Erin and his son, then she's only too happy to oblige…

A Masters and Mercenaries Novel by Lexi Blake
---


Submission Is Not Enough is book #12 in the epic Masters and Mercenaries series by Lexi Blake.
It's not too often that I get emotional unless being in a perma-sarcastic-mood is considered emotional. (Almost like Ian!) Lexi's books, especially the Masters and Mercenaries crew, get to me every single time. Not just with each new book but with each re-read that I do as well.  I have read all these books several times and each time I do, it's like my very first time.  It's a sickness… but one I hope I'm never cured of.
I know I say this with each new book but I truly have been waiting for this particular story for quite some time. Erin and Theo's story was spanned out across several of Lexi's previous books. With each book she gave us a taste to keep our spine tingly excitement ignited so by the time their very own book came out all of us readers were chomping at the bit to get to it.
Lexi gave us exactly what she promised a couple or three years back… an EPIC story.  
Let's get started:
I find it really hard reviewing a single book out of this series without including the entire series. It's THAT good!  Erin Argent and Theo Taggart are both characters that we have previously met (and fell in love with) in a number of the books. Theo is the happy-go-lucky twin brother to Case and half-brother to Ian and Sean who fell in love with Erin Argent, the strong chip-on-her-shoulder soldier that Ian hired awhile back.
It took Erin a long time before she finally let Theo into her world and trusted that he was sincere. She had a hell of a life growing up with a hateful family. Shortly after that we all know that Theo died in a mission and Erin was left to pick up the pieces of herself and take care of her new son that Theo died before knowing.
Ian and company searched for his body to bring him home and when they couldn't locate it, realized or guessed that Hope MacDonald had something to do with it. Theo eventually over a couple of books was rescued and brought home, but he wasn't whole. He was tortured and had his memory wiped by the evil-genius-doctor.
This story is how Erin tries her best to make Theo whole again with the help of the entire McKay-Taggart gang including all of our favourite peeps from London and a little new addition named TJ Taggart.
I can't begin to tell you how good this book is and how awesome and elated I felt after reading it. All of Lexi's books do this to me, but I was a little worried all through the book and once again, it was for nothing.
The ride is a long one with a few bumps in the road and truly EPIC as promised. I didn't think it was possible to love these people anymore than I do now but it seems my heart grows a little bigger with each book. Not to mention that we have a couple of more people that I'm sure we'll be hearing more about in future books.
In a Nutshell:
This book is truly EPIC! It was well worth the wait and was done so well. There are so many favourite moments in this book that I can't even count them nor could I choose only one. I LOVED IT!
… another final thought… and maybe a little author gushing too:
I am such a huge fan of Lexi Blake and her characters.  She and her books have helped me get through a lot in the past few years and continues to do so. Some nasty people may think "it's just a story dude" or "get a grip on reality" but they are so wrong. It's not just a story and I'll grip reality when I fucking well feel like it, Bitch! Damn but people annoy me! (… and yes people actually said these things to me.)
Lexi pours her heart and soul into every single word she writes and it shows. I feel it in my soul with every magical word I read. For me her books are soothing and healing. In times of sadness and hectic turmoil they calm me and let me escape to a fictional world where a grumpy sarcastic bastard and all of his puppets are my favourite people on the planet.
Lexi writes a mean BDSM romance filled with excitement and action and best of all…  sarcastic humour, that brings a smile to my heart and soul every single time. When things get too much for me (or any time really) I pick up a book and read about Ian Taggart and the entire McKay-Taggart crew and I feel so much better. I thank her from the bottom of my heart and soul that she chose to be an author as her career. She has touched so many people with her words and I'm only one of them.




Related Posts