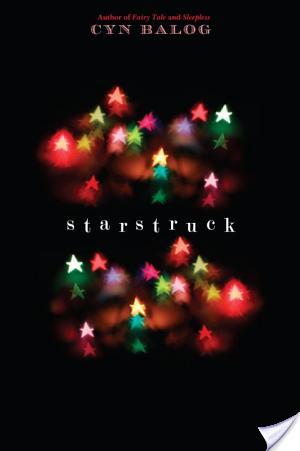 Starstruck

by Cyn Balog
Published by Random House LLC on 2011-07-12
Genres: Fantasy & Magic, Young Adult
Pages: 256
Format: eBook
Goodreads


Starstruck, Cyn Balog (discription from Amazon):

Gwendolyn "Dough" X doesn't think she has much going for her—she carries a few extra pounds, her family struggles with their small bakery in a town full of millionaires, and the other kids at her New Jersey high school don't seem to know that she exists. Thank the stars for her longtime boyfriend, Philip P. Wishman—or "Wish." He moved away to California three years ago, when they were 13, but then professed his love for her via e-mail, and he's been her long-distance BF ever since.

At the beginning of her junior year, though, Wish e-mails that he's moving back to Jersey. Great, right? Well, except that Dough has gained about 70 pounds since the last time Wish saw her, while Wish—according to his Facebook photos—has morphed into a blonde god. Convinced that she'll be headed for Dumpsville the minute Wish lays eyes on her, Dough delays their meeting as long as she possibly can.

But when she sees Wish at school, something amazing happens. He looks at Dough like she's just as gorgeous as he is. But Wish is acting a little weird, obsessed with the sun and freaked out by rain. And the creepy new guy working at the bakery, Christian, is convinced that there's more to Wish's good looks than just healthy eating and lots of sun. He tells Dough that a mark on Wish's neck marks him as a member of the Luminati—an ancient cult of astrologers who can manipulate the stars to improve their lives. Is Wish and Dough's love meant to be—or are they star-crossed?




I want to start by saying that I loved this book and I read it in less than 18 hours, which included a full 8 hour work day as well as an evening with my husband and an episode of  "So You Think You Can Dance" so that doesn't leave much time for reading.
The flow of writing made it so easy to read and follow.  The story was completely original and I thought it was great.   The "teenage" lingo and humour was fantastic and it made me feel like I was reliving some of my highschool days.
It was a simple story (not in a bad way) yet so full of angst and passion and realistic situations… well, I loved it!  It hit close to home for me and I was captured right from the very beginning.  I simply couldn't put it down.  I will say that the main character Gwen/Dough/Gwendolyn was really hard on herself to the point of almost being annoying.  She was so sure that she was "unworthy" of anyone's love or friendship that she could have very easily pushed people away.  Having said that though, I've got to give it to the author for really getting into the true feelings of someone who is overweight in school and how they would feel.  I was Gwen in a way growing up.  I wasn't that heavy but I certainly didn't weigh no 110 pounds soaking wet like the rest of my friends and it really wreaked havoc on a person's self esteem.  I've read a few reviews where people were like "well if she didn't like the way she looked why didn't she do something about it instead of shoving another doughnut in your mouth and whining about it?"  Well, a comment like this obviously comes from people who do NOT have either a weight problem or a self esteem problem.  Until you walk a mile in an overweight person's shoes… well, you can figure out where I'm going with this.  I think Balog did an amazing job at the self-esteem issue that comes with this type of situation and what actually goes through a person's thoughts.  Gwen's thoughts were mine exactly although where I differed was that I outwardly showed more confidence than I actually had internally.  Gwen oozed self-esteem issues out of her pores, which made her an easy target, not that she deserved it but if you show more confidence people tend to leave you alone.  Her thought process though?  Dead on!
I went online today and bought two other books by this author.   I'm a fan!




Related Posts