I received this book from the author and/or publisher FREE of charge in exchange for an honest review. This does not affect my opinion of the book or the content of my review.
BEWARE, please! This book contains explicit sexual content and may or may not contain Erotica &/or BDSM content as well. As such, it is not suitable or appropriate for readers under the age of 17 or readers who would be offended by this subject matter. My review may also contain conversation of the same. This warning has been extended to include some NEW ADULT as well.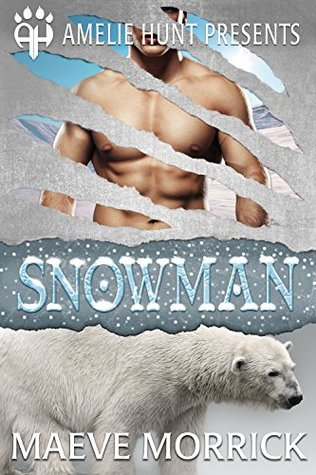 Snowman

by Maeve Morrick
Series: Arctic Station Bears #2
on 9 October 2015
Genres: Paranormal, Romance, Adult
Format: eBook



Arctic Station is dark and Alanna MacCready is freezing. She was lured into a trap at the frigid edge of the world. Her enemy has cut off power and communications. No one is coming to help and there is no escape. She and the bears are on their own against an ancient enemy.

The Company, the faceless, calculating organization that runs Arctic Station, knows something has gone terribly wrong. Scrambling to prevent the worldwide exposure of a potentially deadly virus, they dispatch a team to cover up the incident. Survivors are expendable.

Now the clock is ticking and the temperature is dropping. Alanna will have to count on sexy polar bear Alpha Liam to help her heat things up. And they'll both have to count on their friends more than ever as they face both this new threat and a very old one.
---
I took part in Amelie Hunt's Arc Wave promo. Whoever signed up was given (for an honest review) five series of three books each of ARC's from five different authors to read and review by October 9th. These are all novellas and I was a little stumped on how I was going to do up the reviews, but decided to break them into five posts with each having all three books by the same author.
So let's get started!  
---
Snowman is book #2 in the Arctic Bears series by Maeve Morrick.
I really liked the first book, Snowbound, but I had a few issues with relating to the characters. This second book, however, is even better! The writing is better, the characters are better, everything is better! Even Alanna is growing on me in this one.
Snowman is full of action and it kept my attention from word one to the very end. I'm loving how this story is going and I cannot wait for the next book.
I continue to have a spot in my heart for Ollie and I think Ben is my favourite character!  He's so grumpy or something. I love him.
In A Nutshell:
Loved it! Can't wait for the 3rd one.
Related Posts