I received this book from the author and/or publisher FREE of charge in exchange for an honest review. This does not affect my opinion of the book or the content of my review.
BEWARE, please! This book contains explicit sexual content and may or may not contain Erotica &/or BDSM content as well. As such, it is not suitable or appropriate for readers under the age of 17 or readers who would be offended by this subject matter. My review may also contain conversation of the same. This warning has been extended to include some NEW ADULT as well.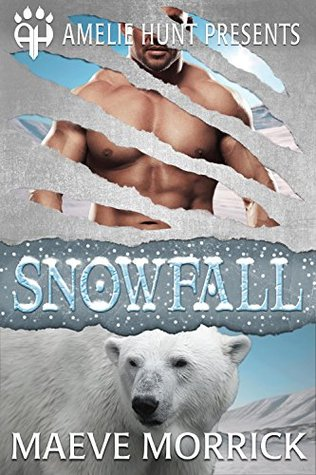 Snowfall

by Maeve Morrick
Series: Arctic Station Bears #3
on 09 October 2015
Genres: Adult, Paranormal, Romance
Format: eBook



Gun in hand, trembling as the Arctic wind howls around her, Alanna MacCready watches helplessly as her fated mate, sexy polar bear Alpha Liam Roy, is captured by their enemy. She knows it's a trap, but a choice between doing nothing and saving the man she loves is no choice at all. Some things are worth any risk, at any cost.

At least she won't be alone. She'll have a few shifter friends and wildcard Alex Parker along for the ride. She doesn't trust Parker, but who could trust someone sent by a faceless corporation to kill them?

Secrets from Alanna's past will finally come to light as she gathers strength for the final battle. How far will she go for love? Will there be anything left of the woman she was when the dust settles?
---
I took part in Amelie Hunt's Arc Wave promo. Whoever signed up was given (for an honest review) five series of three books each of ARC's from five different authors to read and review by October 9th. These are all novellas and I was a little stumped on how I was going to do up the reviews, but decided to break them into five posts with each having all three books by the same author.
So let's get started!  
---
Snowfall is book #3 in the Arctic Station Bears by Maeve Morrick.
This is a pretty good series. It all came together for the ending and seems to have left room for a spin-off series or for this one to carry on, yet didn't leave a huge cliffy ending either.
I really liked it.  It was different. The main character, Alanna, who I could not connect with in the beginning has grown on me. Liam is quite amazing! Really like him. Ben is still my favourite but he was a secondary character throughout. Maybe a spin-off with him in it would be wonderful! *wink wink*.
I can't go without saying that I'm saddened by Oliver's character. I thought he was pretty great in book 1… and again in book 3. I really liked him and connected with him.
Maeve Morrick is brand new to me and she's left quite an impression. I'll be keeping her on my radar for future reads.
In A Nutshell:  
Pretty darn good! The entire series was quite enjoyable!
Related Posts