I received this book from the author and/or publisher FREE of charge in exchange for an honest review. This does not affect my opinion of the book or the content of my review.
BEWARE, please! This book contains explicit sexual content and may or may not contain Erotica &/or BDSM content as well. As such, it is not suitable or appropriate for readers under the age of 17 or readers who would be offended by this subject matter. My review may also contain conversation of the same. This warning has been extended to include some NEW ADULT as well.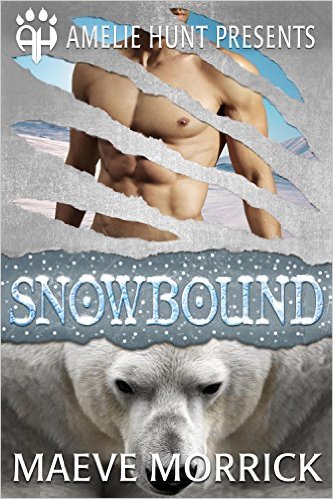 Snowbound

by Maeve Morrick
Series: Arctic Station Bears #1
Genres: Adult, Paranormal, Romance
Format: eBook


Alanna MacCready likes to keep her life simple. Work, home, the comfort of an early bedtime every night. She can't abide by chaos, which is too bad… When she gets a phone call in the middle of the night, she packs her bags and heads to the coldest place on Earth for the scientific discovery of a lifetime. No comfortable routines in the Arctic…

Instead, she runs headfirst into two devastatingly handsome shifters. If Alanna were honest with herself, she wants nothing more than to let sexy scientist Liam Roy warm her during the long winter nights. The second they see each other, there is no denying the spark between them, the connection that threatens to burn them both.

As things are heating up with Liam, someone far more dangerous is eyeing Alanna from the shadows, threatening her very life. Alanna will have to choose between two lovers as she fights for her life and the possibility of happily ever after…

As long as she doesn't end up SNOWBOUND forever.
---
I took part in Amelie Hunt's Arc Wave promo. Whoever signed up was given (for an honest review) five series of three books each of ARC's from five different authors to read and review by October 9th. These are all novellas and I was a little stumped on how I was going to do up the reviews, but decided to break them into five posts with each having all three books by the same author.
So let's get started!  
---
Snowbound is book #1 in the Artic Station Bears series by Maeve Morrick.
I have not read anything by Maeve Morrick before this and I have to say this isn't too bad. I love the idea of the story and what they found in the ice.  That whole concept is very unique. The story is very fast paced and sexy. I'm liking where it's going.
I couldn't connect with Alanna "Allie" McCready at all, but she's definitely got some spunk to her. I'm hoping that she grows on me a little in the next two books. I really loved Oliver "Ollie" King's character and now I'm a little confused by him… again, I'm hoping that gets cleared up in future books.
The characters that I really fell in love with the most were the helicopter pilot, Ben and Dr. Liam Roy. Yeah, I want to hear more about them! Ben has a nice sarcastic aloofness to him that I love and he sounds very manly and sexy.  Love it!  Dr. Liam Roy… well… he is just sex on a stick! Can't wait to hear more from him.
In A Nutshell:
I think this is a very good start to a series and I'm looking forward to reading the next two books.
Related Posts