BEWARE, please! This book contains explicit sexual content and may or may not contain Erotica &/or BDSM content as well. As such, it is not suitable or appropriate for readers under the age of 17 or readers who would be offended by this subject matter. My review may also contain conversation of the same. This warning has been extended to include some NEW ADULT as well.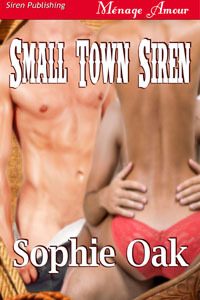 Small Town Siren by Sophie Oak
Series: Texas Sirens #1
Published by Siren-BookStrand on July 7th 2010
Genres: Adult, Romance
Pages: 201
Format: eBook
Goodreads



[Menage Amour: Erotic Cowboy Menage a Trois Romance, M/F/M, BDSM, sex toys] Jack Barnes and Sam Fleetwood have been best friends since they met in foster care. They share a business as cattle ranchers and a house. All they need now is a woman to share. The men are sure they've found that woman when Abigail Moore returns to Willow Fork, TX. Abby left her hometown twenty years before under a cloud of scandal. She's raised a daughter, forged a new life for herself, and is ready for the next phase when she meets the handsome cowboys. They're a dream come true; Jack is the sexy Dom, and Sam the playful lover. It's everything she's ever fantasized about. There's only one problem. She's still not welcome in Willow Fork, and someone is willing to kill to keep her away. ** A Siren Erotic Romance
---
Small Town Siren is book #1 in the Texas Sirens series by Sophie Oak.
I loved this book!  I immediately fell in love with these characters.  Talk about Insta-Love!  Yeah, that was me with these characters.  Especially Jack, but Sam is no slouch either.
Sam and Jack are ranchers and best friends and they have their eyes on a nice little red headed filly named Abigail, and man she's one feisty little spitfire that one!  I loved all three of them!  They were funny and loveable and so entirely likeable too.  I immediately connected with the entire bunch.  It was amazing watching their story unfold.  All three of them had a rough childhood although Abby's was in a completely different way than the guys, but still rough.  They found each other later in life and the acceptance and love they all have is just so amazing.  I particularly enjoyed the dialogue and humour.
When it got to the end I was completely in love with them and I wanted more. There was something unfolding in their relationship that didn't quite get there.  I wanted more.  There is some unfinished business going on there.
A Funny Story…
Sophie Oak is simply a genius!  I'm trying to write this with separation from Lexi Blake but I can't because I know the truth and Lexi Blake is my favourite BDSM romance author of all time! I had noticed how much I was falling in love with this new (to me) author's style and I was thinking to myself, "Gee I have quite a number of BDSM and erotica authors that I enjoy immensely but this Sophie Oak person is making her way up my list at a very rapid speed and getting awfully close to my Lexi."  I went in search of Sophie Oak on Amazon and purchased every single book in this series and another series because I just love her style and I know without a doubt I'm going to love every book. I went onto Goodreads to put my books in my list and saw Sophie Oak's picture on the bio page and thought she looked an awful lot like Lexi Blake.  It was then that I went and found out that they are one and the same.  That was during the third book in this series.
Mystery solved!  Now I know why I love this new to me author so much.  She's been a favourite of mine for a very long time.  How did I not know this already?  I made myself feel better about my stupidity and obvious lack of being a proper fan by sticking to the fact that I spend my time reading the books and not the websites and blogs etc.  Trust me I feel terrible about not knowing this sooner.  I think what bothers me most is all this time I could have been reading these books that I didn't know about.  If I had even an inkling that I was missing out on Lexi's/Sophie's writing I would have been all over it.
The amazing thing is that Sophie Oak has climbed up my favourite author ladder and she's sharing a rung with Lexi Blake and I didn't think that could ever happen.  And she did it without me knowing that they were the same person.  It's not like any of the characters or scenes or storylines are similar or overlapping in any way.  That's some awesome writing skills!  Love it!  Love the book!  Love the author!


Related Posts