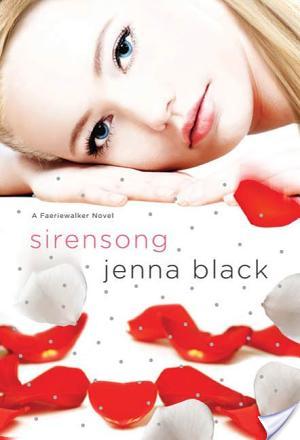 Sirensong

by Jenna Black
Published by Macmillan on 2011-07-05
Genres: Fantasy & Magic, Young Adult
Pages: 336
Format: eBook
Goodreads


When Dana is invited to Faerie to be officially presented at the Seelie Court, it's no easy decision. After all, everyone knows Titania, the Seelie Queen, wants her dead. But Titania claims not to be the one behind the death threats; and her son, Prince Henry, makes the decision a whole lot easier when he suggests Dana might be arrested for (supposedly) conspiring with her aunt Grace to usurp the Seelie throne. So she and her father better do as they're told . . . The journey through Faerie is long—and treacherous. Dana thought it would be a good idea to have friends along, but her sort-of-boyfriend, Ethan, and her bodyguard's son, Keane, just can't seem to get along, and Kimber's crush on Keane isn't making things any easier. When a violent attack separates Dana from their caravan, the sexy Erlking saves her just in the nick of time . . . and makes it clear that he hasn't given up on making her his own. Arriving at Titania's beautiful palace should be a relief. But Dana is soon implicated in an assassination attempt against Titania's granddaughter, and is suddenly a fugitive, forced to leave her father behind as she and her friends flee for their lives. Will she be able to prove her innocence before the forces of the Seelie Court—or, worse, the Erlking—catch up with her? And will she save her father before he pays the ultimate price in her stead? Sirensong is book three in Jenna Black's enchanting Faeriewalker series.




Let's start by saying that I loved this series.  I really did.  It was different and unique and fantabulous characters.  Love me some Keane & Ethan… and I even liked the Erlking!  I know… sshhh, don't tell anybody.    It touched on a very human life issue that a lot of teenagers face these days.. and always really I guess… Alcholism and broken homes. 
The first two books were fantastic and this one was really good too it's just that it seemed to end… weird.  It was almost like it could have went on a little bit more but because she wanted (or had) to end it and it was the end of the series she tied all the loose ends up and crammed it all into the last chapter and an epilogue.   It seemed rushed.
I know that sounds kinda contradictory because most of the time people are complaining that books end with questions… or why didn't he/she tie it up for us… or why the hell did it end there?  So in that sense it was done very nicely and it left you with a good feeling that she (Dana) is going to be just fine with her future life and best friends and even her father.  She will continue to have obstacles, which is just life but she has her friends and family to be her rocks.  She's an amazingly strong little character.  I love her.
So, I'm not sure exactly what my problem is.  Maybe it's just that I didn't want it to end.   Either way, I love this series and I love Jenna Black's style of writing.  It flows nicely and is easy to read.  It would have been nice for this series to carry on a bit longer but I guess Dana's story has been told.  I'm just a little sour about the rushed ending is all.  Other than that… great story!!  Great author!!




Related Posts