BEWARE, please! This book contains explicit sexual content and may or may not contain Erotica &/or BDSM content as well. As such, it is not suitable or appropriate for readers under the age of 17 or readers who would be offended by this subject matter. My review may also contain conversation of the same. This warning has been extended to include some NEW ADULT as well.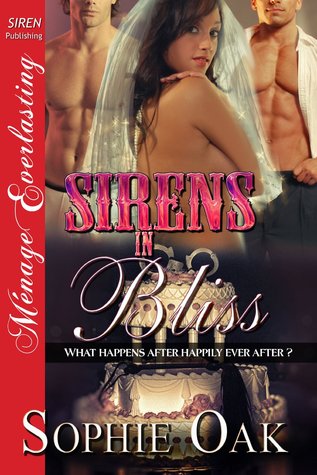 Sirens in Bliss by Sophie Oak
Series: Texas Sirens #8.5, Nights In Bliss Colorado #10
Published by Siren Publishing on September 20th 2013
Genres: Adult, Contemporary, Romance
Pages: 286
Format: eBook
Goodreads



What happens after happily ever after?

It's the event of the year. The wedding of Leo and Wolf Meyer to their beautiful sub, Shelley McNamara, has all of Bliss up in arms—and makes everyone think about love and marriage and family.
Wolf and Leo have to deal with the sudden reappearance of their father. Rafe Kincaid is handed an opportunity that might take him and his family away from Bliss. Aidan, Lexi, and Lucas O'Malley find themselves at a crossroads in their marriage. And Stefan Talbot must face his biggest fear—possibly losing his wife in childbirth.
So come to the Feed Store Church, pick a seat, and enjoy the chaos as all your favorite characters from Texas Sirens and Nights in Bliss, Colorado, come together for one eventful weekend.
And some of them may never be the same again.
Note: This is a reunion book, which shares an overall story arc and many crossover characters with the Texas Sirens and Nights in Bliss series. This is not a stand-alone.
A Siren Erotic Romance
---




Sirens In Bliss is a cross-over book between two series by Sophie Oak.  Nights In Bliss Colorado and Texas Sirens. 
I really enjoyed this book so very much!  It wasn't just a wedding for three of my favourite characters but a coming together of friends and family from two series and it was epic!  All of these people already had their HEA endings with their own books, but touching base with them all again was so much fun.
A few of the people that we thought were fine seemed to be struggling but after being surrounded by friends and family they all found what was important.  Love. Friends. Family. Strength. Hope.
… oh and of course there is ALWAYS a sonofabitch that needs shooting!
In A Nutshell
Sophie Oak rocks!  Very much enjoyed the little treat that she gave us for the epilogue.








Related Posts