BEWARE, please! This book contains explicit sexual content and may or may not contain Erotica &/or BDSM content as well. As such, it is not suitable or appropriate for readers under the age of 17 or readers who would be offended by this subject matter. My review may also contain conversation of the same. This warning has been extended to include some NEW ADULT as well.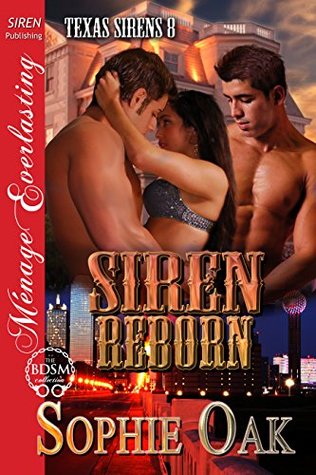 Siren Reborn

by Sophie Oak
Series: Texas Sirens #8
Published by Siren Publishing on January 1st 1970
Genres: Adult, Contemporary, Romance
Pages: 257
Format: eBook
Goodreads



Cole Roberts and Mason Scott loved each other since childhood, but they needed something more to make them whole. A Dom and a switch, they searched for the right female submissive to settle down with, but a terrible accident tore them apart. Their perfect life shattered, they were each left angry and alone.

Kitten Taylor's past is filled with heartache. She yearns to be part of a family with a Master to call her own. When Master Cole takes her in, she might have finally found the place she belongs. Even though something is missing, she is willing to compromise to have the life she always dreamed of, until Mason returns and shows her just how perfect a threesome can be.

When a killer puts the trio in their crosshairs, Cole and Mason will have to put aside the demons of their past in order to forge a future with the woman they love.

** A Siren Erotic Romance [Siren Menage Everlasting: Erotic Consensual BDSM Menage a Trois Romance, M/M/F, spanking, cropping, flogging, sex toys, HEA]
---
Siren Reborn is book #8 of the Texas Sirens series by Sophie Oak.
This is such a great book! We had met Kitten in several of the earlier books and now we finally got to hear her happily ever after.  She is such a fantastic character.  She has seen more horror than any one person deserves and yet she thrives. You can practically feel how strong she is through the words on the pages. Awesome character! Cole and Mason aren't too shabby either with their sculpted physiques and all around 'Dom'iness. Just what the Kitten ordered.
The thing I liked most about this book is the growth of Kitten's character. I say above that she "thrives" and she does, but her actions and her first person speak made it hard to believe to others that she would. It was her safe place, but this book brings her out of her comfort zone and she learns, as well as those around her learn, that she's going to be better than okay.  I can't wait to see in future books where her life takes her.
I love how the author brings back past characters in this series.  It's one huge family and they all come together in every book.
Once again, Sophie Oak does not disappoint. I love the characters and the feeling I get when reading about them. I particularly love her dialogue for each and every character.  They are all sexy and hot and hilariously funny with their sarcasm.
In A Nutshell:
It's one of those "feel good" books.  You know the ones that you read and you go to your happy place? Yeah, one of those warm fuzzy reads.  Loved it!
Related Posts