BEWARE, please! This book contains explicit sexual content and may or may not contain Erotica &/or BDSM content as well. As such, it is not suitable or appropriate for readers under the age of 17 or readers who would be offended by this subject matter. My review may also contain conversation of the same. This warning has been extended to include some NEW ADULT as well.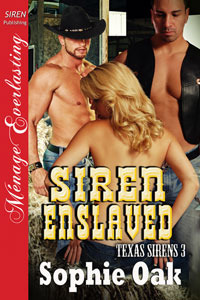 Siren Enslaved

by Sophie Oak
Series: Texas Sirens #3
Published by Siren-BookStrand on 2011
Genres: Adult, Romance
Pages: 277
Format: eBook
Goodreads



[Siren Menage Everlasting: Erotic Cowboy Menage a Trois Romance, M/M/F, Consensual BDSM, sex toys] Julian Lodge has everything a man could want. He's rich, successful and owns the most exclusive BDSM club in Dallas. But something is missing. Finn Taylor has worked his way up in the world from humble beginnings in Willow Fork, Texas. The only thing he still loves in his hometown is Danielle Bay. He never told her he was actually bisexual, and he never confessed his love for her. Now she's getting married, and Finn is sure he's lost his chance with the only person he'll ever love. Julian's vacation to the Barnes-Fleetwood ranch brings them all together. After Dani jumps into Julian's car while fleeing her wedding, Julian knows he has to have her. But nothing is easy in Willow Fork. A danger from Julian's past threatens them all. Julian will have to convince both Dani and Finn that being his will be the best decision they ever made. ** A Siren Erotic Romance
---
Siren Enslaved is book #3 in the Texas Sirens series by Sophie Oak.
Hot damn this is a good book!
If you go back to my review of Siren In The City, you'll see that I mentioned Julian.  Well I sure wasn't disappointed.  I'm a huge fan.  He is so freaking adorable.  I know some people will read the book and say that "adorable" and "Julian" shouldn't be in the same sentence but hell yeah they should!  He is an emotionally damaged gentleman and the little boy in him is crying out for stability and … love.  All of this makes him a fabulous Dom.  He didn't think he had friends or was friend material himself and yet he appears to be surrounded by them whether he wants them or not.  Also, he is fiercely protective of what he considers his.  In addition to all of this he is hilarious.  He puts out a vibe that he is unapproachable and for lack of a better term, scary. Yet, he is incredibly loveable and charming… and yeah, still a little scary.  There are some pretty funny exchanges between him & Jack and him & Leo (his current Dom in residence at The Club).  He's a wonderful character even though you could smack him at times!
Finn and Danielle (Dani).  They are quite amazing themselves.  Finn and Dani have been best friends their whole lives.  They loved each other but didn't act on it because Finn was Bi and didn't want to tell Dani about it and Dani thought Finn was gay and didn't want to push herself on him.  She dropped everything in her own life to come home and provide for her younger sister who didn't appreciate a damn thing. Then she decided she was going to marry Jimbo even though she clearly was in love with Finn; and Finn even though he wanted to stop it… didn't.  Seriously, you could reach right into the pages and smack them both upside the head!
I was a little disappointed in Finn's character when he didn't seem to have the strength and confidence in himself to go after Dani but he more then made up for it later, so I liked him again. Dani for all her shit storm that is her life is a pretty fantastic example of overcoming obstacles to thrive.  Great character!
Once again Sophie Oak pumped out another winner for me.  I'm completely hooked on this series now. I can't wait to dive into more of them. One of the major things I like about this series is her way of weaving each character into each of the other character's lives from past and future books. It's gives it a family and friends homey warm fuzzy feeling. She brings back favourite characters into the new stories so that we touch base with them all and get updates. I LOVE that so much when authors do that. She also introduces new characters from future books. Not at length but just enough to give you a taste of a future character and just enough to pique your interest in them so that you can't wait to hear their story. It's brilliant.
Huge fan!!!


Related Posts