BEWARE, please! This book contains explicit sexual content and may or may not contain Erotica &/or BDSM content as well. As such, it is not suitable or appropriate for readers under the age of 17 or readers who would be offended by this subject matter. My review may also contain conversation of the same. This warning has been extended to include some NEW ADULT as well.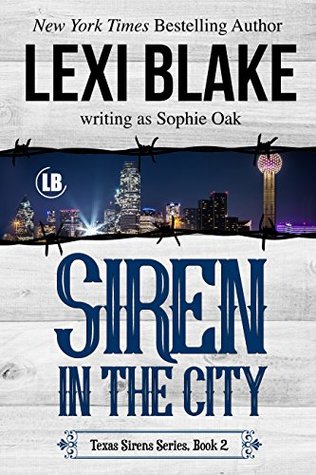 Siren in the City

by Sophie Oak
Series: Texas Sirens #2
Published by DLZ Entertainment on 23 January 2018
Genres: Adult, Contemporary, Romance
Pages: 288
Format: Paperback
Goodreads



When the Dom's away...the subs will play! Jack and Sam married Abby. It was supposed to be for forever, but lately Abby wonders where her alpha male has gone. Jack has retreated, and life has become decidedly vanilla. It isn't the true threesome she and Sam wanted. Sam and Abby know the time has come to fight for what they need.

A call from his mentor forces Jack to revisit the club where he discovered his sexuality. Jack's half-brother is in the city and interested in a little blackmail. Can Jack handle two defiant subs and a brother in need of tough love?

Sometimes all it takes to find the way home is a little love and a lot of bondage.
---
Another re-release of one of Sophie Oak's books.  Siren in the City is the second in the series and it was every bit as good this time as it was the first.  Better in fact of course because of the integration of the Masters and Mercenaries characters.  Gotta love Ian Taggart!!!  This will be just a follow up review since I have already reviewed this book when I read it the first time.  See it here!
It's been awhile since reading this and playing with these characters and wow they are just so good! It's like meeting them for the first time.  I love Julian!  Maybe because I have already read his book or maybe not, but I truly feel for his character in this book.  Since this was Jack, Sam and Abby's follow-up book we just got a few minutes with Julian here and there, but he is so… lonely. It just makes you want to crawl into the book and give him a big hug.  Sure he would probably shrug it off and then order for a public spanking for touching him without permission, but yeah.  He needs a hug dammit!
Lucas is another upcoming character with his own book.  Can't wait for the re-release of that one either.
I love how Lexi (Sophie) is integrating the Masters and Mercenaries characters.  This one had Ian, Adam and Jake in it and the mention of a few others.  It's just so exciting for all of us M&M freaks! Truly!  Lexi's facebook group is all a buzz!  It's so much fun!
As far as Jack, Sam and Abby goes, this was the perfect ending to their story.  I said it the first time and I'll say it again. There was something missing from their relationship from Small Town Siren and it is definitely not missing any longer.  Perfect HEA!!
Can't wait for more re-releases!  I'm very much in my happy place!
Related Posts