BEWARE, please! This book contains explicit sexual content and may or may not contain Erotica &/or BDSM content as well. As such, it is not suitable or appropriate for readers under the age of 17 or readers who would be offended by this subject matter. My review may also contain conversation of the same. This warning has been extended to include some NEW ADULT as well.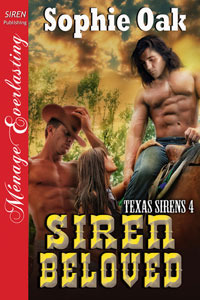 Siren Beloved

by Sophie Oak
Series: Texas Sirens #4
Published by Siren-BookStrand on 2011
Genres: Adult, Romance
Pages: 270
Format: eBook
Goodreads



[Siren Ménage Everlasting: Erotic Cowboy Ménage a Trois Romance, M/M/F, Consensual BDSM, spanking, public exhibition, voyeurism] Aidan O'Malley left his fiancée, Lexi Moore, and their best friend, Lucas Cameron, after a night of passion left him shaken to his core. Years later, Aidan is back and he knows what he wants. He wants Lucas and Lexi forever. Lucas has always been in love with Lexi, but he knows they need something more. They need the perfect Dom to complete their family. He never expected Aidan would be the Dom of their dreams. Lexi is hiding a secret. She knows she's drowning and the time has come to heal, but her anger at Aidan holds her back from moving on with Lucas. When Lexi's life is in danger, Aidan knows he'll do anything to win them back—and keep them alive.** A Siren Erotic Romance
---
Siren Beloved is book #4 in the Texas Sirens series by Sophie Oak.
SOOOOO FRIGGIN' GOOD!

 
This was fabulous! The story of love and connection between Lucas, Aiden and Lexi was breathtaking. I was absolutely enamoured by it. Drawn in from page 1. Actually, drawn in from the previous book in the series if I'm being completely honest. Lexi and Lucas was in previous books and the connection was very evident back then. Now Aiden has joined them and it's just a beautiful story of love and acceptance. You couldn't ask for anything more in a book. I'm still reeling from it.
The author is brilliant!
Sophie Oak took us on an amazing ride with these three. The climax wasn't just at the end of the book.  Each chapter would come to an end and you just couldn't help but start the next chapter no matter what time of night it was and that you had to work the next day. Honestly I devoured this story. The writing is brilliant! The characters are brilliant. The story is brilliant. I love Sophie Oak's humourous dialogue. Right in the middle of disaster and mayhem and she has her characters coming out with something snarky and hilarious!
I cannot repeat enough how much I love the fact that Sophia Oak keeps bringing back our favourite characters. They are all friends and family and they all care for each other so much. Aside from the main plot, there is a cozy homey feel to the stories because everyone is close and would do anything for each other. It's amazing and that's another reason why I keep reading these books. Julian is one of the older characters that Sophie Oak always brings back  and it's because he's the owner of The Club, which is the BDSM club that pretty much all of the characters attend. As much as I adore Jack, Sam, Leo, Lucas and now Aiden, I have a huge spot in my heart for Julian. I love it when he makes an appearance.
One teeny tiny little bump
There is one thing (maybe two things) that I didn't like.  Something that was missed.  This could be considered a spoiler so I'm going to hide it just in case, but View Spoiler »the thing I didn't like was earlier in the book Jack, who is Lexi's step dad and he actually thought about legally adopting her and I can't remember if that did in fact happen or not. I'd have to go back and check. I know that it was mentioned in Jack and Abby's book… anyway that's really irrelevant.  The point is, Jack is her stepdad and Lexi loves him as such.  He pissed her off by what she considers butting in. It never really showed a scene where Lexi actually FORGAVE him. She told her mother that she could, but it never showed her actually going to Jack and saying "I forgive you!" Also, at one point she wanted to call him Dad (very early in the book) but didn't let it slip out and I figured by the end of the book it would happen and it never did.  I was really disappointed in this because I think Jack completely deserves to be called Dad by Lexi and I think Lexi needs it too.   « Hide Spoiler Ultimately though, that little disappointment is so trivial compared to the rest of the book that it was hardly worth mentioning.
To recommend or not to recommend… well… you know the rest
Hell yes, I recommend it!  Not just this one, but the entire series. It's great! With this particular installment, I loved it very much! Keep bringing them and I will keep reading. There are 9 books in the series so far and I'm not sure if more are to come or not, but I can't wait to dive into them all.


Related Posts