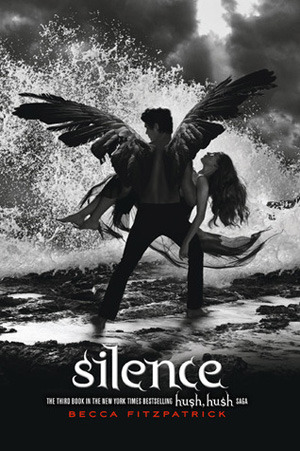 Silence

by Becca Fitzpatrick
Series: Hush, Hush #3
Published by Simon and Schuster on 2011-10-04
Genres: Paranormal, Young Adult
Pages: 432
Format: Hardcover
Goodreads


The noise between Patch and Nora has gone. They've overcome the secrets riddled in Patch's dark past, bridged two irreconcilable worlds and faced heart-wrenching tests of betrayal, loyalty and trust... and all for a love that will transcend the boundary between heaven and earth. Armed with nothing but their absolute faith in one another, Patch and Nora enter a desperate fight to stop a villain who holds the power to shatter everything they've worked for - and their love - forever.
---




Where to begin?  I love
everything
about this book.  The writing, the characters, the style, the flow, the cover, the humour…. it's an endless list.  I LOVE
LOVE
LOVE
this series.  It's phenomenal.
Patch's character has grown and we've learned more about him and the more I learn the more I adore…. and Nora?  Well, her character for me in the beginning was "oh yeah, another female-come-save-me-woe-is-me character waiting for my male heroes in the book to save them."  Nuh uh… she's one of the, if not THE , strongest female characters that I've ever read about.  She's a freakin' pitbull.  Love her!  She's sassy and smart and strong as hell but yet feminine and vulnerable too.  She cries when needed, but not a cry-baby and whiner.  She needs help sometimes, but yet kicks some serious ass too.  She's awesome and she's perfect for Patch and Patch for her.




Related Posts