BEWARE, please! This book contains explicit sexual content and may or may not contain Erotica &/or BDSM content as well. As such, it is not suitable or appropriate for readers under the age of 17 or readers who would be offended by this subject matter. My review may also contain conversation of the same. This warning has been extended to include some NEW ADULT as well.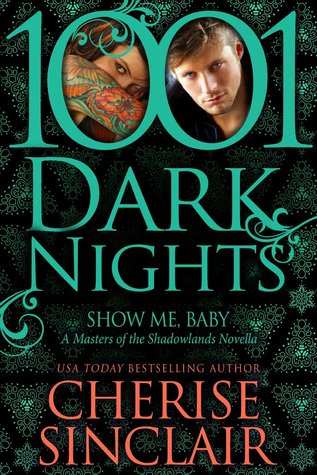 Show Me, Baby: 1001 Dark Nights (Masters of the Shadowlands #9) by Cherise Sinclair
Series: Masters of the Shadowlands #9
Published by Evil Eye Concepts, Incorporated on 2013-08-12
Genres: Adult
Pages: 207
Format: Paperback
Goodreads


After his last lover chose her career over him, Jake knows he wants a woman who will put him at the top of her priorities?as he would with her. One of the trainees, Rainie, has caught his attention. Lush body, a gift for living life to the fullest, always laughing or smiling. Yeah. She trips all his switches. But she?s never given him a second look and that?s damned annoying. Rainie has been burned enough times that she?s not going to get serious about any man. Sure, the BDSM club trainees are supposed to be looking for a permanent Dom, but no harm, no foul?they don?t need to know she lied. Trainees get to be involved in everything?and with everyone. But there?s one she avoids. Master Jake is always frowning at her. No matter how gorgeous he is, she doesn?t need any disapproving Dom up in her business. Unfortunately, her best friends are having a double wedding. Little hearts are floating in the air. Every breath is filled with romance. Rainie is doomed.
---
I'm going to start by saying that I friggin' love Cherise Sinclair and her Shadowlands series.  I've been a huge fan from the very beginning.  I started out by just getting the Kindle books and then I started falling in love with this series so much that I had to have it on my book case so I've since bought all of the physical books as well.
Club Shadowlands
Dark Citadel
Breaking Free
Lean On Me
Make Me, Sir
To Command and Collar
This is Who I am
If Only
… and finally Show Me Baby.  It has a different cover, but that's because Cherise Sinclair was part of the 1001 Dark Nights project for 2014.
Rainie and Jake has been in the previous books as background characters but they finally got their own book and I'm so thankful for that.  I LOVE RAINIE!  I just knew that she had some baggage that I wanted to learn about and I finally got to.  She's just the most amazing bratty submissive ever.  (Well, this side of Sally, who's actually THE brattiest!) She's strong and doesn't take crap from anybody… except people from her past that seem to get under her skin and that's what we want to find out.  WHY?
Jake's an amazing Dom and Veterinarian in the vanilla world, but Rainie was avoiding him at all costs forever.  He never knew why and finally he decided that he wanted to find out. With a little help from Master Z he gets the chance.  A happen chance and  a dear little soul that needed help brought Rainie into Jake's office one rainy wet miserable day.  This was the beginning of their "relationship" and it grew from there.
This book was fantastic!  As with all of the Shadowlands books the "hot and steamy" is so breathtaking, but far beyond that, the story telling is phenomenal. Cherise Sinclair knows how to get into your head and your heart from the very first chapter and keeps your interest to the very end.  Her chapters rise and fall perfectly and she makes it extremely difficult to put the book down at the end of the chapter.  It's almost easier to get sleep if you put the book away in the middle of a chapter.  If you wait until the end… trust me, it's almost impossible to put it away til the next day.  3:30 am when I finally closed the book last night and I left only the last chapter to read for this morning.
I can't say enough about this series nor Cherise Sinclair.  It makes me very happy to read her books.  They're full of angst, suspense, love & romance and most of all laugh out loud humourous dialogue.  This is a fantastic series and I hope she's not done with it yet. There are still some background characters that I need to learn about yet.  Mistress Anne and Ben are just to name two.
 

One of the things I love the most about Sinclair's books is that she brings all of the original characters into each book so that  for one thing we don't forget about them and get to visit with them, but more than that she brings the "FAMILY" feel to the story.  That's exactly what these people are… a very close knit family.  It's cozy.  It's like curling up with a warm blanket.  

 

 


Related Posts