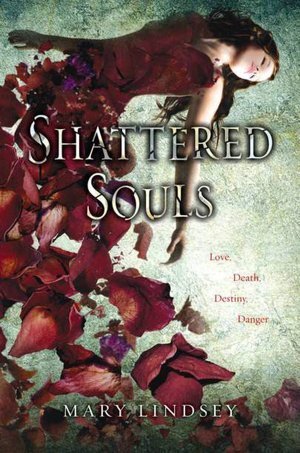 Shattered Souls

by Mary Lindsey
Series: Souls #1
Published by Penguin on 2011-12-08
Genres: Paranormal, Young Adult
Pages: 336
Format: Hardcover
Goodreads


Death, love, destiny, and danger! Lenzi knows she must be going crazy. She's hearing voices and having visions--specifically of gravestones, floods, and a gorgeous guy with steely gray eyes. And there's nothing anyone can do to help, not even her handsome musician boyfriend, Zak. Until she meets Alden, the boy from her dreams, and learns she can speak with lost souls. Now Lenzi must choose: destiny or normalcy. Alden or Zak. Life or death. And time is quickly running out.
I bought this book based solely on the breathtakingly gorgeous cover!  I told myself not to do that but I did it anyway and I was not disappointed.  It was amazing!  I loved the characters.  I loved the storyline.  I loved the sad and happy quotes.  I loved the… idea for this book.  It was just awesome.
I'm surprised that this is a debut novel.  I mean it's written so well that it seems she has experience.   It's not coming off as a debut to me.  The character building, the relationships between friends and time for that matter.  The climax at the end of each chapter so that you just HAD to turn the page and start the next chapter.  The ending.  OMG!   I loved everything about this book.  EVERYTHING!
I think my favourite character is Alden.  I like Lenzi/Rose too, but Alden is just… yummy!  I love the bond between Lenzi & Alden.   It's loaded with chemistry.
I even liked Zak a little.  Yes, he had an asshole side to him, but he was troubled and made bad decisions.  I felt a little sorry for him.  He's a lost soul.  It's not like he had someone to guide him in the right direction.
Race & Maddi!  Love these two.  They're spunky and awesome.
I cannot wait to hear more about this whole ghosty business.  I love the idea of it and I hope there are sequels.




Related Posts