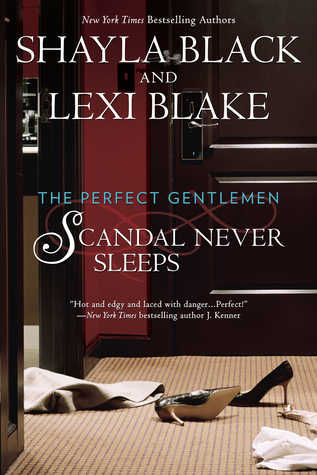 Scandal Never Sleeps (The Perfect Gentlemen, #1)

by Shayla Black, Lexi Blake
Series: The Perfect Gentlemen
Published by Berkley on August 18th 2015
Genres: Adult, Contemporary, Romance
Pages: 400
Format: Paperback
Goodreads


From the New York Times bestselling authors of the Masters of Ménage series . . .
They are the Perfect Gentlemen of Creighton Academy: privileged, wealthy, powerful friends with a wild side. But a deadly scandal is about to tear down their seemingly ideal lives . . .

Maddox Crawford's sudden death sends Gabriel Bond reeling. Not only is he burying his best friend, he's cleaning up Mad's messes, including his troubled company. Grieving and restless, Gabe escapes his worries in the arms of a beautiful stranger. But his mind-blowing one-night stand is about to come back to haunt him . . .

Mad groomed Everly Parker to be a rising star in the executive world. Now that he's gone, she's sure her job will be the next thing she mourns, especially after she ends up accidentally sleeping with her new boss. If only their night together hadn't been so incendiary—or Gabe like a fantasy come true . . .

As Gabe and Everly struggle to control the heated tension between them, they discover evidence that Mad's death was no accident. Now they must bank their smoldering passions to hunt down a murderer—because Mad had secrets that someone was willing to kill for, and Gabe or Everly could be the next target . . .
---




Scandal Never Sleeps is book #1 in a new series collaboration call The Perfect Gentlemen from the dynamic duo of Shayla Black and Lexi Blake!
These two authors are fabulous on their own.  Their reputation speaks for itself but… you put those two wicked evil genius minds together and there is no stopping them.  They already proved that with the amazing Masters of Menage series.
So let's get started.
This was an amazing story.  Actually, I should say it was an amazing START to an amazing story. There are more books to come and this was just the beginning.
We are brought into the lives and world of six very rich and one super famous Creighton Academy alumni. That is if you think the President of the United States is super famous. I do. These six best friends found each other when they were young boys and formed an unbreakable bond.  When one of them is killed in a plane crash, the other five will come together to mourn his loss. Maddox Crawford's death didn't just bring sadness and loss, but a mysterious scandal that affects them all.
The two main characters of this book is Gabriel Bond and Everly Parker. What a duo! Gabe can't seem to get Everly Parker out of his head, and she can't get involved with a known playboy. She is a policeman's daughter and a wicked smart computer tech.  She runs cyber-security for Crawford Industries, which Gabe now owns and runs after the death of Maddox.
All of the characters are super fun in this book.  The excitement and intrigue is so much fun to read. I have a soft spot for Dax myself and I can't wait for his book.  Zach's too…. and Connor's… and Roman's.  Hell I love them all!
This is truly a sit-on-the-edge-of-your-seat read.  It's non-stop excitement from the very first word straight through to the last. The epilogue just gets you even more excited for the next book.
In A Nutshell
Buy it! Read it! You will not be disappointed! Shayla & Lexi have done it again!








Related Posts