BEWARE, please! This book contains explicit sexual content and may or may not contain Erotica &/or BDSM content as well. As such, it is not suitable or appropriate for readers under the age of 17 or readers who would be offended by this subject matter. My review may also contain conversation of the same. This warning has been extended to include some NEW ADULT as well.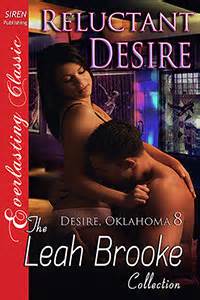 Reluctant Desire by Leah Brooke
Series: ,
Published by Siren-BookStrand on 2013-09-20
Genres: Adult, Contemporary, Romance
Pages: 299
Format: eBook
Goodreads


[Siren Everlasting Classic: Erotic Contemporary Romance, light consensual BDSM, spanking, sensation play, sex toys, HEA] Charity Sanderson had been Beau Parrish's lover for months, but she knew it was only a matter of time before their affair ended. She needed a man she could count on to be there, and Beau never took anything seriously. But, she loved him too much to walk away. Beau loved Charity more than his own life, but knew she didn't believe that. Every time he spoke about a future together, she got skittish, and so he'd had to back off for fear of losing her completely. The vulnerability in her eyes tugged at him, the love shining in them that she didn't think he could see. He couldn't go on living a lie. After giving her an ultimatum he walked out, hoping she would love him too much to let it end between them. Her accident changes everything. It forces her to see that the man she never thought he could be has been there the entire time. ** A Siren Erotic Romance
---
Y'know sometimes I have to ask myself why I like these books so much because the stories are sometimes so far fetched but the bottom line is that I can't help it.  I love them.  Fantasy or not, they are just "FEEL GOOD" books.  They make me laugh and smile, they make me cry sometimes… well, okay, maybe just feel like crying… I'm not much of a crier.  They just give me the over all "Warm Fuzzies" and who doesn't love that?
So you have the female character (Charity) who ultimately kinda drove me crazy because she was just the "Oh I love you so much but you're just in it for fun and I need something serious" twit of the story.  I did like her though.  She didn't take too terribly long to realize that she was being a twit and she really did love him.  She was just being stupid and the story didn't dwell too terribly long on that point so I grew to like her very much.  She is Hope's sister afterall and Hope is strong and bratty and I just knew that Charity had it in her somewhere.
 Beau Parrish!   Yeah okay… give me a minute.  

 
Okay… Beau Parrish is one hot babe!  He's freakin'  
  hot!  He's just one of the sweetest characters in this entire series so far.  I mean all of them are great, but Beau just hit a soft spot in me for some reason.  I just adore him.  I can't even pinpoint what exactly it is that got me, but his character grabbed me right from the very beginning. He's just so loveable and adorable and cute and cuddly… and ROMANTIC!!  OMG, I LOVE HIM!
The storyline… well, what can I say.  It wasn't fantastic, but it was interesting enough even though there wasn't too much danger or drama, which I like in a storyline.  It keeps you on your toes and keeps your interest.  For this installment though, it was okay to not have that because the story was the trust, commitment and faith issues that Charity had with Beau.  It was really fun to watch her struggle with it all and try to fix what she herself broke.
Like I said, I love all of the characters in this series but I think this one is my favourite to date.
… and with all of these books in this series, Leah Brooke keeps bringing back previous characters, which I LOVE!  I think it's great when an author does that in a series.  It brings the "family" feel to it and keeps you up to date on your favourites.
So yeah… I had fun!  I loved it!
Related Posts