I received this book from the author and/or publisher FREE of charge in exchange for an honest review. This does not affect my opinion of the book or the content of my review.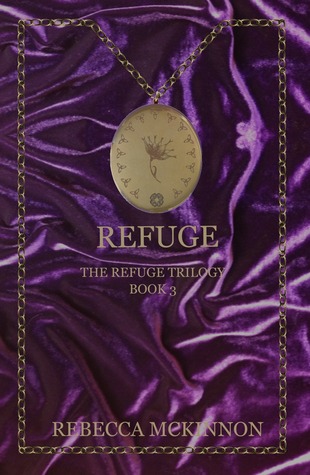 Cantrip

by Rebecca Mckinnon
Series: The Refuge Trilogy #3
Published by CreateSpace on 2011-11-16
Genres: Fantasy & Magic, Young Adult
Pages: 296
Format: Paperback
Goodreads


She spent the summer in The Refuge. Now, she's come home. Within days she realizes: She wants back in. Only two things stand in her way. The sister Narissa has protected for years can't decide if she wants to go with her. And, of course, Narissa has no idea how to return to the splinter reality. Complicating matters, Narissa discovers she can no longer avoid the problems her unexpected trip allowed her to escape. Through it all, there's one thing that keeps her going. She's not the only person to have left The Refuge.




First let me say that this was a fantastic series and I recommend it everyone.  It's going in my "unforgettable favourites" list as well as possible re-reads.   It's just a great story and is written phenomenally well.  The pace, the flow, the transition from chapter to chapter, the character building and growth and last but not least, the climax are all perfect.  I LOVE this trilogy! 
The characters are so great and loveable and they grew and blossomed with each book to the finale.  I loved everything about the story as a whole.  All three books were fantastic.
If you thought I was leading up to a "but" you weren't mistaken.  I am… and it's very difficult for me to say anything negative about this trilogy.  I don't want anyone to think that I didn't like it because I didn't just like it.. I LOVED it!
Book 3 was so good but I can't help but be a little disappointed with it too.  The ending to the story was great don't get me wrong.  I was very pleased with how it all wrapped up, but I just feel that the last few chapters were somewhat rushed in a way.  It could be just the simple fact that I didn't want it to end so maybe it's just my way of pouting about the ending but I don't think so.   Things just seemed to be going so good (barring tragic events of course) and then the truth started coming out and things started getting really exciting and then I turned the page and it was the epilogue.  Am I happy how things were handled?  Yes, absolutely, but I just think it could have been a bit more detailed and longer and brought in (or back) some great characters like Leah to name only one.  In the epilogue we have questions tied up of course, but not necessarily all my questions so I'm left to make my own assumptions of how things went and maybe that is exactly what Rebecca McKinnon wanted you to do.   If so, then it was perfectly done and I'm just whining because it's over.
Regardless of this little, tiny,  minute,  miniscule, hardly worth mentioning tid-bit I am so in love with this trilogy and characters that I just know I'll be re-reading this set sometime and I will be recommending it to people who I think will love it as much as I did.  I'll also be hunting down anything else Rebecca writes!
Huge fan!




Related Posts