BEWARE, please! This book contains explicit sexual content and may or may not contain Erotica &/or BDSM content as well. As such, it is not suitable or appropriate for readers under the age of 17 or readers who would be offended by this subject matter. My review may also contain conversation of the same. This warning has been extended to include some NEW ADULT as well.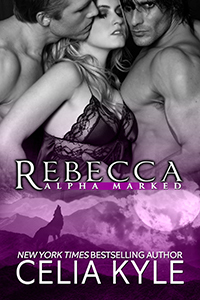 Rebecca

by Celia Kyle
Series: Alpha Marked #4
on September 30, 2014
Genres: Adult, Paranormal, Romance
Pages: 87
Format: eBook
Goodreads


Thirty and single? Well, getcha ass to the Gathering! Wait… what?

Rebecca Twynham hates nature, loves a juicy steak, is not Marked, and thinks wolves come in one form: on four feet and with fur. So when she's hauled to the annual werewolf Gathering by this scary as hell magical vortex, she's pretty surprised to find out werewolves are real. With that new knowledge, she finds she still hates nature, she'd love a juicy steak, and maybe—she might be—Marked. Well, she doesn't see a Mark, but she also has heavy scarring from a childhood accident—or was it intentional? Plus, she really wants to climb the gorgeous Alpha Pair, Aidan and Carson, like a tree. Luckily the two hot werewolves wanna sink their roots into her flower and… The nature analogies have gone too far.

Aidan and Carson have been a strong Alpha Pair for fourteen years. They're tied together by their bond, and ache to claim a woman as their own. But while Carson has always been the GQ ladies' man, Aidan has been the afterthought—the heavily scarred and frightening werewolf who's caused more than one woman to faint.

When they find Rebecca hiding in the Bad Doggie ballroom, they rejoice that they've finally found the one for them. Except with curvaceous, delicious Rebecca, their roles are reversed. Instead of rushing into the arms of sleek and sexy Carson, Rebecca clings to Aidan. Carson should rejoice in her acceptance of Aidan, but jealousy rears its ugly head, destroying their triad before it has a moment to form.

Then things go from jealousy-driven bad to worse when the five families decide there won't be any more Wickhams joining the wolfy family trees.

Oh, right, she forgot that part. Apparently her Wickham cousins are kind of a big deal in werewolf land. Big.




Rebecca is actually the 4th book in the Alpha Marked series by Celia Kyle.  I read the first three books but never wrote a review for them.  The thing is, I don't understand why I didn't write a review.  These are little novellas but together they tell a story and I have to say, they're pretty darn good.
Rebecca is marked and is magically forced to attend the the annual werewolf Gathering.  She does not believe in werewolves but when they start appearing in front of her she doesn't have much choice.  She had been ignoring the notices about the gathering and had no idea that she was a "marked" one.  Once she's there she realizes that her cousins are all marked and all mated with werewolves and hold a high position in the werewolf society.
It's all a bit overwhelming for her but she's instantly attracted to two very large werewolves… Aidan and Carson.  Aidan and Carson could smell that Rebecca was their mate the minute they caught her scent.  Now they have to convince her.
I have to be honest, there isn't a whole lot to the story to write a review because these are all short novellas.  Maybe that's why I never wrote any before now?  I love them, but at the same time it would be nice to have one big book with sections for each person. That's a huge downfall for novellas.  They're sometimes just too damned short!
Having said that though… Celia Kyle gets right to the point very quickly and spins quite a little tale in such a short period of time. She gives you everything you need and ties it all up in a little sexy red velvet bow.  Yes, I would like it to be a longer story, but you're not left wanting either.  She packs quite a punch in such a small time-frame.
I also love the whole werewolf thing she has going on.  I read a ton of werewolf and shifter books but the dynamics of this werewolf society is a little different than most.  The "Annual Gathering" for one is unique for me.  I haven't read another shifter book that has this aspect.  I really like it!  Also, the setting for the books are in a very high society hotel with all of the best of amenities. Most of the books I read are out in the wild with log homes or caves.  This is refreshing.


Related Posts