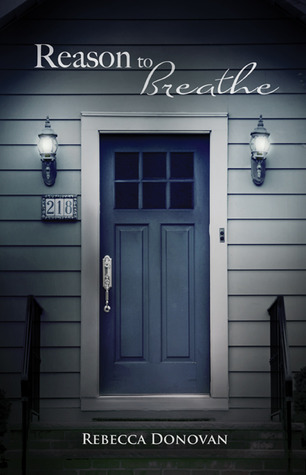 Reason to Breathe

by Rebecca Donovan
Series: The Breathing Series #1
Published by Penguin UK on 2012-11-08
Genres: Contemporary, Romance, Young Adult
Pages: 544
Format: Paperback
Goodreads


Reason to Breathe by Rebecca Donovan is a US bestselling phenomenon. An utterly addictive and heartbreaking novel that will leave readers breathless and desperate for more. All fans of Jodi Picoult and new adult fiction such Colleen Hoover's Slammed, Tammara Webber's Easy and Abbi Glines' Vincent Boys will love Rebecca Donovan's incredible writing. A must-read. A passionate love. A brutal betrayal. Unwavering hope. In a town where most people worry about what to be seen in and who to be seen with, Emma Thomas would rather not be seen at all. She's more concerned with feigning perfection, pulling down her sleeves to conceal the bruises. Emma doesn't want anyone to know how far from perfect her life truly is. When Emma unexpectedly finds love, it challenges her to recognize her own worth - but at the risk of revealing the terrible secret she's desperate to hide. Praise for Reason to Breathe: 'Emotionally intense and heart-achingly beautiful, Reason to Breathe will linger in your thoughts long after you turn the last page.' - Tracey Garvis-Graves, New York Times bestselling author of On the Island USA Today bestselling author Rebecca Donovan has been a writer most of her life, but has just recently been deemed an author. Her debut novels, Reason to Breathe, and its sequel Barely Breathing, have resonated with readers around the world. Rebecca is currently working on the third and final instalment of the Breathing Series, Out of Breath.She lives in a small town in Massachusetts, USA. www.facebook.com/thebreathingseries www.rebeccadonovan.com @BeccaDonovan




"Wow!" for starters!   It's hard to say that I
enjoyed
this book because of the topic but I thought it was phenomenally well done. 
I'm pretty sure this is going to be full of  SPOILERS!!  So beware!
Emma:  She's an incredible character.  For someone who went through so much and seriously had some issues at home, still took her life by the reins and had a plan to survive.  Counting down the days to her freedom and  striving toward excellence in school to ensure a scholarship to the college of her dreams.  All of this while never knowing what to expect when she opened the door to her… I don't want to say "home" so I'll say… living arrangement.    Only one "true" friend to her name that she could confide in and the rest of the people completely oblivious.  Just the way she wanted it.  No attention to be brought to her.    She had a soft spot for her little cousins and didn't want to make it hard for them so she kept quiet…. would a 16 year old actually think like that??  I know a lot of abused kids don't say anything but would the reason really be the tiny ones?  I don't know nor am I judging.   Just wondering how accurate this is.
Sara:  A phenomenal friend in my books.  Did absolutely everything she could to help her and keep her safe but at the same time keeping her promise not to say anything…. unless she thought it was going to get too bad.   I'm sure that would be hard.   View Spoiler »The only thing I found odd here was that she said her mother Anna didn't know the details but knew something was up… well, her being the parent and being married to a judge you would think she would have tried to do something… more… anything.  Although maybe she didn't realize the extent of the situation.  « Hide Spoiler
Evan:  My hero!   He was willing to do anything he could including View Spoiler »packing up his life and running with Emma.  We didn't find out what his actual "plan" was by the end of the book so I'm hoping to hear the rest of that in book 2.   He left for awhile and based on the reason I can't say as I blame him.   The point is, he came back and he was more than supportive upon his return.   He was supportive before he left too but Emma wasn't allowing him to do what he could.  « Hide Spoiler
The Uncle (George):  Idiot!
The Aunt (Carol):  Class A #1 Bitch Hole!!
The Teachers:  Well, I can't help but mention this.  View Spoiler »They hauled her butt into a meeting to get her to confess to what was happening.  They never once stopped to think that it could be happening at home???  What do they do??  They phone home.  I've never really understood that one.  I know it's a protocol that I'm sure they have to follow but you would think that if the abuse is coming from home… that home would be the last place you should call and place a red flag in the abuser's mind and a target on the victim's back??  Hello??  How dare they accuse my baby Evan?  Grrr « Hide Spoiler
The Mother (Rachel):  I'm not sure she's worth mentioning… at least not yet.  Maybe in book 2?  View Spoiler »It does sound like she wrote letters that Emma didn't get.  So maybe it's not her fault.  Also, I'm sure as bad a mother as she was, she doesn't know what's going on.  Or maybe she does.  ??? « Hide Spoiler
I found myself truly wrapped up in the characters and their lives and Emma's survival. It was an emotional roller coaster to say the absolute very least. I simply could not put this book down. Each chapter ended with the inescapable need to turn that next page to start the next chapter. As a result the book ended way too soon…. and speaking of endings. WTF???? Obviously the author wanted you to decide the fate of our dear Emma in an open-ended epilogue. Well, I have about 15 scenarios and until about 5 minutes ago, I didn't realize that there was a sequel so…. THANK GOODNESS for that!!! Crap… what a scary few hours it was for me. I played out my 15 scenarios and none of them made me as happy as the news that there is a sequel. Wheeewww!!
Wonderful job!  Loved it!   A little hard to read about such terrible things but an incredibly well written, well thought out and executed book.




Related Posts