BEWARE, please! This book contains explicit sexual content and may or may not contain Erotica &/or BDSM content as well. As such, it is not suitable or appropriate for readers under the age of 17 or readers who would be offended by this subject matter. My review may also contain conversation of the same. This warning has been extended to include some NEW ADULT as well.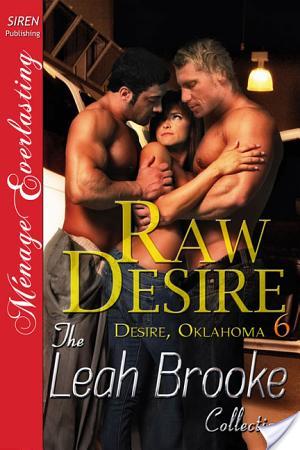 Raw Desire by Leah Brooke
Series: ,
Published by Siren-BookStrand Genres: Adult, Contemporary
Pages: 392
Format: eBook
Goodreads

[Siren Menage Everlasting: Erotic Cowboy Menage a Trois Romance, M/F/M, BDSM, public exhibition, spanking, sex toys] Alison Bennett came to Desire, Oklahoma to hide—and to heal. When her truck breaks down on the way into town, she certainly doesn't expect men like Dillon Tanner and Ryder Hayes to come to her rescue. Extraordinary men in an extraordinary town. Their interest in her both excites and alarms her, but she knows they're both way out of her league. When an attack on the club brings a halt to the seminar she's signed up for, Dillon and Ryder's proposition to continue her lessons intrigues her. Dillon's gentleness tempts her to put herself in his hands while Ryder's wildness and apparent dislike for her makes her uneasy. Under their guidance, she embarks on a journey of self-discovery, one that teaches her decadent pleasures and raw desire. And love. Knowing a menage relationship could never work, she still finds herself tempted to stay. But fate, and her ex-boyfriend, have other plans. ** A Siren Erotic Romance




I'm a little torn about what I'm going to write for this review.  I mean did I like it?  Yes.  Did I love it?  No.  Was it fun to read?   Somewhat, yeah… I mean you can't go too terrible wrong with yummy hot male alpha characters.  Was it as good as the first few books in the series?  Not at all, but should I be comparing?
I don't want to give a bad review because it was better than just okay, but there was just something missing in it for me and I can't quite put my finger on it.  I love Leah Brooke's writing so far, but this one just… I don't know… fell short I guess is the best way to put it.
This little town of Desire, Oklahoma is soooo not believable, but I don't even care about that.  I think it's the best part about all these books.  That's what books are for… escaping reality.   I love the idea of this town and all the caring people in it.  It's just so heartwarming and comfy cozy.  I love it.
Dillon and Ryder I didn't have a problem with.  They were typical Desire, Oklahoma characters.  I loved them both.  They're big strong alpha males needing a woman of their very own to care for.  Ryder got a little whiney in one area but then it seemed to disappear with no explanation.  Dillon seemed to be the only stable one from start to finish knowing exactly what he wanted.  I expected Ryder and Alison to hash out what his little issue was, but it never did come up again in the book.  That was a little frustrating, but other than that small detail these guys were great.
Alison on the other hand bugged the friggin' hell out of me.  I think she's the sole reason why the book fell short for me.  Her whole back-story was crap (in my personal opinion).  Her ex-boyfriend/abuser, Danny was just a weird character.  I mean there are dicks out there like him sure, View Spoiler »but to boot someone down the stairs and leave them lying there broken while he went back into his bedroom to finish having sex with a bimbo only to come out later and walk by her with said bimbo knowing that she was broken and couldn't get up?  Really?  I just can't see it.  Then the whole him coming to town thing was just silly too.   « Hide Spoiler  If she had to leave town afraid for her life etc., then the back story could have been much better I think.  She has some good qualities too but her whole whiney "no one can love little 'ole me" was just annoying.
All in all though, it wasn't a terrible story and there were some pretty major hot and steamy scenes that never disappoint with Leah Brooke.  So, the end result is that it was a little better than okay, but not great.



Related Posts