BEWARE, please! This book contains explicit sexual content and may or may not contain Erotica &/or BDSM content as well. As such, it is not suitable or appropriate for readers under the age of 17 or readers who would be offended by this subject matter. My review may also contain conversation of the same. This warning has been extended to include some NEW ADULT as well.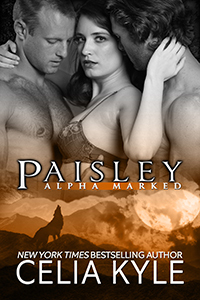 Paisley by Celia Kyle
Series: Alpha Marked #6
on February 2, 2015
Genres: Adult, Fantasy & Magic, Paranormal, Romance
Pages: 123
Format: eBook
Goodreads


Thirty and single? Well, getcha butt to the Gathering! Wait… what?

Paisley Twynham is over the whole werewolf thing. It'd been a shock to be magically kidnapped and plopped in the middle of a werewolf gathering. Then she got kidnapped a second time, had the crap beat out of her, escaped, and then met two men who are supposed to be her mates. Yup, all kinds of "over" the Gathering. Her only salvations are her sisters and… the two men she can't help but drool over. Tall, muscular, sexy as hell, and for some reason, they want her fluffy ass. Maybe she doesn't hate werewolves as much as she thought…

Chance and Hawkins don't quite have a solid Warden bond. Hawkins is holding back while Chance is slowly reaching the end of his patience after ten years of partnership. The only woman who might save them is Paisley. Seductive, curvaceous, vivacious Paisley Twynham. She's their Warden Born mate and Chance refuses to let Hawkins' past stand in the way of their future.

But something else hides in their path that threatens to end their mating before it begins. Or rather, someone.

Part of the "Alpha Marked" Series:
The Wickhams
Scarlet
Gabriella
Whitney
--Alpha Marked Boxed Set (Scarlet, Gabriella, Whitney)--
The Twynhams
Rebecca
Lorelei
Paisley
Paisley is book #6 in the Alpha Marked series by Celia Kyle.  This is the best one to date!  I loved it!
Paisley Twynham finds herself swept away to a gathering that she knows nothing about and was there for a very short time before she was kidnapped for a second time and taken to a dingy grungy hell hole by a dingy grungy… werewolf where she was beaten and cut up? She's scared, frantic and most of all very angry. She is really done with the entire "werewolfy" thing and she wants to find her sisters and get the hell out of there.
Chance and Hawkins are two werewolf wardens who are on the hunt for the missing Twynham sister but get a lot more than they bargained for when they track down a scent that is most definitely their shared mate. Can they even share a mate right now, when they're not even sharing the complete warden bond between each other? Lots of baggage for one and patience being tried for the other.  Will their mate be the one to bring them all together?
Paisley is the sister of Rebecca and Lorelie Twynham and cousins to Scarlet, Gabriella and Whitney Wickham. I thought the other 5 girls were fiesty and witty! Nothing compared to Paisley. I guess they saved the best for last. She's wicked spunky and don't friggin' mess with her. She will literally land you on your ass!
Every single werewolf that I've run across in all 6 of these books were hot and sexy, but I have to say I think Hawkins tugged at my heart strings more than the other 5 sets. Chance is pretty cool too, but my heart goes to Hawkins. He just had the more heart pumping back story. So out of all 6 books (so far) this is one is my favourite. I think. Actually, they were all really good.
All 6 books are novellas so it didn't take long to get through them… and even though they were quite short stories you didn't really feel like you got ripped off. Celia Kyle knows how to pack everything in and not leave you rushed or missing anything. However, they were all really cliffy but it wasn't so bad because you knew there was a next book. This one here is a little cliffy as well and I'm not entirely sure there is a next book. It certainly leaves the door open for one, but it could totally end here as well.
I really enjoyed this series and with any luck, it isn't over yet!


Related Posts