BEWARE, please! This book contains explicit sexual content and may or may not contain Erotica &/or BDSM content as well. As such, it is not suitable or appropriate for readers under the age of 17 or readers who would be offended by this subject matter. My review may also contain conversation of the same. This warning has been extended to include some NEW ADULT as well.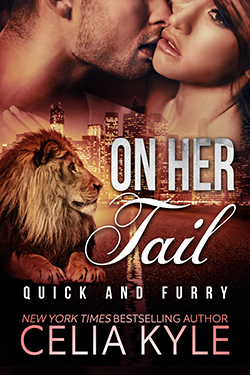 On Her Tail by Celia Kyle
Series: Quick & Furry #3
on March 14, 2015
Genres: Adult, Fantasy & Magic, Paranormal, Romance
Pages: 96
Format: eBook
Goodreads


Werelioness Addy Wilson did the unthinkable—she kidnapped an alpha's cub. Not because she wants to harm the small child but to save him from his father. Unfortunately, as she flees for her life and tries to disappear into the confusion of the city, she runs into her mate. Or rather, he hits her with his car. Zane is gorgeous, delicious, totally lickable and… an Enforcer for the North American pride. In fact, Zane works directly with the pride's beta. Now she's torn between running to ensure the child's safety and staying to make a life with Zane.

**Stand alone, no cliffhangers.**

Quick & Furry: Love, Laughs, and a Bit of Rawr on the Go.

The QUICK & FURRY series:
Chasing Tail
Tailing Her
On Her Tail
Heads or Tails
---
On Her Tail is book #3 in the Quick & Furry series by Celia Kyle.
I do not get tired of these books!  They're short and quick and really great! This one was exceptionally high paced and exciting. What an amazing concept for a story. This would have worked really well as a full length novel too. At least I think so.
I'm in love with the characters.  Addy and Zane are great together. Also previous characters once again made an appearance, but didn't play a major role so still standalone.  I think they should be read in order though, but no, they don't have to be.
I did take a paw away though, so I should explain that. It's kind of hard though because I really did think this one was great. I guess it's just I think there could have been more. I know that's contradicting the fact that it's a short, but I guess I wanted more retribution for the bad guy. View Spoiler »He was just sort of bargained with and to me I wanted to see someone kick his sorry ass. « Hide Spoiler Other than that though… really great!
Hit it out of the park with this one.  Love Celia Kyle!



Related Posts