BEWARE, please! This book contains explicit sexual content and may or may not contain Erotica &/or BDSM content as well. As such, it is not suitable or appropriate for readers under the age of 17 or readers who would be offended by this subject matter. My review may also contain conversation of the same. This warning has been extended to include some NEW ADULT as well.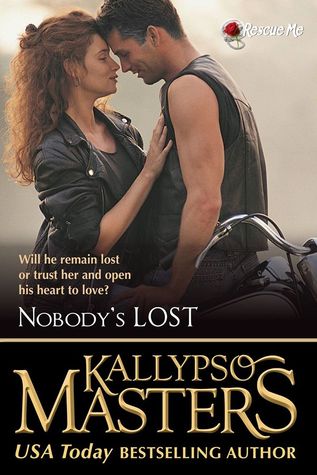 Nobody's Lost by Kallypso Masters
Series: Rescue Me Saga #5
Published by Kallypso Masters LLC on December 9, 2014
Genres: Adult, Contemporary, Romance
Pages: 265
Format: eBook
Goodreads


A standalone novel about two characters with very minor mentions in the earlier books.

Ryder Wilson returned from serving multiple deployments but can't leave the hell of combat behind him. Frustrated and ashamed of his inability to function in the world as well as the veterans he served with, he retreated, choosing to engage only with those he trusted. When retired Master Sergeant Adam Montague sends him on a mission to protect his sister from some unknown danger, Ryder's days of hiding out may be over. Can he fulfill his mission without failing again?

Megan Gallagher has two big-brother Marines bent on protecting her from the evils of the world, but she's tougher than they think. When her older brother sends Ryder, one of his recon Marines, to her doorstep in the wee hours one night following a break-in, she realizes he needs rescuing more than she does. A friendship forms quickly, but unexpected passions run hot and complicate her resolve never to have a romantic relationship, much less marriage. So why are her body and her heart betraying her every time he comes near?

Can these two wounded people lower their defenses long enough to allow love to grow?

The main characters in this book have appeared briefly in earlier Rescue Me Saga books, but this story can be read as a standalone novel and is a new entry point into this ongoing series.  Megan and Ryder will appear in later books in the Rescue Me Saga.
Nobody's Lost is the 5th book in the Rescue Me Saga by Kallypso Masters.  I have been following this series since the very beginning and I love every single minute of it.
Ryder Wilson was a loyal member of Adam's military family but he's lost his way a bit and has kept his distance since they came home.  He can't bear to be near anyone, let alone his former team members.  So he's quite surprised to receive a phone call from Adam, or Top as he still calls him. Adam wants him to protect his sister Megan Gallagher after they hear of a break-in to her home which results in a stolen laptop.  Ryder will do anything for Adam so he puts his issues aside and honours Adam's request. No matter what it will cost him.
Megan doesn't need anyone but at the same time her little break-in set her on edge so she's quite happy to receive some company thanks to her big brother, Adam.  She finds out once she meets Ryder that he seems to need her help more than she needs his.  It also doesn't hurt that he's like sex on a stick.
Oh it's nice to get another taste of this great series.  I guess these two are going to be making appearances in the upcoming books and so Kallypso Masters felt like they needed their own book to introduce them and give us a little background on them before we see them again.  I'm so entirely glad that she did! I instantly found a soft spot for Ryder.  I can see that he's going to be a great supporting character. Megan as well seems like she'll be another female great and she'll fit right in with the rest of the gang.
Masters touched a little on Native American rituals and beliefs in this book.  It was very interesting.  She actually made me feel compassion for a freakin' snake!
I guess this book is considered a "standalone"… but I personally would read the books from the beginning. Technically "YES" it can be read as a standalone, but to get the full tone of the story and the other characters I would recommend reading the entire series.   I'm not entirely sure that I would have enjoyed the book as much if I hadn't read the other ones.
So yeah, I certainly wasn't disappointed.  I really love all of the characters from this series and I love reading anything that will give me more background and history to all of them.  It's a fantastic "family" feel to this series.  Love it!  (PS:  it doesn't hurt that the romance and sexy scenes are out of this world!)
Related Posts