BEWARE, please! This book contains explicit sexual content and may or may not contain Erotica &/or BDSM content as well. As such, it is not suitable or appropriate for readers under the age of 17 or readers who would be offended by this subject matter. My review may also contain conversation of the same. This warning has been extended to include some NEW ADULT as well.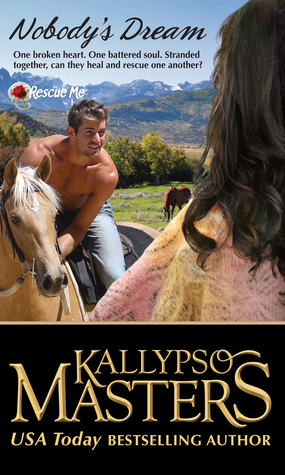 Nobody's Dream by Kallypso Masters
Series: Rescue Me Saga #6
on March 31, 2015
Genres: Adult, Contemporary, Romance
Pages: 721
Format: eBook
Goodreads


One broken heart.

One battered soul.

No one said life would be fair or easy. Quiet, Peruvian-born artist Cassie Lopez learned this the hard way. Betrayed by the man she planned to marry, she shut herself off as far away from all but her closest friend from college…

Until the night Luke Denton came crashing into her Colorado mountain sanctuary with a vengeance. Confused by her heart's response to this kind and gentle man, Cassie pushes herself to help the cowboy recover quickly so she can send him on his way. But Luke's patience and understanding threaten to break down the very defenses she needs to survive in this world after he's gone.

Search-and-Rescue worker Luke, who lost his wife and unborn child in a tragic accident, also knows firsthand of the unfairness of life. He keeps his own nightmares at bay by focusing on his rescue activities, most recently adopting and working with abused and neglected horses.

Can two wounded people find trust and love together? Do nightmares end where dreams come true?
---
 

Ahhh – mazing!!!
Nobody's Dream is book # 6 in the Rescue Me saga by the amazing Kallypso Masters!
So amazing! So incredible! So… there aren't enough words to properly put it into perspective how I feel about this book.
You have absolutely got to read this series from the beginning. You can't just pop in and read this book and expect to know what the hell is going on. Besides that you get a history of Luke's and Cassie's characters long before this book and I personally think you can't read this book without that history. I found it vital to the story myself.
Aside from all that, you just can't miss any books in this series. They are amazing! They need to be read.
So much to love in this one

… these are just the ones I can mention

without

spoilers.
I've already fallen in love with Luke and Cassie from previous books but this book delves a lot deeper into Cassie's broken spirit and Luke's loneliness (and a bit of a dented spirit as well). The connection that they have and the patience with each other and all of their animals is just so enthralling to read.
The spirituality that is brought into this book is so fascinating! It's not just Christianity, but a cultural spirituality from Cassie's native homeland in Peru. Her beliefs are really interesting to read about, and the out of body stuff is fantastic!
Cassie's strength. She goes through a lot and takes awhile to gain strength, but also doesn't realize that she had it within her all along. She's just such a bright light to anyone around her and to the people who read about her.
Luke is also a fabulous character and a kind-spirited soul. He is also a little broken and a little vulnerable but yet so incredibly strong and trustworthy. He just emits this trusting feeling from every pore of his soul, that just draws you to him. Oooh yeah… and he's gorgeous to boot!
The conversations between Luke and Cassie are truly… fun to read! They were patient and caring but at the same time there was some humour here and there because Cassie would get a little frustrated but didn't want to say so and Luke, knowing she was frustrated, loves to tease a bit. Luke is a Dom and even though Cassie knows what that is she doesn't necessarily understand some of the references that Luke was making so it was kind of funny. Her innocence played a huge part in the humour and was so cute and adorable.
I love how the author wrote the accents for the two characters. Luke spoke with a Southern drawl but Cassie's accent was indicated in a subtler way by simply enunciating each word. Such as "IT IS" instead of it's. That's just a very simplistic example. I'm not sure I can explain it properly, but I just know that while I was reading Cassie's words I heard a lilt to her voice just by the way it was written.
The animals! Alpacas sound like wonderfully loving little creatures, but the broken spirits of the horses is what drew me in. The connection that Luke and Cassie have with the horses is just something beautiful to watch unfold. I say watch, because the way it's written it felt like I was there watching it happen with my own eyes. It was amazing. I love how the author brought the healing process of the story between not just Luke and Cassie but the animals as well.
The tools that are used for the healing process is just amazing. Every aspect of their lives past and present are brought in from all corners to join together to make everyone whole again. Just a couple of small examples to explain what I mean… Luke's past football experience is a connection with him and one of his horses. Cassie's love of painting brings a connection between her and one of Luke's horses.  It was amazing! This is just two examples of this. The book is full of them.
The friendships. Not just with Luke & Cassie, but the entire gang. During Adam and Karla's chapters the gang comes together in time of need and once again that connection, support and family loyalty is paramount. One should be so lucky to have that in friends.
ART!!! I love art so the fact that both of these characters are artists just made me connect with them even more if that's possible. The way they spoke of it and used it for healing and releasing daily stresses. The way that it's worked into their psyche is just amazing. The explanations and references used was brilliant. I have not picked up a paint brush or a hunk of charcoal in a few months and after reading this it made me realize how much I missed it. I'm actually planning a piece now. Thank you so much for that!
I know there are more that I would like to add here, but I'm not sure I can do it without leaving it too spoilery. I'm not even sure I could pick out a favourite moment because there just simply are too many to choose from. There are so many aspects to the book. It's not just one of the best love stories ever. It's a story of healing, learning to trust again, renewing of the soul and acceptance.
Maybe a strategically planned breather???
Cassie and Luke's story is flowing right along and then all of a sudden you turn to the next chapter wanting to know what Luke or Cassie was going to do next and you found yourself diving into a chapter or two in Adam & Karla's world…or Megan & Ryder or Savi & Damian etc.  On the one hand it's fantastic because I love Adam and Karla and all of the other characters very much.  It's very nice to touch base with them and reconnect and see what they're up to, but I found myself longing to get back to Cassie and Luke too.
At first I found myself a little distracted that I had to stop and read about someone else, but that feeling didn't last much past the first paragraph (and maybe even sentence) in those chapters. It was awesome catching up and reconnecting with past characters! Besides that, those chapters weren't Cassie and Luke- free either. They played huge parts in those chapters. Especially Cassie.
I think Kallypso Masters did exactly as intended… I found myself sitting back and absorbing (and breathing) what was going on with Luke and Cassie while reading the other chapters and it just so happened to be a time when Luke and Cassie were taking a breath so maybe those chapters were placed there to make you feel like you were taking time apart the way Cassie and Luke were, which put us on an even deeper connection to both characters. Very smart planning I say.
The Author
Kallypso Masters is a brilliant author!  I don't think I need to say anything further than that. The care and attention to detail and her research truly shows in every word she writes. I'm a mega fan!
There are so many books out there where you love your characters. Yet, there are fewer out there where you CONNECT with ALL of the characters in the entire series and fall in love with each and every one of them individually. There simply isn't one character in these books that I don't love. They are a family and it's very smart to write them that way. It makes me feel warm & fuzzy and safe & content while curled up with one of her books. Her writing really brings home not only the term "family" but also the fierce loyalty and huge connection that people who serve together have. This series is fabulous for showing and explaining a lot of that connection. It gives insight into the minds and hearts of a soldier (the true heroes of the world). It's beautifully well done in that perspective.
This all stems from being wonderful at your craft and knowing how to weave the perfect detail with the perfect situation. Kallypso Masters is a pro at this!
Bear Results
I absolutely adored this book. I wish I could give it 10 stars! I didn't think that I could love another book in this series the same or more than Adam & Karla's (or Marc's and Damian's books for that matter…) but I've got to say, I have a lot of love for Lucas Denton.  I fell in love with him early on and Cassie captured my heart awhile back as well. I have been patiently waiting for their book for a long time and not only am I very much THRILLED with this book, but I believe that I would have to say that this one has now taken top spot in this series for me.
The story took a long time to get to the point where you wanted it to be, but it was a slow burning ride and not at all disappointing or boring. There are very few sex scenes in this one and not a lot of blatant BDSM scenes compared to others in the series, but yet it's one of the sexiest and hottest books in the entire saga. Did I already say SLOW BURN?  Daaa-ummmm! Loved loved LOVED! I think it was important for it to "take it's time" so to speak. I think it was paramount to the telling of the story.
I'm  already planning on re-reading this book because as much as I tried to savour every word I know I went too fast and could potentially have missed something. I need to re-read to ensure I didn't…. Oh who am I kidding… I didn't miss a damn thing.  I'm re-reading because I already miss Luke & Cassie!


Related Posts