BEWARE, please! This book contains explicit sexual content and may or may not contain Erotica &/or BDSM content as well. As such, it is not suitable or appropriate for readers under the age of 17 or readers who would be offended by this subject matter. My review may also contain conversation of the same. This warning has been extended to include some NEW ADULT as well.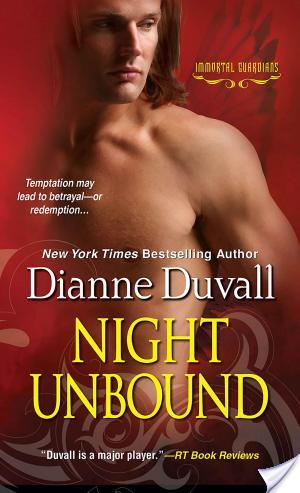 Night Unbound by Dianne Duvall
Series: Immortal Guardians #5
Published by Zebra Books on 2014-09-02
Genres: Adult, Paranormal
Pages: 320
Format: Paperback
Goodreads


For centuries, Lisette d'Alençon has been a warrior against the dark. She fights alongside her brothers and comrades. But when the dreams start coming, she can't bear to confess them to the Immortal Guardians' command. Dreams of a dark-haired man with soft eyes and brutal wounds, a man her heart aches for--and a man she knows has been declared a traitor.

Zach is an exile, a loner. He won't defend himself against false accusations or grovel to those who should have faith in him. But he'll damn sure defend the woman who kept him sane against a plague of super-vamps that seems to have appeared from nowhere. The Guardians will blame him, and that will make Lisette suspect, too. With life, death and eternity on the line, who can they really trust?
---
 

I FRIGGIN' LOVE THIS SERIES!

  
Night Unbound is book number 5 in the Immortal Guardians series by Dianne Duvall… and it's another good one!
I stumbled across Dianne Duvall quite by accident with the first book in this series, Darkness Dawns. I wasn't even searching for this type of book and was looking for something completely different and was guided to this one I'm sure by mistake.  Then, once I read the synopsis I thought "Hmmm, this sounds kinda good".  Well, the rest is history.  I'm hooked on anything and everything Immortal Guardians!   In the first book we met Roland, the grumpiest of all immortals, and it's been an amazing ride ever since. I cannot get enough of this series and the characters that I'm loving with each new book.  It's another one of those series that brings you the "family warm fuzzies".  Even the grumpy ones, and there are surprisingly quite a few.
 

Will Zach heed to Seth's warning and stay away?  Will Lisette betray her much adored leader Seth?

 
Night Unbound is Lisette's and Zach's story.  Lisette is Etienne and Richart's sister.  (You need to read books 3.5 and 4 to get both of their stories.)  She has been an immortal for a very long time and her specialty/gift is she's a telepath.  She can not only read other's minds, but can also speak to them without uttering a sound.  In addition to that, and it's the hardest to deal with is she also gets drawn into the dreams of others.  This can prove to be quite frustrating for her and embarrassing for the dreamer. Then she starts dreaming of a beautiful dark haired beauty with black wings.
Zach… the afore mentioned dark haired beauty with black wings… is a phenomenal character.  I love him.  Not quite as much as Seth, but just about.  (Seth has been a permanent fixture in all 5 books including 3.5.  He's the best, but we're not talking about him right now.)  Zach is for all intents and purposes, Seth's cousin.  They were once friends and then enemies.  Now Zach has been abolished by Seth because he blames him for betrayal and Lisette has been warned to stay away from him.  The problem is that neither one of them can stop thinking about the other.

Zach and Lisette are just so much fun to read about.  Lisette is an awesome female character.  She never had much of a vulnerable side before but we got to see it in this book.  You can't help but love her to death.  She's strong and feisty and caring and loving and yet her vulnerable side just makes you want to hold her and comfort her.   She's just a brilliant character.  Zach is the same… he's a grumpy immortal elder and he shows his vulnerable side in this book and you can't help but fall in love with him. Of course, I fell in love with him in the last book when he was still grumpy! LOL  The dynamic between him and Lisette is just amazing to read.  I love these two!  I love how their story played out.  I love the interactions between not just Lisette and Zach, but between them and the other immortal guardians. I particularly loved loved LOVED the relationship between Seth and Lisette, Seth and Zach and finally all three as a unit.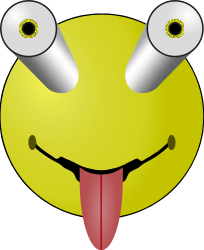 Ahhhhhhh, I'm so much in love with these books that I'm not sure if there are any flaws.  If there are, they certainly aren't enough to make me stop and pick them out.  If I had to choose one it would be that I have to wait so incredibly long between books!  Even saying that though, I wouldn't want Dianne Duvall to not take her time because these books are perfection because she takes her time.
She doesn't miss anything!  There is so much going on and so many characters with so many different abilities but yet you're not lost.  She keeps you right on track and explains every detail but yet doesn't bore you with it. It's almost difficult to explain because I don't think I could say enough for people to grasp how much weaving and plotting that is being done to tie everything together with perfect precision.  Every single character ("cog in the wheel" if you will) has a job to do and they all mesh and work like a single unit.  It's just awesome.  I wish I could pick an example but it's difficult to do.
There are so many things I love about this book and series!
The characters (especially the grumpy ones!)
The relationships and unbreakable friendships
The family dynamic
The plot and style of writing
The dialogue is hilarious!
The fact that the writing and pace is so good that each chapter flows with perfect ups and downs making it impossible to stop reading and the pages pretty much turn all of their own volition!
… and certainly not least but the hot & sexy romances
… and like with all of the other books in the series, it ends with the story being finished so that you're not left feeling like you're hanging by your fingers and toes out on some deserted cliff somewhere in "nowhere" land.  Yet, there is just enough of a little snack at the end that you just know there is more to come and you can't wait for it.  Not a cliffy-want-to-throw-the-book-across-the-room kind of snack, but one that gives you just enough anticipation to know that without fail you are most definitely going to be buying that next book and stalking the author's site to make sure you don't miss it!




Related Posts