BEWARE, please! This book contains explicit sexual content and may or may not contain Erotica &/or BDSM content as well. As such, it is not suitable or appropriate for readers under the age of 17 or readers who would be offended by this subject matter. My review may also contain conversation of the same. This warning has been extended to include some NEW ADULT as well.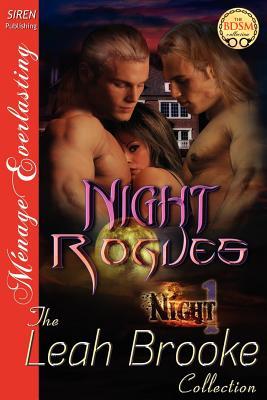 Night Rogues

by Leah Brooke
Series: Night #1
Published by Siren Publishing on January 1st 1970
Genres: Adult, Romance
Pages: 268
Format: eBook
Goodreads



Unable to control the psychic abilities, Serena Abbott spends her life alone. Her visions always come true, as do the dreams that plague her sleep. She will soon meet the man who will be her lover.

Ian and Alastair Wyndham live dual lives as both millionaire playboys and freelance agents who don't always find it necessary to play by the rules to bring justice to those who attempt to live their lives above the law.

Meeting Serena, a woman who sees and knows too much, changes everything, putting their livelihood, and their lives, in danger. Taking her prisoner is easy. Fighting their attraction to her proves to be considerably more difficult. Keeping her safe will be even harder, especially when their current target wants to use Serena's abilities to his own advantage.

Together, the three of them find a connection they never expected, and a love they've never known. Note: There is no sexual relationship or touching for titillation between or among siblings. ** A Siren Erotic Romance [Siren Menage Everlasting: Erotic Paranormal Menage a Trois Romance, M/F/M, light consensual BDSM, HEA]
---




Night Rogues is the first book in the Night series by Leah Brooke.
I'm a little torn about this one.  On the one hand the writing flowed extremely well that it was hard to put the book down and the hotness of the scenes were epic hot. On the other hand it fell a little for me and that can be blamed all on one character.  Serena.
The entire idea of the book was awesome!  Loved Ian & Alastair.  Like, love-loved!  Loved the whole twin dynamic thing. Serena though annoyed me.  She wasn't a weak character, but she just would not listen and kept putting herself in danger and to me that made her stupid.  Stupid people annoy me. I kept getting so frustrated with her throughout the book. Having said that she does have a very strong side to her. There were a lot of things that I did like about her. She was a very caring and kind character, which almost made up for the bad decision making.
Author:
I have to give a huge shout-out to the lovely Leah Brooke. This may not have been my favourite book of hers, but I very much love her writing. I've read all or most of the Desire, Oklahoma books and I truly enjoyed all of them. I'm not giving up on this series by any mean… I'm half way through Night #2 and it's very good! … and again sizzling hot!
In a Nutshell:
Not a bad read at all. The flow of the dialogue and writing is what keeps those pages turning. Well, that and a sexy hot set of twins! Yummy!








Related Posts