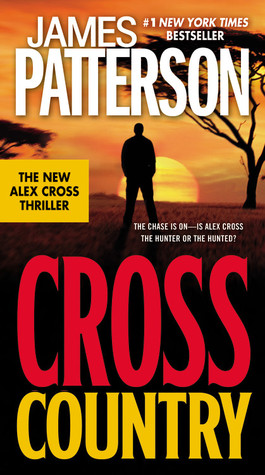 Cross Country by James Patterson
Published by Arrow on 2009
Genres: Contemporary
Pages: 412
Format: Hardcover
Goodreads


When Detective Alex Cross is called to investigate a massacre-style murder scene, he is shocked to find that one of the victims is an old friend. Angry, grieving, and more determined than ever, Cross begins the hunt for the perpetrators of this vicious crime. He is drawn into a dangerous underworld right in the heart of Washington DC that leads him on a life-threatening journey to the Niger Delta, where heroin dealing, slave trading and corruption are rife. At the centre of this terrifying world, Cross finds the Tiger - the psychopathic leader of a fearsome gang of killers who are not what they seem. As Cross tracks the elusive Tiger through Africa, he must battle against conspiracy and untold violence. Alex Cross is in a heart-stopping chase that takes him across a vast and uncompromising landscape and finds him not only hunting for a horrific killer, but also fighting for his own survival.
---




The latest in the Alex Cross series is Cross Country.  I had a bit of a delay in getting it read, but I finally managed to read it the past couple of days.
I'm a huge James Patterson fan! Huge!! I gotta say though, I was not impressed with this last Alex book. I can't really put my finger on it either. There was just something missing that I didn't get and I'm not even sure what it was. The book for one thing was incredibly violent… even for Alex Cross. That ultimately may have been a good thing otherwise I think for the first time I might have actually been bored.
Having said that… I know if another Cross book comes out, I WILL read it. My curiosity will get the best of me and considering this is the very 1st book of Patterson's that didn't engross me, I would never toss him aside. He's still one of my top 5 favourites of all time!




Related Posts